Tour de France is one of the most popular sporting events in the world. The Grand Tour usually spans over the course of three weeks and, usually painful, 2,200 miles (or 3,500 kilometres). This year's Tour was no exception and as it concluded on the Champs-Elysees, Paris, many riders had to give up their spots due to injuries, or because of the sheer difficulty of the race. But not Peter Sagan. In case you haven't heard about the three-time World Champion, Paris-Roubaix winner, and an all-around badass, let's say he does deserve the green jersey for the winner of overall classification (on points).
Being not only an entertainer, Sagan won three stages at this year's Tour and finished in the top 10 on nine other occasions to amass 477 points, more than double Alexander Kristoff in second. Although Sagan managed to finish the race, even after a heavy crash in one of the stages, we can definitely say that this was not the biggest race of his life…
Thanks everybody for your support and messages! That was a hard crash but, fortunately, I haven't broken anything and I feel confident about the last four stages of @LeTour (@bettiniphoto) pic.twitter.com/9VuYYmFl0W

— Peter Sagan (@petosagan) 25. července 2018
While preparing for the big show in France, Sagan took on an unusual opponent. One that you would probably laugh at if we were to tell you that she was the one to face one of the world's best in an actual race… Grandma Joan. A lovely old lady with two knee replacements, and a pacemaker. How on earth would she beat the cycling star?
Especially when Sagan spent months of trash talking her while quad building, 80's montage training in the woods (yes, you heard that right) where he even slept in a tent, and passive-aggressive tea drinking. The race? One hill-climb in San Francisco to determine the fastest cyclist on the planet. And surprisingly, the race has it all – fans, flares and a furious fight between an 81-year-old woman and a rider in his prime! Still feeling perplexed?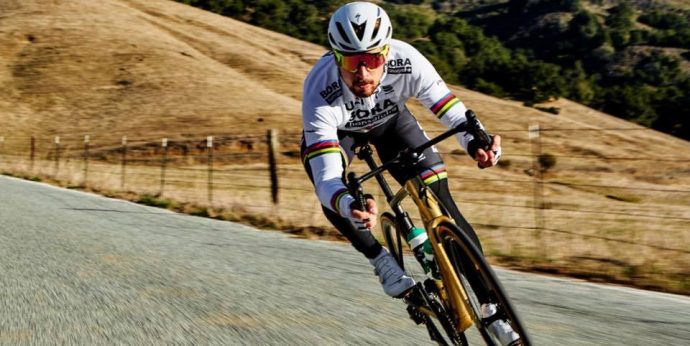 Let's leave the unravelling to Mike Sinyard, Founder and Chief Executive of Specialized. "We're excited to introduce on the Tour de France this unusual product demo featuring two unlikely competitors. Will an electric bike help a grandma beat the world's fastest cyclist in an uphill, head-to-head race? Let's see," said Sinyard. So, the answer is the Specialized Turbo e-bike.
To be more precise, actually the third generation of its Turbo electric bike. We won't tell you the result, but let's say that this epic challenge by Grandma Joan also appears on social media, in a 60-second TV spot that revealed the outcome on day 7 of the Tour. Here's the video that shows how this unusual race went down… And you can also scroll down for the extended version!
Rich Silverstein, Co-Chairman and Founder at Goodby Silverstein & Partners and an avid biker himself, unveiled the idea behind the face-off: "Electric bikes are leveling the playing field for the future of cycling. This spot shows that even a grandma could give the champ a run for his money. Now imagine what it could do for those who just want to move around in an even more efficient way." So, do you think you can take on Peter Sagan? How about Grandma Joan? Let us know in the comments!
CLIENT: SPECIALIZED
Creative Director: Chad Hilton
Art Director: Dustin Ortiz
Designer: Erin Martin
Creative: Dillon Hollinger / Dylan Buffington
Studio Manager: Jessi Farber
Project Manager: Emily Watts
AGENCY: GOODBY SILVERSTEIN & PARTNERS
Agency Co-Chairman: Rich Silverstein
Copywriter/Creative Director – Roger Baran
Art Director/Creative Director – Sam Luchini
Art Director: Stevan Chavez, Nando Sperb
Copywriter: Mike Gallucci
Producer: Adrian Hernandez
Executive Producer: Benton Roman
Group Account Director: Michael Crain
PRODUCTION: SUPER FUN PRODUCTIONS
Director: Nicholas Maggio
Director of Photography: Jeremiah Pitman
Producer: Rob Healy
Line Producer: Cara Scott
Production Manager: Lexis Milisic
POST PRODUCTION
Editors: John Jenkins, Erik Johnson (GS&P)
Audio Engineer/Mix: Dave Baker (GS&P)