You know what's uglier than those ridiculous—yet highly-fashionable—Christmas sweaters? Let us give you more than just a simple clue: Truth. Yes, "the truth may be ugly, but it never goes out of style," says the tagline of a new garment collection crafted by an unlikely designer – Helsingin Sanomat, the largest newspaper in the Nordics. Even though people usually wear these ugly sweaters just for fun around Christmas time, they might actually represent a good communication tool, at least according to the newspaper. That's why Helsingin Sonomat decided to use them as a canvas in its latest creative campaign.
For the paper, these sweaters come as more than a fashion statement. They can be used to raise public awareness and draw the world's attention to various serious topics that have (kind of) tortured us all year. How can one do that, you might wonder? Simple: by replacing the traditional festive images of reindeer and Santas with the world's ugliest news topics. But did the newspaper manage to convey a true message while keeping the same ugly design? Read the rest of the story to find out!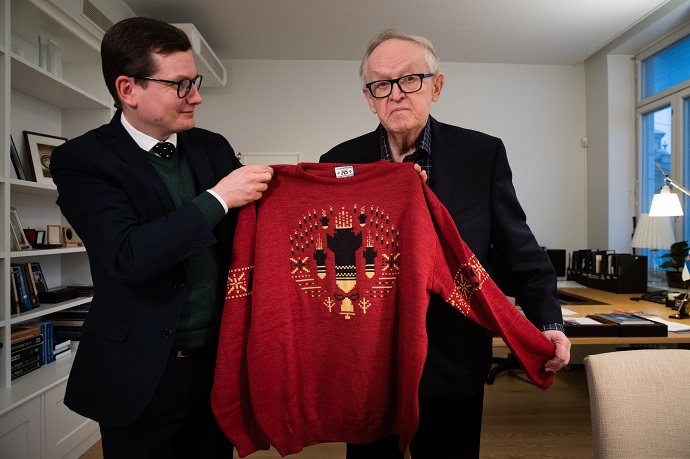 Playing with the popular 'ugly sweaters' phrase, the #uglytruthsweaters collection was created with the creative help of artists at TBWA/Helsinki agency and features a series of these highly-colored sweaters. Each garment displays a different design, but of utmost importance, such as climate change, presence of plastic in our oceans, war, sexual harassment, and technological manipulation. These subjects were specially chosen as designs to represent the fact that journalism should always give a loud shout about truth, no matter how ugly it is.
"Truth is the cornerstone of journalism, no matter how ugly it is. We can't shy away from topics that are difficult, in your face or hard to swallow. That's why this Christmas we are wearing them on our sleeve, literally. It is our responsibility to bring these matters into the public consciousness and keep them there as long as they remain unsolved", says Kaius Niemi, the paper's Senior Editor-in-Chief, in a press release.
To further complement the Xmas-themed campaign, each of the shirts is accompanied by an article published in the newspaper, therefore tackling the featured issues one at a time. Plus, the 100% woolen sweaters, produced in the small town of Lieto, will be packed and send as gifts to the ones that showed an interest and helped resolve each matter. Amongst the recipients, there are Arnold Schwarzenegger and Leonardo DiCaprio, who fight against climate change; #MeToo movement founder Tarana Burke and actress Alyssa Milano who turned this action into a rallying cry against sexual assault and harassment, and many others.
Yes, we are aware that these pullovers are ugly. But because they bring some serious issues the world is currently facing into the forefront, we'd be ready to sacrifice one of our usual sweaters and have it replaced with one of these 'beauties'. What about you? Are you ready to go from an appreciated fashionista to a ridiculously-dressed person just to raise awareness about a world-first problem? Let us know below!
Credits:
Client: Helsingin Sanomat
Agency: TBWA/Helsinki