As the official sponsor of the Tel Aviv Marathon—Israel's biggest sports event of the year—Korean tech company Samsung has decided to use this opportunity to do some good for the needy. The brand complements its Samsung Gaming Marathon, which started back in 2017, with another kind initiative called "Samsung Calories Marathon." Basically, the competition is all about doing good by burning calories. The more calories the runners burn, the more food products Samsung donates on participants' behalf to those in need.
By working together with Leo Burnett Israel and the Pitchon Lev soup kitchen—the country's largest soup kitchen which services over 250,000 Israelis each year with food products and basic needs—Samsung promised to match each burnt calorie with the same amount of calories in food form, that shall then be donated to the non-profit organization founded in 1998.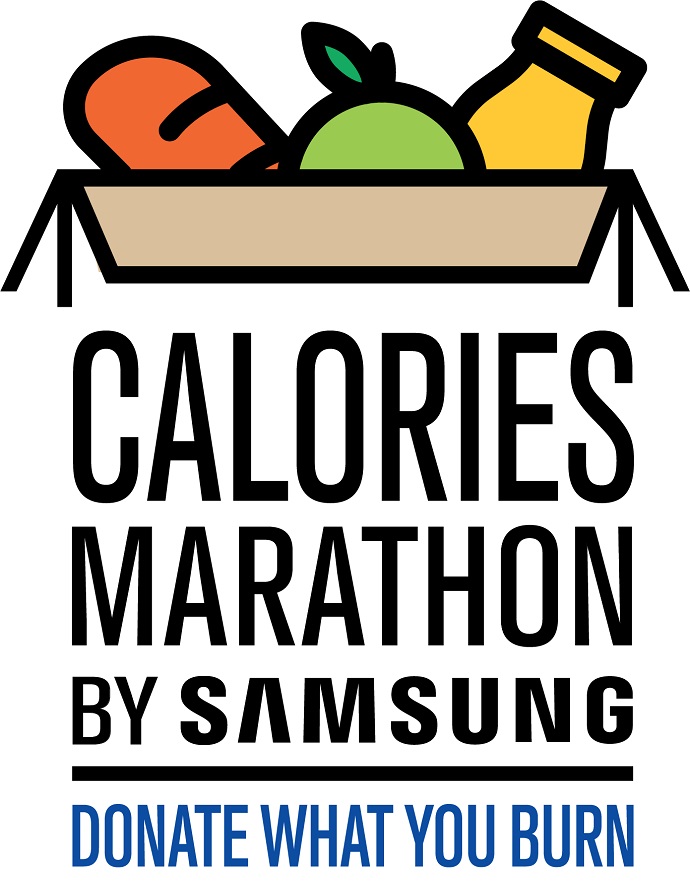 Considering that a person who weighs 75 kilos would probably complete the 42-km-long marathon in about four hours, he or she is going to lose approximately 4000 calories. Multiplied by, at least, 40,000 runners that's the rough equivalent of 320,000 meals! Now, you do the math. See how many people would enjoy a delicious dish? Impressive, isn't it?
Still, how will Samsung know how many calories did each person burn? Well, all runners who want to take part in this extraordinary marathon will be equipped with a special band that will record how many calories have already been burnt and raised. Moreover, spectators will be able to see how many calories have been burnt via a live calorie counter which is placed at Rabin Square, right in the heart of Tel Aviv. During the marathon day, participants crossing the finish line will be directed towards a branded compound where they can both get a video of their run and also choose the food package that will be donated on their behalf.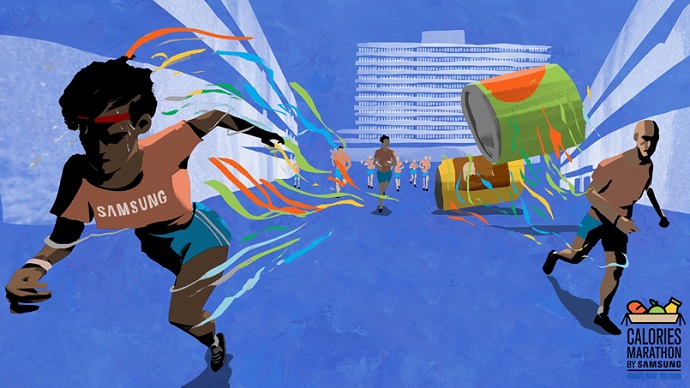 Yet, Samsung doesn't stop there. To amplify its effort, the brand will set up "Samsung Calories Stations" which will be placed at high traffic density spots and shopping malls across the state, inviting people to run on treadmills and "sell" their burnt calories. They can later use these as currency to buy more food for people in need. Plus, they can repeat the activity more than once. The way Samsung sees this is like this: Run. Burn. Feed. Repeat.
Dear Samsung, we want to be part of this initiative too. But we can only burn our calories in our office, using the fit ball. Does that count?
Credits:
Client: Samsung
Agency: Leo Burnett Israel
CEO: Adam Polachek
CCO: Ami Alush
VP Client Services: Idit Zukerman
VP Strategy: Shai Nissenboim
Strategic Planner: Liz Stull
Creative Team: Oren Ben Naim, Meital Miller
Account Supervisor: Sapir Aharoni
Account Manager: Gal Teitel Ram
Producer: Simi Ben Zikri
Studio Manager: Sagi Valenstain
Traffic: Maya Varochik
Marcom: Eva Hasson
Media: Publicis Media
Director: Tal Zagreba
Animation Director: Robert Moreno
Animation Production: Robert Moreno
Co-Production: Great Guns
Co-Producers: Laura Gregory, Sheridan Thomas
Storyboard: Robert Moreno
Concept Art: Tim Razumovsky, Niv Shpigel, Robert Moreno
2D Animation: Robert Moreno, Niv Shpigel, Naama Zarfaty, Alon Richter, Guy Shimron, Guy Osnat
Clean Up Ink & Paint: Naama Zarfaty, Ori Anne Hail
Original Music & Sound Design: Roy Shen Zoor – Monster Music