All of the burning issues surrounding the creation, communication, execution, and sustainability of strategic initiatives within a company will be dealt with in deep discussions at the Chief Strategy Officer Summit in San Francisco.
The Chief Strategy Officer Summit is the largest gathering of Fortune 500 strategy professionals. This groundbreaking summit will look in more depth at the evolving role of the strategy executive. Looking at the increasing anticipation for speed in a role that's often called for a more considered approach, the two-day event looks at how a balance can be struck by the Chief Strategy Officer going forward.
It is now thought that the traditional view of strategy as a top-down planning process can severely impair innovation, learning, and speed to market. Arguably strategy professionals need to let go of the need to plan before acting. This summit explores the extent to which strategist need to be agile in order to grow and stay relevant.
Topics that will be covered include:
Embracing the challenge of new growth
Sustainable strategies that foster long-term profitability
Lessons learned: Communicating Strategy
Integrating new technologies into your strategy
Leadership & Motivating Teams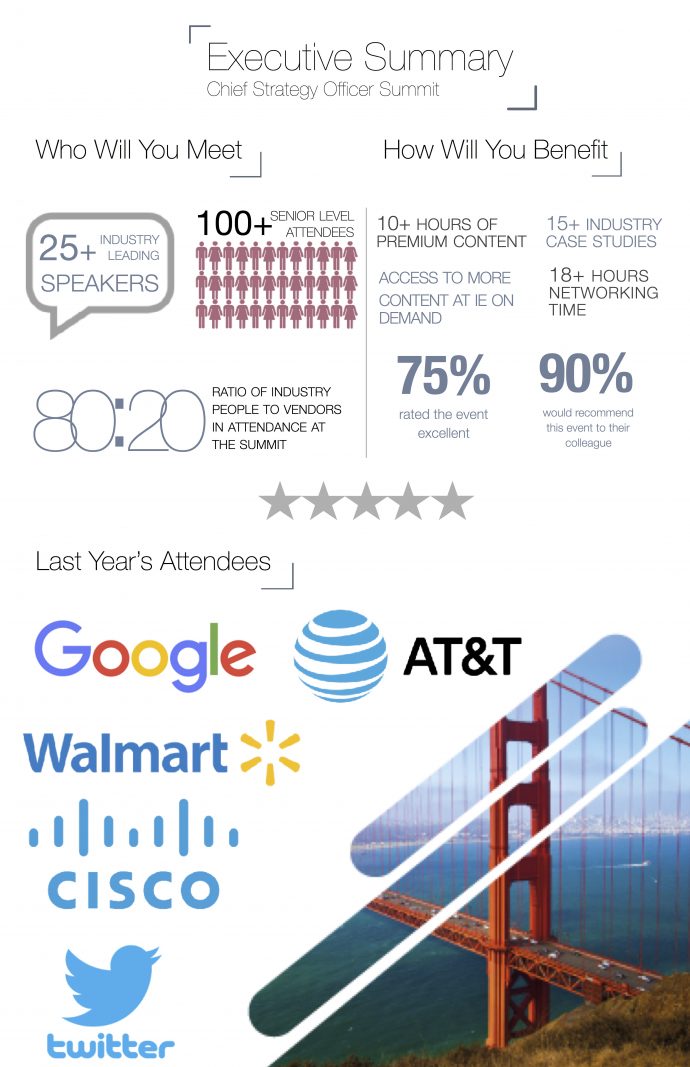 ATTENDEES
25+ Industry Leading Speakers;
100+ Senior Level Attendees