One of the largest digital strategies, innovation, and technology conferences in the region converges in Philadelphia, July 24-25, 2019.
Over 45+ in-depth sessions & workshops will not only help you stay ahead of the latest digital trends but also provide you with tons of practical, game-changing takeaways you can immediately apply to your marketing strategy. You might need a second brain to pack it all in.
Learn directly from the brands and thought leaders who are making the biggest impact on the world's economy — now and into the future. Get under the hood and stay ahead of the strategic curve with Facebook, Google, Amazon, and many more!
Attendees at the Digital Summit are influencing the future of their company's digital marketing and strategic success. The summit's attendees come from a wide variety of companies and organizations — including national brands, agencies, service providers, technology pioneers, media, B2B providers, associations & nonprofits, startups, and much more.
"Incredible two days of learning and networking with the best of the best! Can't wait til next year!"
2017 Digital Summit attendee
"Great overall experience, very informative, good ROI, I'll be back for sure – and I'll bring my colleagues next time!"
2017 Digital Summit attendee
"This is where people get inspiration. Everything going on here is so important."
Steve Wozniak, Co-Founder, Apple
"I haven't missed a year! I walk away each year with great reminders, new ideas and vendor suggestions. You guys have grown this thing that gets better each year."
2016 Digital Summit attendee
Past brands taking part at the Digital Summit include: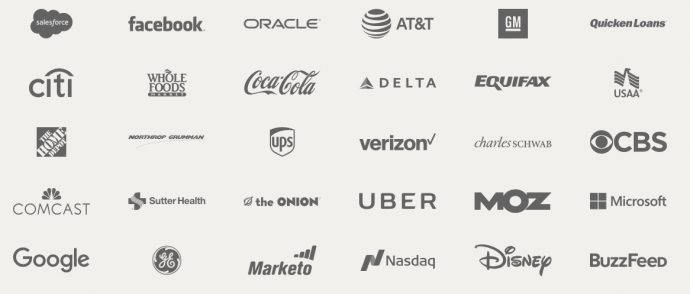 Below you can see the thought leaders and visionaries present at the last year's Digital Summit Philadelphia:
ATTENDEES
Over 17,000 attendees