Startup World Cup & Summit 2017 Searches for Added Values
We are living the World 2.0. Artificial intelligence, 3D printing, VR, internet of things, robotization are piloting our daily lives. Both startups and people are balancing on the edge of the progress striving to navigate themselves to added values of self and of their businesses. Those who succeed are becoming true heroes to a whole generation of young entrepreneurs. That's why the names of Elon Musk, Richard Branson echo so loudly within the society.
Startup World Cup & Summit 2017 (SWCS) represents a unique combination of two greatest events within the last year's startup scene. It is here to discover and nurture the potential in every attendant and strives to embrace these added values.
SWCS promises a day full of networking and inspiration. Dive in and discover the startup world, get valuable experience, enter the competition to win investment from the Silicon Valley, or find a project to invest in.
Visit Palác Lucerna in Prague with its unique adjacent interior where the startup world awaits you from A to Z on 17th October 2017.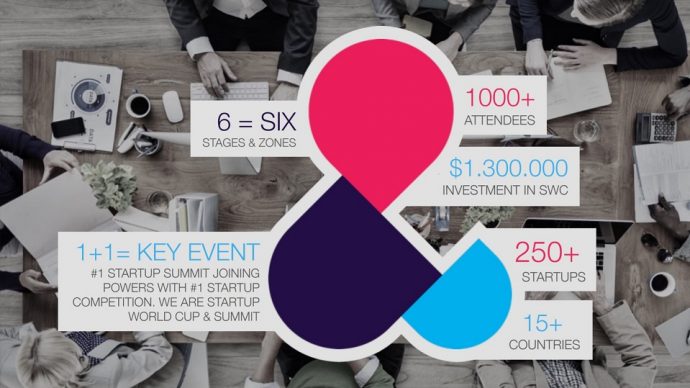 About SWCS 2017
Startup World Cup is a worldwide startup event and a competition organised by venture capital fund Fenox. It was created right in the Silicon Valley, with a goal to support worldwide innovations, connect startup eco-systems, open doors to talented businessmen and identify the top 20 startup projects in the world.
The winners of regional rounds will match each other on 18th May 2018 in the grand finale in Silicon Valley, where they'll fight with their own projects to win $1 million, or even more.
Startup Summit is a traditional, pure Czech event, which is held by investment fund Air Ventures. The history of the event began in 2012 with speakers from well-known global corporations and startups making an appearance in Prague – from TechCrunch editors, bosses of Startupbootcamp and founders of promising startups, such as Kiwi.com, to corporate captains like Andre Wehrner from Skoda Auto, or Tomas Budnik from O2.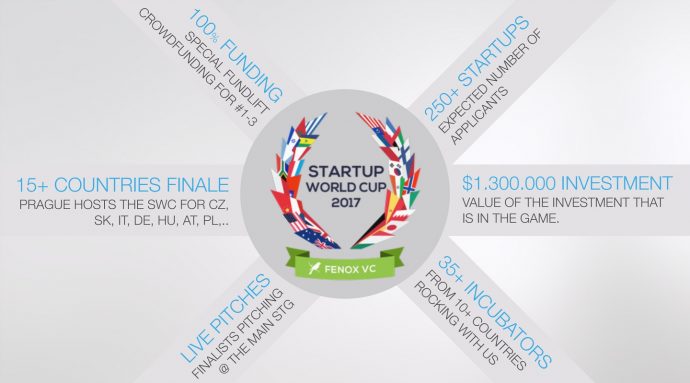 Startup World Cup – Central Europe Finals
TOP 10 projects pitching live on the main stage. Jury Q&A session. Visitors voting (through the app).
TOP 3 student projects from the region in a standalone category.
TOP social responsible startup will receive a special award.
Inspiring Keynote Speeches
4 keynote speakers on the main stage that are paving the way to real values – true disruptors of the world economy and markets.
Startup Life Zone Workshops
Startup Life Zone takes you from the stage of crafting the idea to IPO. Interactive. Workshop-ish. With brilliant success stories (and also few fu*c-ups).
Startup Pitches
Semi-finalists of Startup World Cup will have a unique chance to meet with investors.
Mentoring
Get more in depth into startup topics in 1-on-1 with mentors.
Afterparty
DJs and visual show you dreamt about.
ATTENDEES
1000+ participants from the startup world, 250+ startups, 100+ invetors & mentors, 15+ countries, 4 stages & zones