Philips, the global leaders in health technology – although mostly known for their production of electronics – has launched its latest campaign in Australia which is aimed at healthcare professionals and wants to show the world how Philips sees healthcare differently.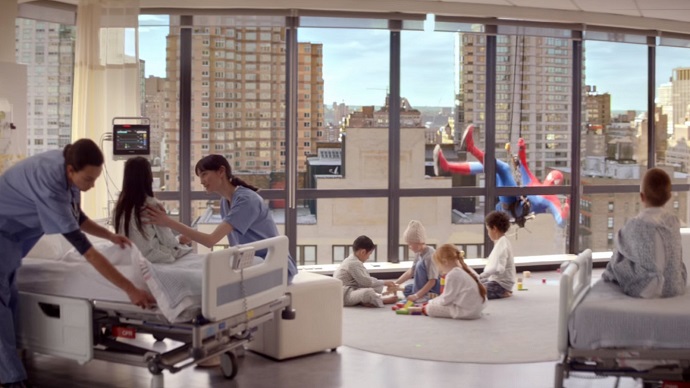 The campaign was created by creative agency Ogilvy & Mather London and its story-line is inspired by true events and actions of Roger Corcoran, who has been cleaning windows the at Children's Center of Mayo Clinic in Minnesota dressed as Spiderman to see a "smile on the little guys faces". And that exactly corresponds with the goal of the campaign which suggests that: "There's always a way to make life better."
As we follow one man who is willing to perform extreme tasks to improve the children's lives, we can see that Philips are also on a mission to improve people's lives by finding unexpected ways to improve their well-being, even if it meant just to give them something to smile about. Eva Barrett, the Global Head of Brand Advertising at Philips explains that: "At Philips we start with people. We want to improve people's lives through meaningful innovation. Our innovative campaign aims to change our audiences' perception of the brand." And they are succeeding – by presenting us with everyday heroes, they have created a wonderful piece content that follows another strong story for their 'Innovation and You' platform which shares similar true stories like this. The most recent ones include a man trying to become a successful Elvis impersonator while improving his health.
Yet, probably the most note-worthy and touching piece of work, that Philips has recently produced, is the award-winning story about a remarkable group of eighteen people with severe breathing problems who want to lead a more fulfilling life. And the ad, which won a Grand Prix at this year's Health Cannes Lions, proves just that. By overcoming the odds and performing as 'The Breathless Choir' at the Apollo Theatre, New York, the group finds a new sense of independence and freedom. You can hear the full performance below and also see how the singers coped with the latest challenge in their lives that was affected by conditions like cystic fibrosis, reduced lung capacity, asthma and COPD.
'Every Breath You Take' performance – Philips Breathless Choir
Credits:
Client: Philips
Global Head of Brand Advertising: Eva Barrett
Creative Agency: Ogilvy and Mather London
Creative Director: Gerry Human