DigiMarCon Canada 2022 gives you a chance to …
Hear from the most audacious and provocative speakers in the digital marketing industry.
Gain insight into emerging strategies, the latest innovative technologies, and best practices.
Network with thought leaders, build your network, and collaborate with your peers.
The 6th annual DigiMarCon Canada, the Premier Digital Marketing, Media and Advertising Conference & Exhibition in Canada returns May 12th to 13th, 2022 at the luxurious Marriott Downtown at CF Toronto Eaton Centre Hotel in Toronto, Ontario. Join your peers in-person or online for two days jam-packed with digital marketing best practices, latest trends, practical solutions, strategy and networking, and also check out the next generation of technology & innovation; Internet, Mobile, AdTech, MarTech & SaaS Technology.
Be a part of DigiMarCon Canada 2022 and discover how to thrive and succeed as a marketer in a rapidly evolving digital world. Top keynotes, case studies, strategy sessions, networking, and more! See why people keep coming back year after year to this must-attend event! Register and secure your seat today.
Get ready to be
Inspired: Get inspired by the headlining speakers at DigiMarCon Canada 2022. These individuals will motivate, engage, enlighten, and spur you on to greater productivity.
Challenged: Listen to bold and powerful addresses from a diverse group of exciting and influential people. These riveting presentations will educate, challenge, and impress you in less than 20 minutes.
Transformed: Explore big ideas presented directly from the innovators and thought leaders of the changing business world. These thought-provoking presentations are designed to help you transform your organization, your business, and yourself.
"I'm looking forward to returning to DigiMarCon in 2019. I'm putting together some of my best material to help deliver truly actionable takeaways for the attendees."
Rand Fishkin, Wizard of Moz
"DigiMarCon brings together some of the greatest minds in digital marketing to interact, engage and learn from each other. I highly recommend it."
Simon Kelly, CEO, Story Worldwide
Take a look below at the top talent who have spoken at the DigiMarCon Events: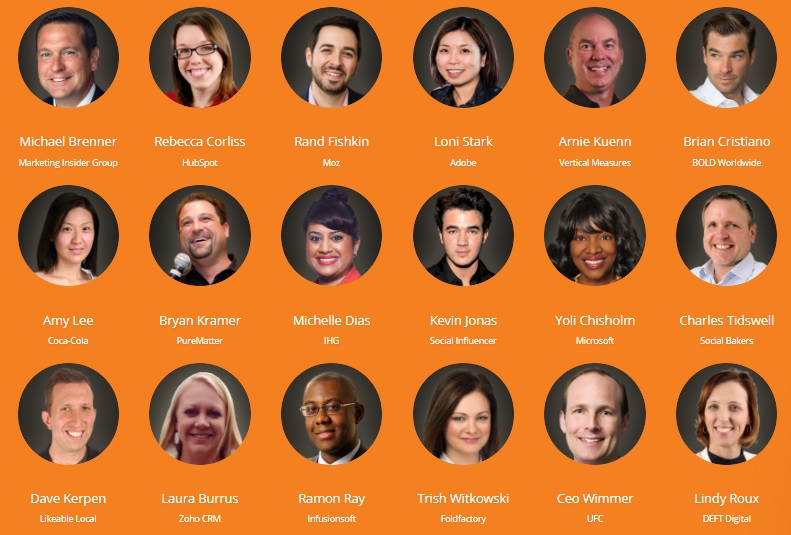 ATTENDEES
Innovators, senior marketers and branders, entrepreneurs, digital executives and professionals, web & mobile strategists, designers and web project managers, business leaders, business developers, and agency executives...