Technically focused & committed to pragmatic content, the Gartner Catalyst Conference is designed to get straight to what technical professionals need. The conference gives attendees hands-on, how-to advice and practical solutions across a broad range of technical topics.
Also, attendees can learn how to formulate and execute the IoT strategy; make sense of blockchain and how to use it; understand the impact of AI and machine learning; take mobility from strategy to execution; achieve digital workplace productivity; explore public and hybrid cloud strategies and cloud-native solutions.
Game changers like cloud, big data, mobile, DevOps, analytics, SaaS, AI, IoT, and more are advancing rapidly, creating new digital opportunities and a new technology ecosystem that's diverse and complex. But what are the skills and resources needed to architect and manage it?
Discover the answers you need at Gartner Catalyst Conference 2020. Understand the latest technology trends and master the skills that digital business transformation demands.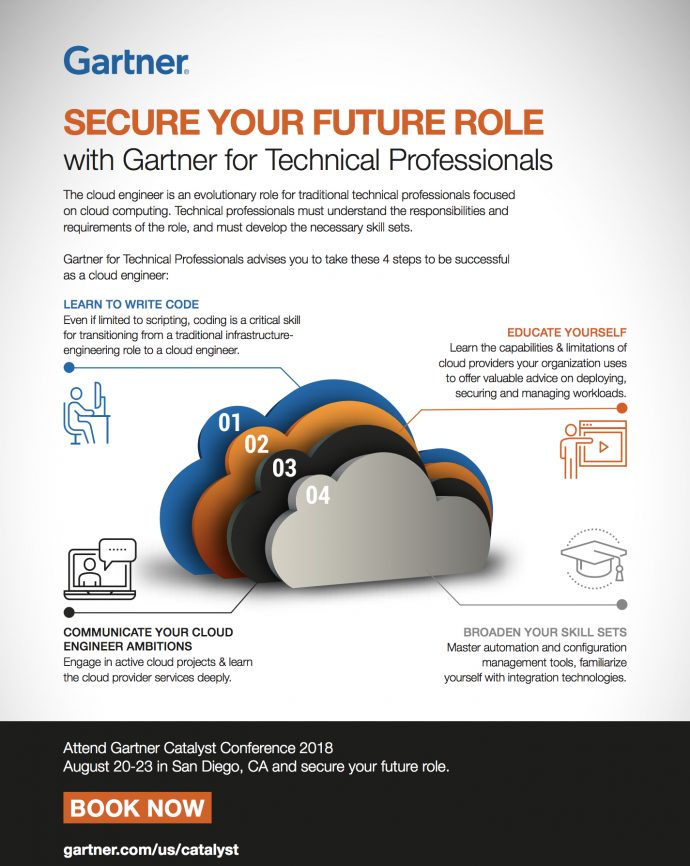 Gartner Catalyst Conference 2019 took a deep dive into technical trends and topics that are the most challenging and offered a live content where attendees asked questions, vetted ideas and were able to proactively problem-solve with Gartner, their peers and solution providers.
At the conference, the top 5 priorities that data and analytics leaders met on included:
Cloud Computing for Technical Professionals
Application Architecture and Platforms for Technical Professionals
Infrastructure, Operations and Cloud Management for Technical Professionals
Analytics and BI Solutions
Application Development at Platforms for Technical Professionals
"[This is my] first time attending Gartner Catalyst Conference. Excellent speakers, valuable information and well worth the time."
Kris Wandro, Department Systems Engineer, San Bernadino City DA
*Given the ever-changing status of the Coronavirus pandemic, the schedules of several events are changing. To see their latest updates, please visit each event's respective website.
ATTENDEES
2,400 Attendees;
76+ Exhibitors;
660+ Experts