Being a marketer today is harder than ever. And more exciting, too! Strategy and execution are table stakes. Hiring talent and managing teams, finding and implementing new solutions, selling up, and demonstrating results are integral to successful marketing. Email, marketing automation, SEO, advertising, creative writing, identity resolution, video editing… it's all in 14-hour-day's work.
It's enough to make you throw up your hands and wish for a simpler time where TV, radio, and brochureware websites were enough.
The MarTech experience is all choreographed. You'll unlock presentations that deliver actionable tactics to solve confounding marketing challenges. You'll meet senior-level marketers like you who are redefining how their organizations deploy martech to achieve business results. And you'll discover time-saving solutions that deliver ROI.
Attend MarTech this September to unlock two days of actionable tactics and proven strategies, empowering, forward-thinking keynotes, and engaging events designed to grow your professional network! MarTech is a vendor-agnostic forum for understanding the breadth of marketing technologies and how organizations can effectively integrate them into their marketing strategy and operations.
Below you can see brands that attend the MarTech conference: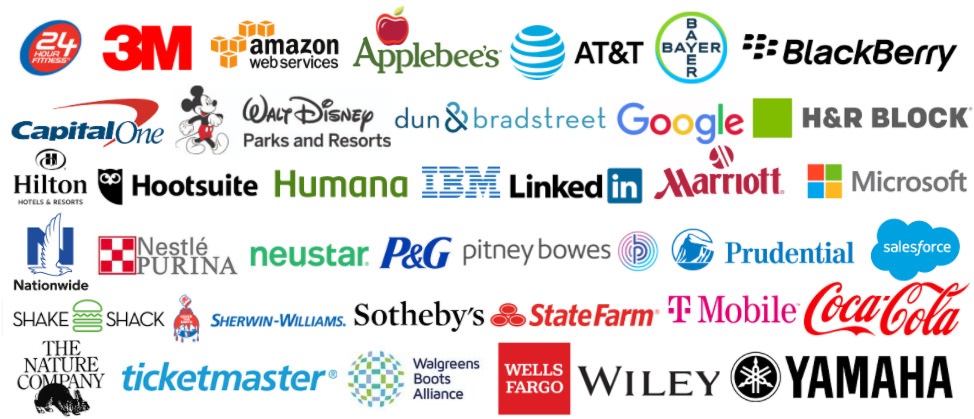 *Given the ever-changing status of the Coronavirus pandemic, the schedules of several events are changing. To see their latest updates, please visit each event's respective website.
ATTENDEES
Amongst previous attendees there were:
Shawn Goodin, Marketing CTO, JP Morgan,
Meagen Eisenberg, Chief Marketing Officer, MongoDB,
Mayur Gupta, VP Innovation, Growth & Marketing, Spotify, and many more...