Search marketing continues to be the biggest and most powerful form of digital marketing. SMX Advanced is a conference designed exclusively for experienced search marketers. Sessions are fast-paced, Q&A-packed, always informative… and don't stop to cover the basics.
This once-a-year event is your place to learn advanced SEO and SEM tactics. For over 10 years, SMX has helped thousands of marketing practitioners from across the world succeed in their search marketing endeavors.
Sessions skip the basics and leave no stone unturned. Keynotes are in-depth, with networking events aiming to connect the attendees with a passionate community. The Expo hopes to forge invaluable bonds that can define people's careers and help them discover expert SEO and SEM tactics that actually work. This year, SMX Advanced has unleashed the brand new Insights track — featuring must-try tips, techniques, and advice, along with 100% Q&A Advanced Clinics on everything from Amazon Ads to paid search campaigns.
Fluent in search engine marketing? SMX Advanced is where you'll engage with others who speak your native language.
"SMX Advanced is what a marketing conference should strive to be. Full of sessions that are led by leaders in the search marketing industry providing attendees with valuable and actionable takeaways. Then add the networking opportunities with peers, the speakers, and after-hour events, make SMX Advanced a can't miss conference."
Timothy Carter, Nimlok Displays
"…it is by far the most actionable search conference I've ever been to. I love that speakers assume we already know a lot about SEO (because we do) and the presentations are therefore more specific with more information that we can act on."
Sharon Mathias, HomeAdvisor
Brands That Attend SMX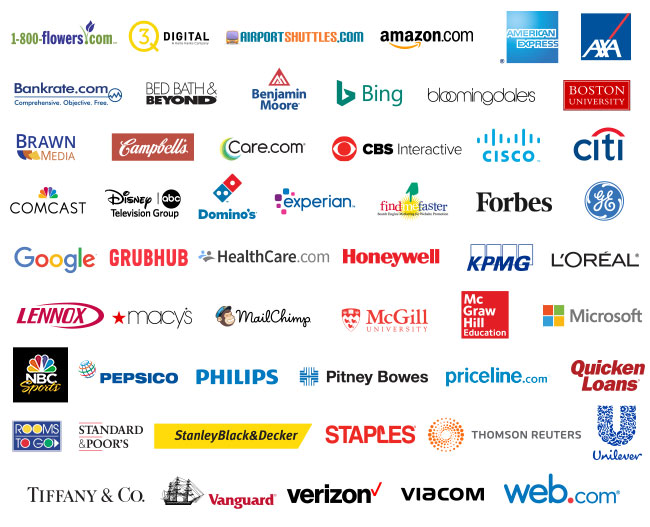 *Given the ever-changing status of the Coronavirus pandemic, the schedules of several events are changing. To see their latest updates, please visit each event's respective website.
ATTENDEES
Previous attendees included:
Jerry Dischler, Vice President, Product Management, AdWords, Google;
Michael Akkerman, Pinterest;
Laura Ann Mitchell, Intel.
Purna Virji, Microsoft
Andy Taylor, Merkle