VMworld 2020 provides you with an opportunity to delve deeply into digital transformation with hundreds of sessions focused on today's most relevant topics. The event features specific tracks and sub-tracks that reflect its diverse audience, needs, and interests.
The conference's sessions are aimed at practitioners, strategists, and leaders who want to learn more about modernizing the data center, integrating public clouds, transforming networking and security, and securing the digital workspace while also exploring emerging trends and other topics important to IT leadership. In addition, customer and partner case studies will demonstrate how VMware products are used in real-world environments.
Here's a look at the specific session tracks and sub-tracks that were offered at the previous VMworld editions:
Data Center and Cloud
This track will focus on how VMware helps you deliver an integrated IT strategy to modernize your data centers while extending to the cloud – and how VMworld provides you with the infrastructure to deliver your next-generation strategies for hyper-converged infrastructure, cloud-native applications, hybrid cloud, and edge services.
Networking and Security
This track will cover virtual and cloud networking, including network virtualization, logical network services, network management, and extensibility. Learn how VMware transforms security by providing a ubiquitous software layer across application infrastructure, networking, and endpoints; this maximizes visibility and context of the interaction between users and applications, aligns security controls and policies to the applications they are protecting, and enables the insertion of third-party security services for additional intelligent protection.
Digital Workspace
Learn how you can lower complexity and cost while increasing employee experience and security with the VMware Workspace ONE platform. This track explores how you can securely enable personal productivity across mobile and PC endpoints with cloud-based modern management and deliver all apps – including your critical Win 32 apps and web, mobile, and SaaS apps such as Office 365 – through one consistent experience that enables employee self-service while lowering IT overhead.
Next-Gen Trends
In this track, learn how VMware's innovative solutions for emerging technologies such as Internet of Things and network functions virtualization enable the event's partners and customers to execute their digital business transformation strategies. You'll also learn how VMware is exploring and identifying disruptive technology trends to shape future solutions yet to be built.
Leading Digital Transformation
Innovation through digital transformation can disrupt markets and take businesses to the next level. Today's IT leaders, and those of tomorrow, require a distinct mix of business savvy and technological expertise to steer their organizations toward the future or risk falling behind. In this track, you'll hear from leading industry and VMware IT leaders who are changing the game and learn how they've mastered today's most pressing IT priorities. Ensure your IT organization is primed to take advantage of rising technologies, methodologies, and best practices to succeed as a twenty-first-century IT leader.
VMworld Europe Statistics: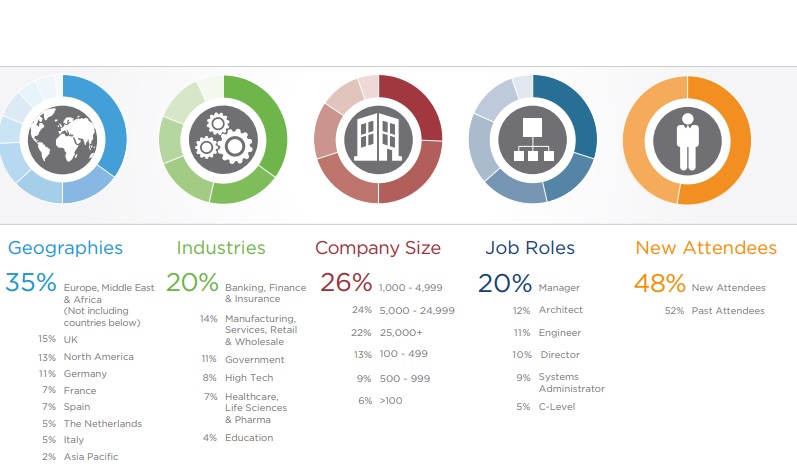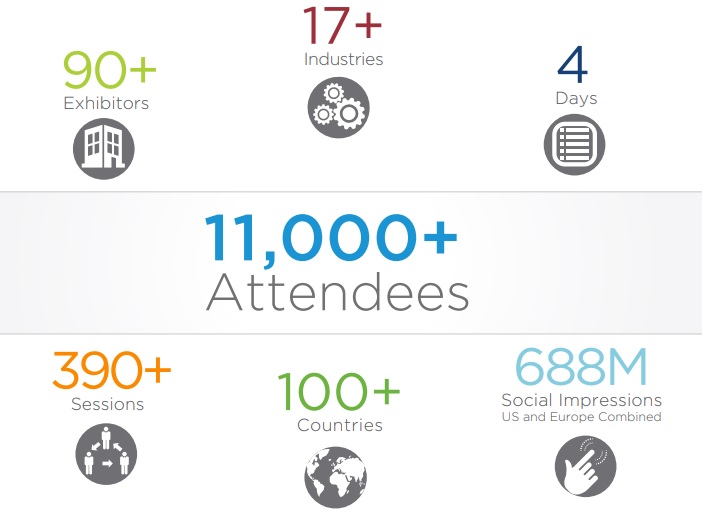 *Given the ever-changing status of the Coronavirus pandemic, the schedules of several events are changing. To see their latest updates, please visit each event's respective website.
ATTENDEES
11,000+ Attendees