Did you know that "Oreo" is the 6th most popular name people give to black-and-white pets? You didn't? Well, that's understandable; not even the brand after which these animals received their names hasn't been aware of this fact up until just recently. According to Rover.com, many pets proudly wear their names after the Mondelez-International-owned cookie brand, OREO. Unfortunately, not many of the Dubai-based Oreos are lucky enough to live with their families for the rest of their lives.
Ahead of the International Homeless Animals' Day (August 20), OREO steps in to sweeten the fate of these furry beings in the UAE (as well as the ones which are not called Oreo), hoping that it can help these four-legged friends find their forever parents. Teaming up with creative agency Saatchi & Saatchi MEA and in partnership with two of the largest pet rescues in the region — K9 Friends and Yanni Animal Welfare — the company launches the "Oreo & Friends" initiative.
"When we realized so many pets are named Oreo, we knew we had to find a way to give back. Partnering with two of the biggest rescues in the region has been an honor and we can't wait to help some animals find the forever home they deserve," explains Ilona Morozova, Marketing Manager, Biscuits at Mondelez International, MENA.
The COVID-19 pandemic forced people to stay indoors. With their routines being disrupted, many turned to pets to seek comfort. Sadly, after the world emerged from the pandemic and people started to get back to their normal habits, the number of abandoned pets in the UAE increased. However, OREO's playful spirit guides the brand into a creative battle against this phenomenon, tackling this crisis using its packaging.
"In a country so heavily populated by expats, pet abandonment is a real issue as people often leave Dubai suddenly for new jobs and visa reasons," adds Sebastien Boutebel, Chief Creative Officer, Saatchi & Saatchi. "The news is full of stories of animal neglect. So, when we heard that a lot of black-and-white pets named after the beloved OREO cookie were coming up for adoption, we were inspired to launch 'Oreo & Friends'."
The brand's packaging is instantly recognizable, thanks to the iconic trademark blue that's printed onto it. Yet, for this campaign, OREO ditched the iconic blue shade, replacing it with a monochromatic color palette. It even changed the shape of the packaging so that it resembles three animal kennels — for dogs, cats, and bunnies. The range is available as a limited edition and is currently sold on InstaShop. Additionally, a microsite has been created to support further the initiative, where people are invited to discover the pets available for adoption and apply to turn them into new members of the family.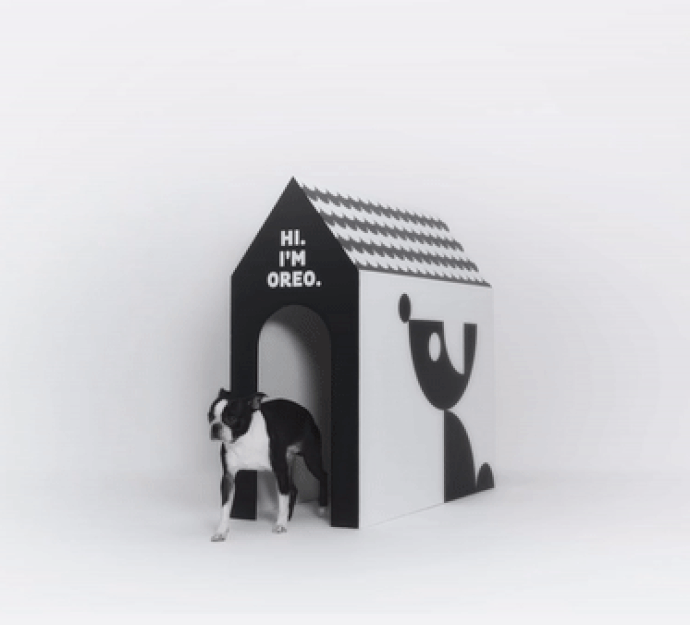 "We have so many lovely adoptable dogs and we're always looking for new ways to reach potential owners. It's been amazing partnering with OREO to help animals find a home for life," says Solange Bornand, Manager, K9 Friends.
With the "Oreo & Friends" campaign, the cookie company shows that it stays faithful to its brand positioning, "Stay Playful," which has now become "Bring home playful. Bring home Oreo." Gautam Wadher, Executive Creative Director, Saatchi & Saatchi Dubai, further explains: "This initiative is playful and true to OREO's spirit. But the intent is serious. Working directly with two pet rescues, we've made the pets who are up for adoption the stars of all our communication."
In its mission to help as many pets as possible find a new home and to also honor International Homeless Animals' Day, OREO has vowed to change all social content from products to pets. This way, the brand hopes that will draw people's attention to how adorable these adoptable pets are.
Credits:
Client: Mondelez International // OREO
Senior Director, Marketing, MENAP: Bassem AlbdulGhani
MENAP Consumer Experience Lead, AMEA: Krinio Christaras
E&I Marketing Excellence Director, MENAP: Lara B Abizeid
E&I Marketing Manager, Biscuits and Baked Snacks, MENA: Ilona Morozova
Senior Brand Manager E&I Biscuits & baked Snacks, MENA: Marian Matta
Brand Manager Chocolate & Bakery, MENAP: Sara Zorkot
E-commerce Manager, Gulf: Edom Noemi
Agency: Saatchi & Saatchi MEA
Production House: Prodigious MEA
Post Production House: Optix Dubai
Media: Spark Foundry MEA
Chief Creative Officer (CCO): Sebastien Boutebel
Executive Creative Director: Gautam Wadher
Creative Director: Alok Mohan
Associate Creative Director: Anika Marya
Senior Copywriter: Katie Handfelt
Art Director: Erick Canedo
Art Director: Namita Nair
Head of Saatchi & Saatchi UAE: Ramzi Sleiman
Chief Executive Officer at Prodigious ME: Sami Saleh
Chief Strategy Officer at Publicis Groupe: Tahaab Rais
Head of Strategy & Insights Strategic Planning: Mazher Abidi
Strategy & Insights Director: Rosina Casserly
Business Director: Karim El Kari
Associate Business Director: Hiam Baltaji
Senior Executive: Dayana Atanasova
Creative Services Manager: Cynthia Sarkis
Digital Delivery Manager: Biju Varughese
Content Director: Hussein Krayem
Photographer: Mahmoud Abdelfattah
Motion Designer: Lucas Fuse / Ahmed Aborady / Daniel Masilang
Studio Manager: Uthaman Chamandi
Digital Retoucher: Jessudas Manirajan / Jayan Subramanian