Despite the fact that many states across the US have legalized the use of cannabis, more than 40,000 people are still behind bars because of non-violent marijuana possession. And while the community enjoys the benefits of the legalization of the plant, cannabis cultivation platform AROYA can't help but wonder what it can possibly do to help the incarcerated regain their freedom, particularly in today's context when one can legally buy cannabis.
Creatively imagined by the team at Serviceplan Innovation and just in time for the international day for cannabis (celebrated on 20 April), the brand launched "Freedom Grams," a platform through which the stories of some of these prisoners are made visible. During this week's #ThrowBrandThursday column, we are reminding you of the campaign that AROYA developed in collaboration with retail and distribution partner GABY Inc. and non-profit Last Prisoner Project, with the efforts directed towards bringing justice to those imprisoned for something that is no longer a crime.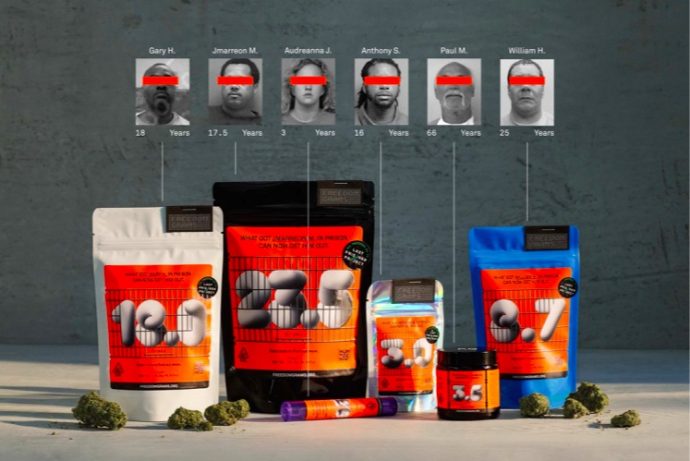 Marijuana possession is what got them in prison in the first place. But now, it is time to use the same product to get these people out. The Freedom Grams platform is a cannabis brand that sells marijuana products in packages that come in 0.3, 3.5, 8.7, 18.0, and 23.5-grams — the exact quantities for which these people in the US are currently in prison. Available through GABY Inc., all proceeds from the Freedom Grams are directed towards the Last Prisoner Project, which fights for the release of cannabis prisoners via legal and legislative intervention.
"What sets Freedom Grams apart from other initiatives is that we are creating a connection between consumers and convicts. The public needs to realize that it's people like you and me, serving sometimes up to life, for amounts that you can legally buy today. By offering exactly these amounts, we are creating awareness and turning it into action at the same time," explained Christian Hertel, VP, Marketing, AROYA.
To raise awareness about the injustice those deprived of their liberty are facing, the brand reached out to the community through its packaging. Following a similar design system inspired by prison bars, each pack features the name of a person sentenced to prison for the same amount of marijuana inside the bag. For example, possessing 3.5 grams of cannabis meant the end of freedom for Kevin O'Brien Allen, who was sentenced to life without parole in 2014. There are more stories to be discovered, the consumers being invited to explore them either through an AR filter or via a microsite developed for the project.
Available to be admired from the website to the packaging, the design system is the canvas onto which generative typography comes to life, a visual metaphor the agency used to speak about the campaign's theme of liberation. The packs' labels are relief-printed and come with a bespoke branded matchbook. Additionally, the project includes a wide range of branded collaterals, such as lighters, rolling paper, stickers, hangtags, and a 3D printable grinder, all of which were created for retail and influencer mailings.
"Through Freedom Grams, we are raising public awareness of the harsh reality of cannabis-related incarceration and hope to empower our supporters to join our fight to secure the full freedom of the communities we serve," added Stephen Post, Campaign Strategist, Last Prisoner Project.
"Cannabis has been historically demonized, and people were punished for all the wrong reasons," continued William Kanistras, Director of Product Operations at GABY Inc. "The legal system needs to recognize that the people who were imprisoned deserve to be free too."
As an open-source brand, Freedom Grams is specially created so others can contribute with more stories; the submitted cases will be featured on the packs. Growers, retailers, and brands are also invited to give a helping hand by creating Freedom Grams labels for their own products.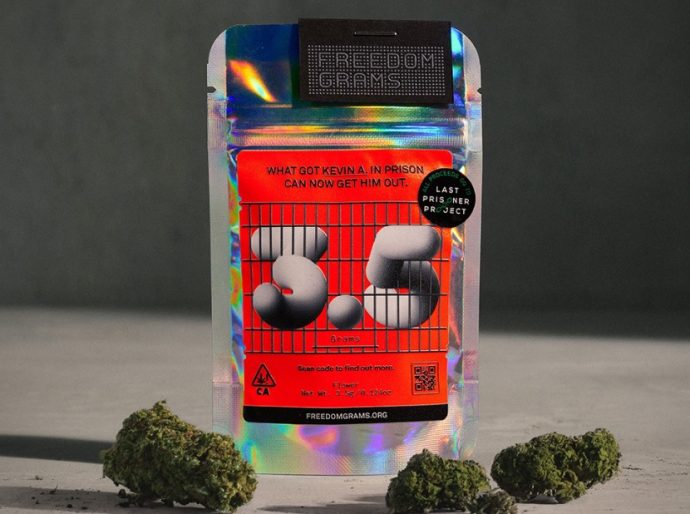 Alexander Schill, Global CCO, Serviceplan Group, concludes: "Cannabis in the U.S.A. has evolved into a billion-dollar industry, but still carries the heavy burden from decades of criminalization. As an advertising agency, we saw the business potential and what stands in its way. As communication experts, we found an innovative solution that empowers the industry and consumers to bring about change. And as humans, we're happy to do our part in giving back freedom to those who are unjustly incarcerated."
Visitors from the states that have legalized cannabis use can purchase the Freedom Grams online. The products are also available in-store through Mankind Dispensary, owned by GABY. However, according to the California-focused retail consolidator, the Freedom Grams are currently sold out. Besides GABY and AROYA, the initiative is also supported by Dewey Cannabis Co. and Ball Family.
Credits:
Client: AROYA
Agency: Serviceplan Innovation
Serviceplan PR & Content
Partners: GABY Inc. // Last Prisoner Project
STD.DEV
kimera
Moby Digg GmbH
DiGennaro Communications
OFF Films
86Tales UG
MassiveVoices GmbH