On 4th of July, Adidas decided to pay tribute to the Land of Liberty through art. The sportswear brand, together with lifestyle website Refinery29, invited 10 female artists to let their imagination roam free and create visual artworks for each of the 50 US states and place them on the new UltraBoost X sneakers.
The one-of-a-kind Adidas shoe collection titled BOOST the Nation distinguishes itself from other sports footwear thanks to its unique designs that reflect the individuality of each of the 50 states combined with the character of each female creator.
With carefully chosen illustrations, the limited-edition running sneakers capture the essence and spirit of all states and reflect their specific traits, such as local fauna & flora, cuisine, culture, or epic landscapes.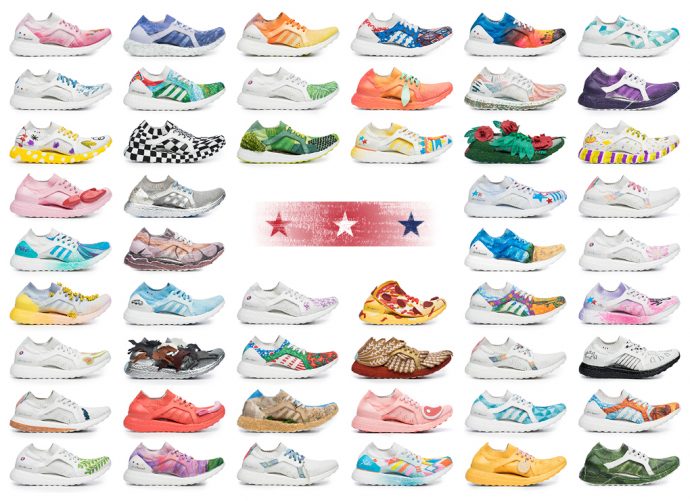 Inspired by distinctive landmarks and using sand, acrylic paint, thread, and different ornaments and materials the artists materialized their ideas all over the shoes' surface, totally transforming their general look, while keeping their sportive functionality.
Made by women for women, the sneakers with funky prints were available for purchase by auction starting of July 4 to July 11. Developed in partnership with digital campaign platform Wyng, the first digital silent auction, done for a good cause, perfectly blended with the brand's e-commerce platform. All funds raised from the sale went to Women Win, a charity that addresses gender equality and aims to encourage women to build leadership skills through sports.
Refinery29 Senior Vice President, Hallie Johnston, said the campaign celebrates "the diversity and creativity of this country while intersecting sport and art in a unique and shareable way."
Although you can no longer see the colorful collection in Adidas showrooms, we invite you to take a look at some of the designs made by a selected team of women that includes Canadian fashion illustrator Meagan Morrison, graffiti artist Maria Castillo, artist Bree Poort, photographer Lizzie Darden, botanical artist Jenny Kiker, illustrator Sophia Chang, former chemist Mari Orr, designer Jen Mussari, illustrator Carrie Chan, designer Jordan Schrager, and Refinery29 fashion editor Alyssa Coscarelli — who all designed their own custom sneaker.
---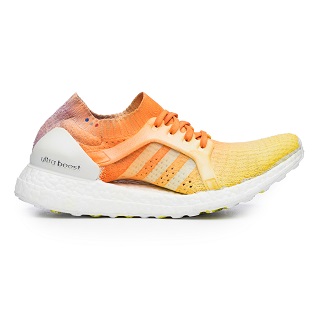 Arizona – Sophia Chang:
"For Arizona, I wanted to capture the desert sunset gradient and the colorful cacti that fill it," said the illustrator who also created the shoe prints for Illinois, Louisiana, Nevada, and Pennsylvania.
---
Iowa- Mari Orr:
"BOOST the Nation was such a fun project to flex my creativity […] Have a look and let me know which one is your favorite!" We chose sneakers representing Iowa, because they reflect the state's beautiful green lands. But you should definitely have a look at the artist's other designs for Alaska, Maryland, Nebraska, and South Dakota.
---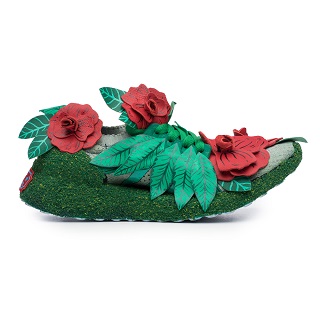 Kentucky – Jen Mussari:
"I was given free reign by Adidas to glue, stitch, paint, and of course add fake grass to five pairs to visually represent 5 of the 50 states," commented Mussari, who used mint and roses to represent Kentucky's most famed event, the Kentucky Derby. Her other shoe designs are also just as pretty. The 'stitch-loving' artist worked on the shoes that honor the image of Indiana, New Jersey, North Dakota, and Oklahoma.
---
Mississippi – Carrie Chan
Chan was inspired by the state's natural attributes: "I looked at the state gems and stones for inspiration, which is petrified wood for Mississippi." She also contributed on crafting the prints for Colorado, Idaho, Texas, and Wyoming.
---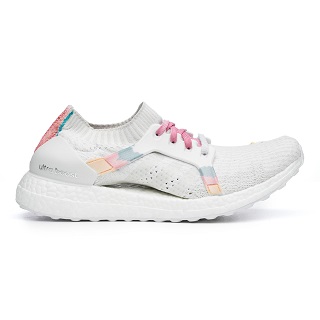 Michigan – Bree Port
Port said she was "honored to be one of the female artists [Adidas & Refinery29] chose and happy to show another side to my lifestyle." Speaking about her Michigan sneaker, she explained: "The soles of this shoe stay white like the frozen ice in the winter time of Michigan." The artist also reproduced the characteristics of Hawaii, Oregon, Rhode Island, and Washington on the trendy sneakers.
---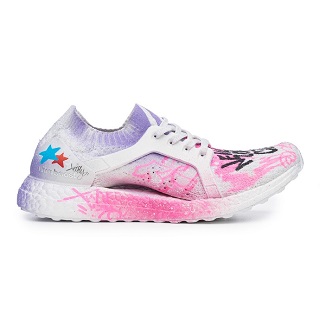 New York – Maria Castillo
The artist was very excited to be part of the project: "[I] had a lot of fun getting creative and customizing 5 pairs to represent 5 different states!" Her favorite one? New York! But, equally impressive are the prints she designed for Kansas, Massachusetts, Minnesota, and West Virginia.
---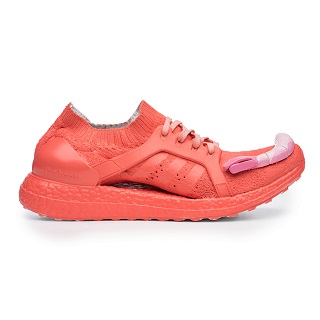 South Carolina – Lizzie Darden:
"In the spirit of unity this Fourth of July, each shoe here is based on a state, represented by their most loved dish!" Can you guess what South Carolina's famous dish is? Darden used food as a design pattern for other states like Tennessee, Maine, Georgia, and Wisconsin.
---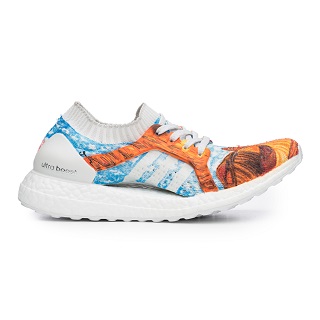 Utah – Jordana Schrager
Here, the shoe lover was inspired by the natural landscapes so characteristic of the state, like beautiful canyons and majestic mountains. Schrager's other designs for Arkansas, Delaware, New Mexico, and Ohio are as spectacular as this one.
---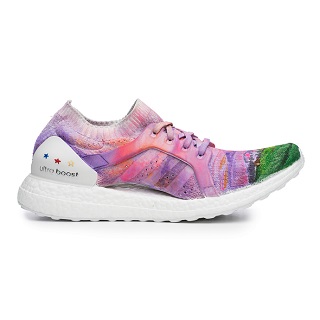 Virginia – Meagan Morrison:
"These are the Virginia UltraBoostX's that were inspired by their glowing violet sunsets and rolling fields. It was important to me that the designs & colors still feel energizing while also accurately portraying the state." Morrison's other prints were dedicated to Alabama, Missouri, California, and Connecticut.
---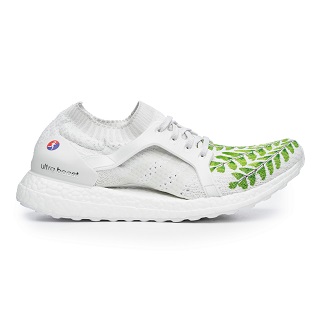 Vermont – Jenny K:
"I chose a native plant that best fit each state." For Vermont, the botanical artist said she was inspired by the "the Green Mountain maidenhair fern, a rare plant found only in serpentine rock […]." Jenny also honored the images of Florida, Montana, New Hampshire, and North Carolina.
---
Are you dying to travel to America, but you just don't know which state to pick? That's understandable, as the beauty of each state could get anyone confused. Adidas's latest campaign can help you make a clear picture of each state's personality, although it wasn't imagined for tourism purposes.
Which one attracts you more? New Mexico's specific landscapes, Georgia's peaches, or New Jersey's pepperonis? Let us know in the comments!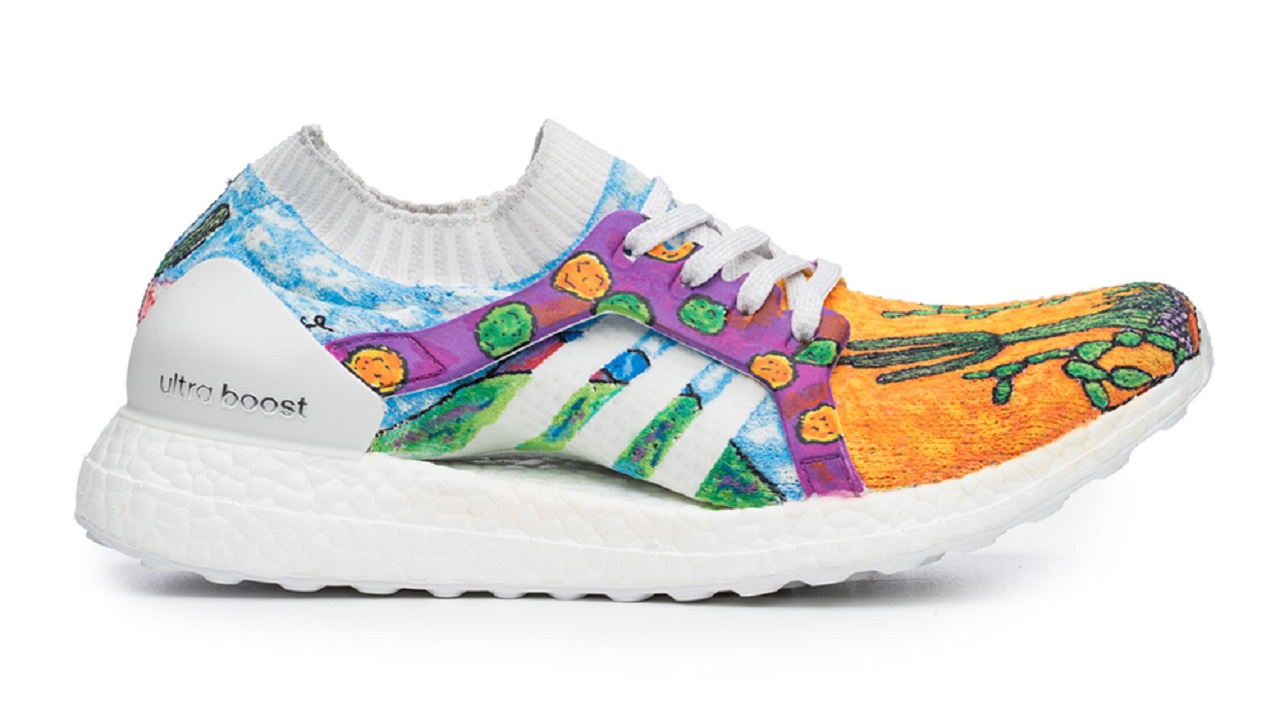 Still thirsty for more? Hit Adidas's page and enjoy the sneakers' unique design dedicated to each of the nation's states.
Credits:
Client: Adidas
Shot by: Munachi Osegbu