Residents of South Africa's Eastern Cape were fortunate enough to enjoy the magical feeling a snowy day can bring just two weeks ago. And because snow is rare in these parts of the world, a certain little girl who is part of a short, animated film by salt brand Cerebos would have been, without a doubt, very happy with such news.
You ask why? Little Mpho — a cute girl who lives with her grandparents in the region of Karoo — has never seen snow in real life. Mpho stars in "Snow," an ad created by agency FCB Durban, creative studio Tulips and Chimneys and a full service London-based production studio Strange Beast. The cute spot proves that even living in such harsh weather conditions should not stop you from dreaming. And Mpho does just that!
Very unlikely for the local weather, she wears a ridiculous winter outfit just to get the feeling of a cold and snowy day. The little lady makes sand angels and even 'goes' on a sleigh ride. Obviously, her grandparents want to make her happy, so they come up with a brilliant plan to transform the girl's dream into reality.
Her ingenious grandfather uses Cerebos salt containers to carefully recreate a wintry scene with a snowy surprise for little Mpho, as her grandma reads her a bedtime story. And her dream magically blooms into something real.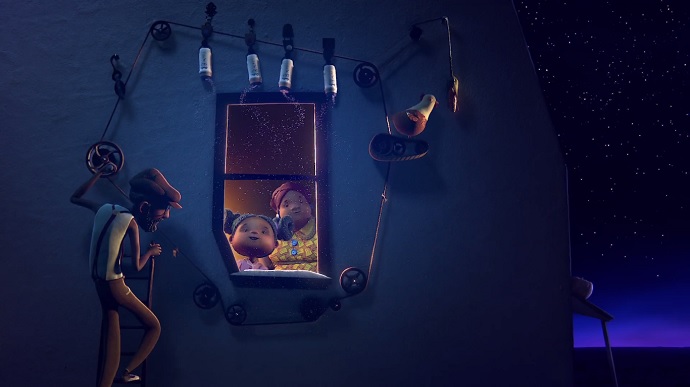 Durban-based agency's work for Cerebos proves that salt is not important just in food preparation; it can be used to add some good taste in terms of creativeness as well. A year ago, the salt-producing company Morton Salt managed to send a similar message within the one-of-a-kind music video titled "The One Moment" made in collaboration with American rock band OK Go. The essence of the clip lies in its first 4.2 seconds, while the rest of the video unfolds in slow-motion to highlight that just a single moment can be vital in making a big difference.
The emotional story of Snow marks the first ad of the South African brand after it remained silent within the advertising industry for more than 20 years. For the return to be as epic as possible, the Cape Town-based creative studio spent almost a month creating a miniature set, in-house. The team explains that the 40-second-long movie required 24 different types of material to create the lounge and no more than 31 to craft the kitchen. The imagery was developed using a unique combination of stop-motion and CG animation.
"In terms of the art direction we stayed true to the stylized, comical, and carefully-thought-through designs but then sourced many different materials to bring a feel of realism into them through textures and finishes," proclaims Tulips and Chimneys.
The video also contains truly South African features: like pumpkins drying out on the red roof of Mpho's Karoo farm house; dishwashing liquid in the kitchen reminiscent of Sunlight; old ginger beer bottles typically found in farmsteads; and a coat hanger being used as the TV aerial.
The salt grains spice up the beautiful storyline and leave you with a sweet aftertaste. Follow Mpho's adventure and let us know if the fake snowflakes did melt your heart: