At times when fear and misunderstanding manage to divide the world into two (usually not so) different groups of "Us vs. Them," it is quite difficult to focus our attention on something that can bring us all together. Rather, most people consume their energy in focusing on things that divides us.
This week's #ThrowBrandThursday tries to remind everyone that we should think outside the box and accept the individuals standing next to us. In an attempt to prove there is a multitude of things that can bind people together, maybe even more than anyone could ever imagine, Danish broadcaster TV2, along with &Co agency, released a video that celebrates diversity, acceptance, and understanding among people all over the world.
The launch of the video titled "All That We Share" took place on the International Holocaust Remembrance Day. It also coincided with the moment when the US President Donald Trump signed the executive order banning citizens of several countries with Muslim majority from entering the country for 90 days.
With such a powerful and controversial background, the 3-minute-long video that carries a heartbreaking message was greatly welcomed by viewers. The English version gathered more than 1.3 million views on YouTube in the first five days after its launch.
People tend to classify and profile those around them according to their religion, race, gender, age, occupation, and much more. They judge them without even giving them the chance to express themselves. Or do they?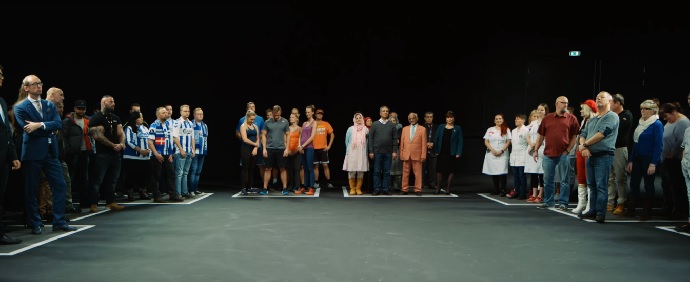 The Copenhagen-based agency's short film introduces us to some Danish people who enter a room and are grouped in boxes. Everyone belongs to a specific group, each box gathering people who share the same qualities: 'The high earners vs. Those just getting by,' 'Danes vs. immigrants,' or 'Those we trust vs. Those we try to avoid.'
But, as they answer a series of personal questions, participants are asked to step forward. They find out they are part of a new group, with individuals who also belong to other different categories. Eventually, they learn that they had much more in common than they had previously thought. Moreover, the members discover that one specific detail that brought them together can stand as a good reason to form a new group, diversity of which is fascinating to the whole group.
Speaking of 'us and them,' it seems that they–the Danes–know something not everybody can experience so often: happiness. The beer brand Carlsberg asked actor Mads Mikkelsen to invite consumers to discover 'The Danish Way' and see what fuels them with joy. In case you didn't know, Denmark is the second happiest country in the world. Sadly, one statistic isn't so encouraging when it comes the Northern country's birth rate.
In an attempt to increase the country's low natality, a travel company urged people to have more sex while they are on a vacation; for a good cause, of course. And although the 'Do It For Denmark' commercial made for Spies Rejsmer Travel is different from the one for the Danish broadcaster, it gives yet another proof that Danes know how to make good ads that stick to the heart of both domestic and international audiences.
Credits:
Client: TV2
Agency: &Co