"Oh Mickey, you're so fine / You're so fine you blow my mind, hey Mickey, / Hey Mickey!"
Being the victim of an earworm can make you go crazy. It probably won't be the first time a catchy tune got stubbornly stuck in your mind. We plead guilty to this one, sorry! And for what's about to come, you can blame on the 3M company and its cheeky idea to use famous catchy songs for its marketing campaign.
Some say that the combination of lyrics and sounds is what makes these 'brain worms' so memorable. 3M Hong Kong took advantage of this phenomenon and used it to advertise one of its products that, according to the brand, is as sticky as an annoying earworm: duct tape.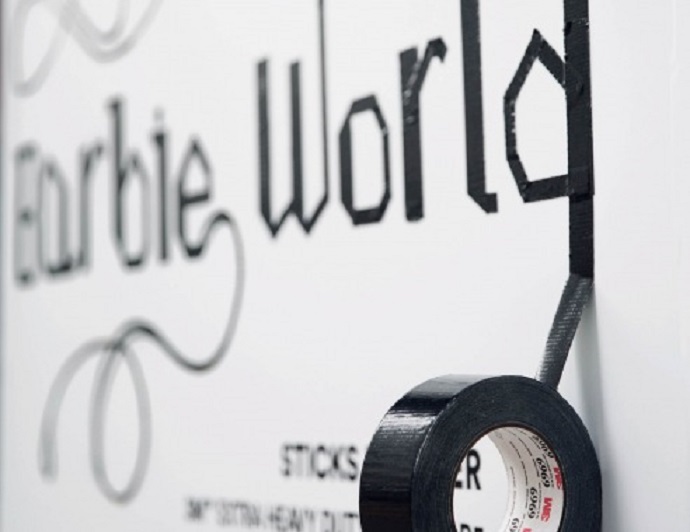 Together with Cheil Germany, the brand identified three catchy songs–unfortunately, the Toni Basil's hit from above isn't one of them–and, using duct tape, they wrote various lyrics of other famous songs on a series of billboards. Then, to show that their product is so adhesive that it can simply stick to your mind, they placed the panels across Hong Kong, observing how these earworms "infected" pedestrians' minds.
Songs like "La Macarena," "Barbie Girl," and "Karma Chameleon" are the ones which received the company's attention. And if these tunes already made you cringe, then wait until you see the sticky panels.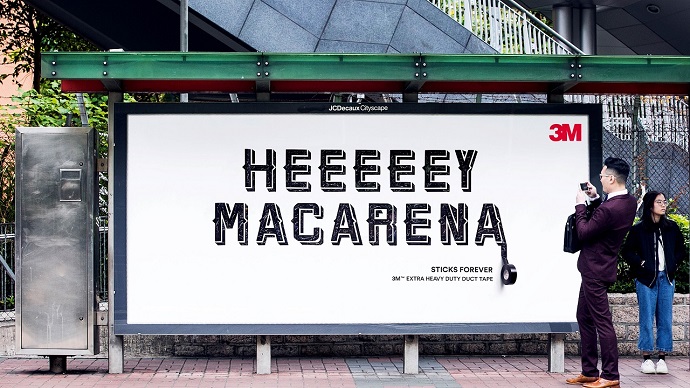 This week's #ThrowBrandThursday presents "Forever Sticking Billboards," a series of OOH adverts that showcase a type of duct tape that is able to stick fast to any surface. Although the panels seem to be motionless, one can tell that there's nothing static in there. In fact, they might be more interactive than any other billboard you have seen because, let's face it, your mind involuntarily reacts to their content.
To create the posters, 3M commissioned one of the world's leading tape-artists, Buff Diss, gave him the Extra Heavy Duty duct tape, and asked him to create illustrations that present the product's high-quality and, of course, adherence.
The Australian artist decided to showcase their adhesive nature by using a clean and airy typography. For each of the billboards, Diss chose a different typeface. If for "Macarena" and "Karma Chameleon" he went on with some bold yet simple letters, for "Barbie Girl" he took a different approach, marrying normal letters with squiggly line symbols as a way to accentuate Lene Nystrøm's high-pitched voice.
The campaign unfolded with different formats: billboards, posters, and transit advertising. Some of the featured panels were made using real duct tape. And even though others were printed, the effect remained the same: plenty of passers-by had a really good time, they danced without hearing music, and, best of all—or worst of all, depending on which side are you on—the lyrics that got stuck in their heads subconsciously highlighted the adhesive nature of the advertised product.
The billboards' content stayed in pedestrians' heads during the weeklong annual Hong Kong Walls Street Art Festival at the end of March 2017 and since then, it has received international recognition. The campaign scooped three gold awards, one silver, and one bronze at the London International Award ceremony; two gold at the EPICA Awards; and three Best of the Best and four Red Dot awards at the Red Dot Award. Try keeping it out of your heads for a while!