When it comes to national pride, Canadians direct their attention towards diversity, equality, the well-being of the country and its citizens, and, of course, politeness. Still, to make sure that no one forgets about Canadians' reputation—that of leaving a lasting impression wherever they are— beer brand Molson Canadian joined forces with ad agency Rethink and launched a video titled "The Canadians" in 2013, which emphasizes the friendly spirit adopted by the country's citizens.
Later that year, the company continued its partnership with the creative agency and decided to spread the word even further, so that people from each and every corner of the world get to see just how proud Canadians are of their motherland even when they are far away. To showcase the patriotic spirit and just in time for Canada Day, the two partners built a beer fridge, which later became the brand's marketing and branding symbol.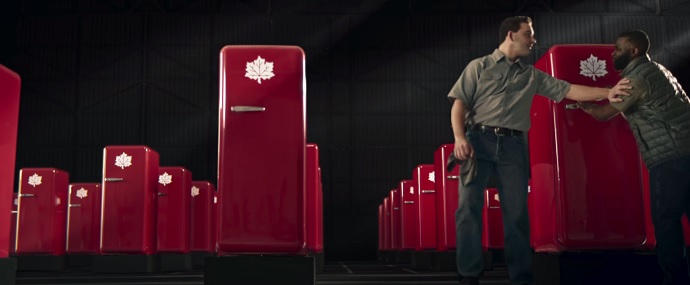 This week's #ThrowBrandThursday presents the cool(ed) story of Molson Canadian beer fridge, which has started its journey in 2013 and still continues to surprise people all over the world, especially Canadians, even today.
The trip unfolded in several stages, at different places and times. Even though each stop was approached differently, they all had (and still have) the same purpose: to unite Canadians in order to find the right way to open the refrigerator.

The first initiative took place in Europe, where UK, France, and Belgium played host to the unlikely fridge. The red device was left standing alone, either in a crowded place or in the middle of nowhere, tempting pedestrians to see what's inside the fridge. To do so, they needed a very special key: a Canadian passport.
The award-winning spot—created by director Jonty Toosey of Partners Film to promote the initiative—evokes a feeling of nostalgia and captures, in less than two minutes, the emotions felt by some Canadian tourists when they discover a "piece of home away from home."
In 2014, Molson decided to mark Canada Day with the same iconic fridge, which was brought back to the native lands. Only this time, the refrigerator required a different kind of key to open its chilly doors.
To get their hands on one of its refreshing beers, Canadian pedestrians were invited to sing the country's national anthem, O Canada. Once the anthem was sung entirely and correctly, the fridge unlocked, and the singers could grab a cold Molson beer bottle as a reward.
In 2015, the beer brand used the same tool to quench Canadians' thirst for both unity and good beer. Meet Molson's "Global Beer Fridge," the refrigerator you have to talk to in order to taste one of its beverages. The task was simple: to unlock it, pedestrians had to say "I Am Canadian" (the brand's famous tagline) in six different languages.
To bring the concept to life, the creative agency—which specializes in big ideas—partnered with Google. Using the tech giant's real-time voice translation, the fridge was able to identify each language. Once the machine recognized all of six them, it would open, inviting Canadians to celebrate with a Molson brew.
The year 2016 marked another initiative adopted by the beer company to show again just how kind and friendly Canadians are. Joining forces with the above-mentioned ad agency, Molson brought three travelers from Papua New Guinea to Canada for a 'small' experiment which challenged the tourists to find the red fridge that was 7,000 km away from them.
So, what was the catch? Was this just a prank by Molson? Actually, it wasn't. In order to find the refrigerator, the protagonists had to rely solely on the help of Canadians who proved, once again, that when it comes to teamwork, they are second to none.
Lastly, to celebrate Canada's 150th anniversary, Molson prepared yet another huge surprise for its audience. 150 Canadians who contributed to making the country a wonderful place to live have been rewarded with their own Molson Canadian beer fridge.
Canada Day (July 1) is just a couple of months away. Does Molson have another surprise ad 'in their fridge' for such occasion? We don't know, yet. What we do know is that Rethink and Molson have done a wonderful job so far to celebrate Canada and its kind, polite, and friendly population.
Credits:
Client: Molson Canadian
Agency: Rethink Canada