If you're not familiar with G-Star RAW, you'd be surprised that one of the world's biggest denim brands was founded just (almost) three decades ago, in 1989.
Although it could be considered "young", the popular clothing brand remains driven by its philosophy of "Just the Product". Being dedicated to high-quality products and progress, G-star RAW has represented the forefront of the denim industry, while introducing pioneering styles and also challenging the stale industry standards.  Moreover, innovation and sustainability are at the core of the G-Star's DNA and the brand is committed to developing sustainable solutions for the future of fashion.
Now, being founded in the late 1980s, the agency is now working for the first time with one of Amsterdam's up-and-coming agencies, HERC. If you're a bit familiar with beginnings of hip-hop in the 1980's, you'll know that the agency is actually named after the iconic New York DJ Kool Herc, the godfather of hip-hop, who laid the foundations of modern-day pop culture through his contribution to hip-hop in the mentioned decade.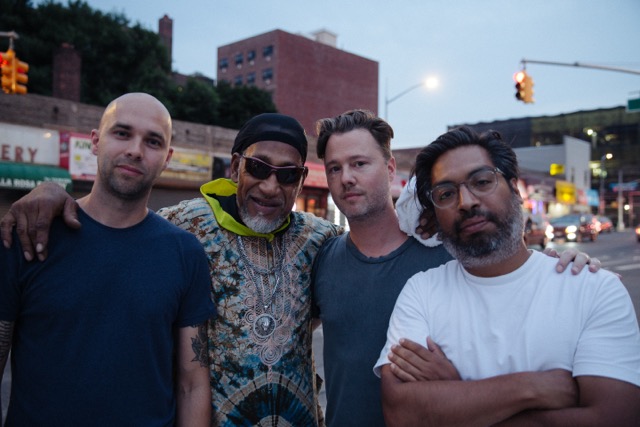 HERC is an independent start-up agency founded in 2018 by Emilio de Haan, Rogier de Bruin and Niels Heimens, and it aims to "create brand heat". The three have been a trinity for over ten years now, and are responsible for many highly awarded and much-talked-about campaigns for G-Star, Tele2, Young Capital, or Sportlife.
The two hip entities decided to work together with Dexter Navy—who is currently regarded by some as the world's hottest music video director and is known for his work with A$AP Rocky, Kanye West and others—to create a new global campaign for G-Star's Fall/Winter '18 collection called 'Uniform for the Free'.
It's clear that HERC's magic lies in creating advertising that feels like entertainment, rather than forcing a strong message upon the consumers. And their new campaign does not only serve to present G-Star's latest F/W collection, it introduces a new brand line—Uniform for the Free—while referencing denim's beginning as a workwear uniform.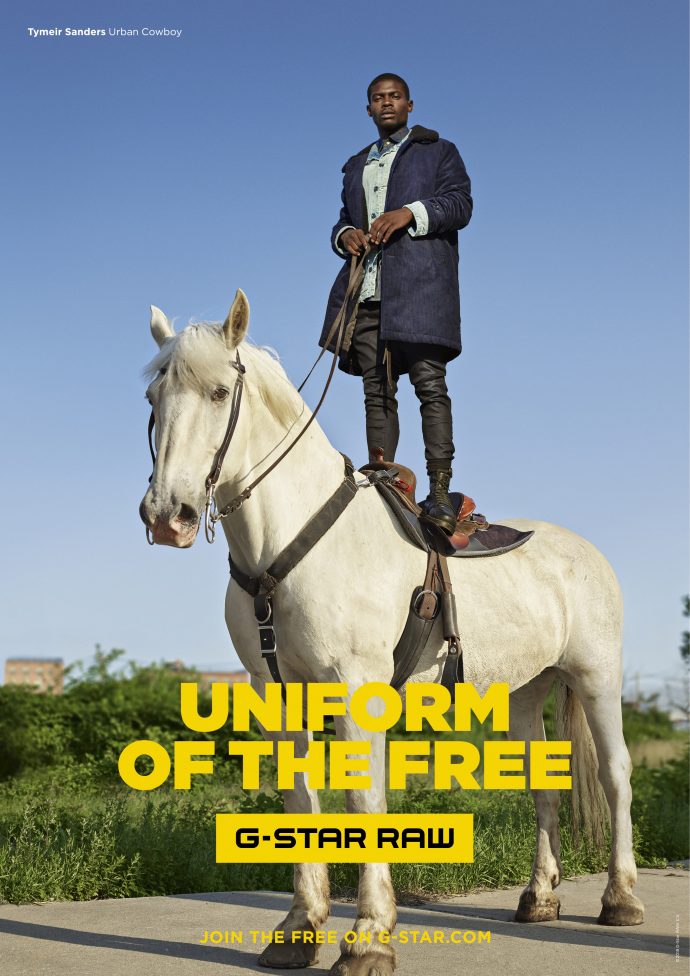 Plus, the campaign pays homage to the brand's history as the garment of choice for free-spirited individuals and functions as an ode to this feeling of freedom, captured through the wild and wide lens of street culture.
The video shows a day in the life of the 'Kings and Queens of the street', a range of highly individual rule breakers, who 'do their thing§ to the soundtrack of an original piece of spoken word poetry, set to an unreleased track by up-and-coming electronic producers, The Blaze, who made waves with previous releases such as Territory. The lyrics are an original composition, which has been co-created by HERC together with Chicago-based spoken word poet, Rapsody. Both the music and the words aim to "reinforce the message of non-conformity and freedom".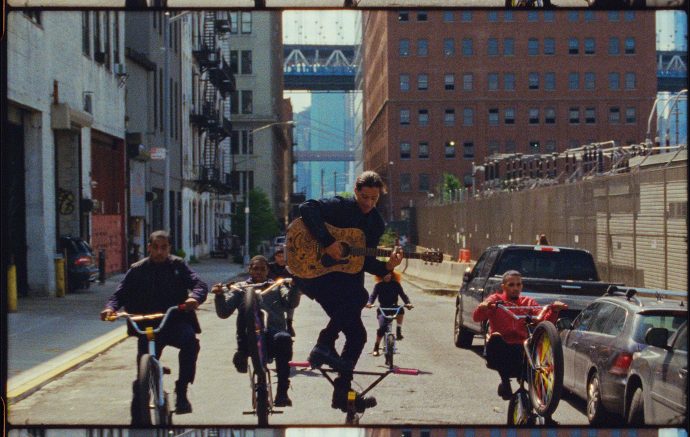 Rogier de Bruin and Emilio de Haan, creative directors and founders of HERC, further explain how the campaign is all "about freedom – and celebrating freedom in a RAW, authentic and intelligent way. Our vision for creativity is to make brands popular by credibly making them part of culture. For our very first campaign as an independent agency, G-Star's Kings and Queens of the street match own agency spirit and philosophy very well."
The video features a range of captivating individuals: from urban cowboys to hip-hop ballerinas, female dirt bikers to urban climbers. They all are not afraid to step beyond pre-established rules, push boundaries and celebrate the freedom of doing it their way. Also, for the first time in the brand's history, a global campaign has been shot using real people, as opposed to models or celebrities. The impressive cast was found during extensive street casting in the US and through searches on YouTube and Instagram. Just check the video below and see for yourselves!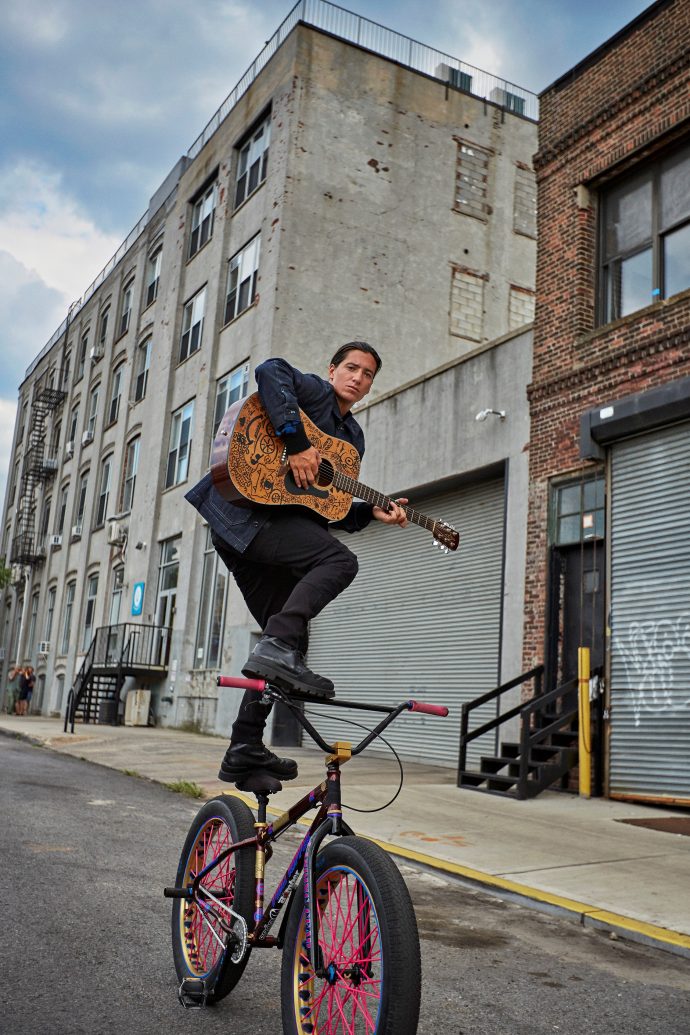 The new collection includes print, retail activations, online, social and billboards in key metropolitan locations such as NYC, LA, London, and Tokyo – all led by the epic 75-second film. Below the video, you can have a read through the lyrics of Uniform of the Free by HERC and Rapsody.
Lyrics: Uniform of the Free  (by HERC and Rapsody)
The look of a king
I see myself in you
And you, and you – therefore, I am king too
Where independence is a thing we rule
Cut from a cloth both rugged and true
Look at us, and all our glory and fight
We are heirs to the throne,
We are queens of the night
Free as birds with unclipped wings – ain't we fly?
Unashamed of who we are, I, see myself in you
Phenomenal, wild, wise,
Filled with strength, love and pride
These are the jewels of our royalty
Of human kind I stand loyally
Regardless of creed or color, language or religion,
Amongst kings and queens there is no division – we shine.
Kingdom to kingdom, cut from a cloth that can't be defined.
This is freedom.
Jump with the push of a swing
Heir to the throne knowing we have the right to be king
So be
Uniform of the free

CREDITS:
Client: G-Star RAW
Creative agency:  HERC
Creative Director: Emilio de Haan
Creative Director: Rogier de Bruin
Managing Director: Niels Heimens
Director: Dexter Navy
Director of Photography: Khalid Mohtaseb
Photography: Dexter Navy
Production company: Division Paris
Post production: Mathematic
Social content: Noël Schoolderman
Line production: Strange Love
Print production: CLM
Edit: Modern Post & Kapsalon
Music: The Blaze
Lyrics:  Rapsody & HERC
Music Supervisor: Pitch & Sync London
Sound: Wave Studios