Confirmed: The White Walkers have come. Game of Thrones's ice creature—and understandably the most feared of the whole lot—have just successfully overcome the Wall and are now wandering around the human kingdom. But fear not, because they don't pose any threat to mankind. Contrary to everyone's expectations, they are here and they are more peaceful than ever before.
It's not bloodshed for which they are thirsty. They lust for something else. Not in a million years you'd guess what they've come for. But we'll give you a quick tip: it's alcohol. Because, why not? Humanity has its own special treats to fool and tame even the most frightening creatures.
You'd think that pampering the taste buds of some unearthly beings may require a magical formula and some weird potions, but that's not true. At least, not for Johnnie Walker, which is likely to have found the perfect recipe to please GoT's scariest characters.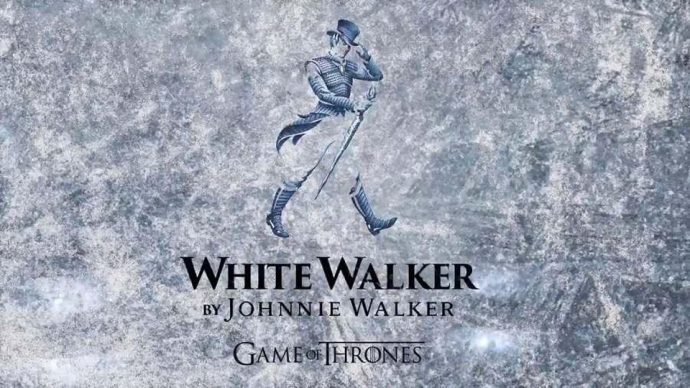 In collaboration with HBO and Game of Thrones, the Scottish whiskey brand just launched its new blend, a limited-edition 'White Walker' whiskey that is inspired by the show's ancient race of powerful ice creatures, the White Walkers. Brace yourselves: winter is just around the corner and this GoT-infused whiskey might be exactly what you need to keep warm throughout the coldest of seasons.
Created by blender George Harper and the Johnnie Walker team, the whiskey's design and taste mirror the chilling presence of the Walkers. Best served directly from the freezer, the alcoholic beverage uses single malts from Cardhu and Clynelish. But whilst the packaging reminds us of the legendary characters, the taste carries us into a fictitious world, where notes of caramelized sugar and vanilla merge with fresh red berries and a touch of orchard fruit to deliver just a glimpse of GoT's upcoming new season.

The bottle wears the same shape as the regular Johnnie Walker one. The difference is made by new aesthetics embedded on the flask's facades. Completely covered in white, the whiskey vessel features icy shades with blue design lines, which all act as a perfect background for the iconic Johnnie (White) Walker walking in armor. Thanks to the temperature-sensitive ink technology, the bottle will transform its looks when frozen. This way, the show's fans will be reminded that "Winter is Here" in a very creative way.
Now, whether you are a Game of Thrones fan or a whiskey connoisseur, this is a blend you don't want to miss. So, get ready to enjoy your own limited-edition alcoholic beverage. It will be available in select global markets in stores and airports starting this month. We're quite excited to take a sip of this cool drink. But then again, aren't we all curious of how this whiskey tastes like? Cheers, guys!