A good beer goes hand-in-hand with a tasty snack. There's no doubt about that. The combination is almost like Batman and Robin, Bonnie and Clyde, or Mario and Luigi. Most of us can't simply imagine one without the other. Swedish brewery S:t Erik was perfectly aware of this fact and went great lengths to find a suitable partner in crime to help it fulfill its well-thought plan. And it certainly did: Abby Priest, an award-winning creative communication agency always ready to confront the modern era, entered the tasty scene.
Although the world abounds in delicious savory snacks that complement the taste of any beer, the brewery felt like there is nothing out there worthy of its cold, refreshing beer. Determined to prove that not every snack is the perfect match for its hoppy beverage, the brand decided to create its own appetizer. Now, get ready to see something so ridiculous that it goes beyond common sense.
This week's #ThrowBrandThrusday will help you virtually meet the world's most expensive potato chips. Yes, you've read that right! But why does the encounter unfold online only? Because the limited-edition potato chips sold out immediately after its release last year. Plus, you probably couldn't afford—or rather wouldn't want—to throw a ridiculous amount of money at only five chips. Yes, that's only five potato slices. At a price of $11.20 each, that means paying $56 for the whole set.
At this price, you'd expect something extremely exclusive. And the company didn't disappoint. Driven by the fact that a very exclusive beer deserves a highly-quality snack, the brand joined forces with the Swedish National Culinary Team and together they developed a special recipe for the snack that paired perfectly with St Erik's IPA.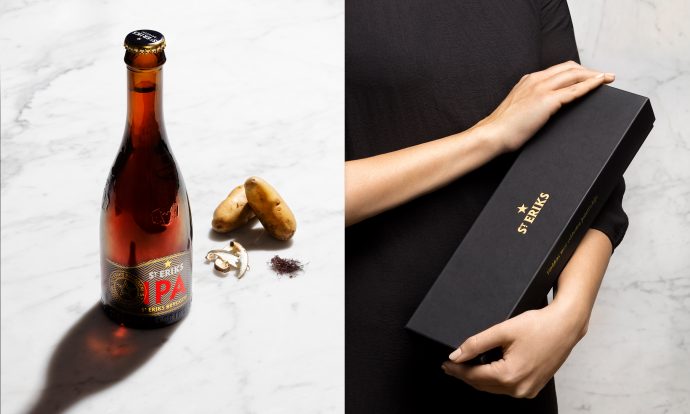 Bringing the snack to life was not an easy task; the partners had to find the exact ingredients and then blend them in such manner so as to deliver an unforgettable gourmet experience. Matsutake mushrooms, truffled seaweed, India Pale Ale wort, Crown Dill, Leksand onion, and almond potatoes from the Ammärnas region were meticulously added in the recipe. Yet, if you expected gold, we have to disappoint you. Then why this extremely-high price? Because these are some of the rarest Nordic ingredients. Moreover, each potato chip was delicately handcrafted by the culinary team.
So, what sets apart these potato chips from a regular bag of Lays? Well, first of all, there's the exquisite taste. Second, you can't throw a handful in your mouth either. And last, there's the packaging. Wrapped in a very elegant box, each chip was carefully placed in its own spot. The pack was dressed in matte black and the name of the brand in a golden color was carved on its surface. Both the combination of the colors and the packaging design highlight the luxurious features of this delicious snack.
"We felt that we were missing a snack of the same status to serve with [our beer]. A first-­class beer deserves a first-class snack, and this is why we made a major effort to produce the world's most exclusive potato chips," S:t Erik's brand manager Marcus Friari said.
Even though the offer is no longer available, the beer still is. You can try it alongside other snacks like peanuts, chips, nachos, or popcorn. So, grab yourselves a bottle of S:t Erik IPA and let us know which snack goes best with this refreshing beer.
Credits:
Client: St Erik
Agency: Abby Priest