Rainy days can be a real pain in the neck for some. Sure, walking in the rain might sound romantic, but how many of us have actually gone out on a rainy day and started wandering around just to feel the raindrops on our cheeks? Let us tell you: none of us! Well, except for those incurable romantics that simply love rain.
Such days are meant for cuddling inside the house with your pet, staying in bed, and watching movies. But what if hunger kicks in? Then what? Would you leave your cozy place to get something to eat? Or would you prefer for someone to bring the food right to your door? That would be ideal. And just so you know, fast-food restaurant McDonald's is now one of those places that will actually do that!
To promote their new McDelivery service, McDonald's worked closely with creative agency TBWA/Paris, and launched a print campaign that features a series of illustrations of soaked-in-rain Paris. The ads, four at a number, depict France's capital city during a rainy day, with buildings and a stormy sky that can be admired through a window. All images were taken by the photographer Robert Baden—who is also known for his work on the "Inside Japan" book—and carry the brand's logo, alongside the McDelivery symbol.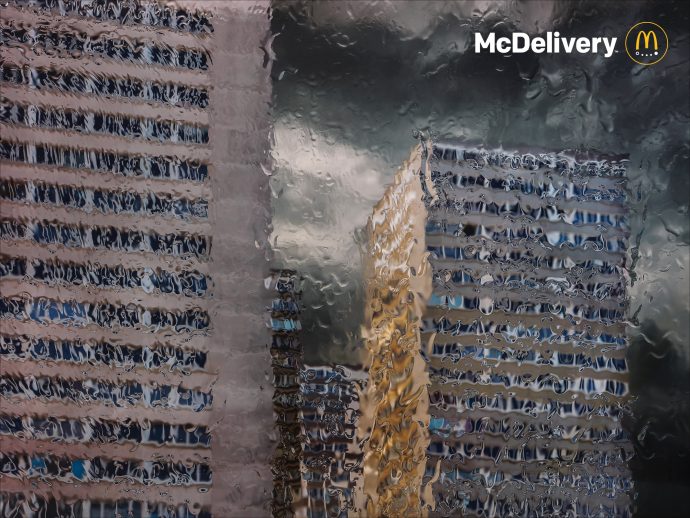 Although the images might seem like they are expressing sadness, they carry rather a joyous message: bad weather has its advantages too! Oh, what a coincidence that we stumbled upon McDonald's delivery campaign. Because, now, we can really appreciate stormy weather. Obviously, from the comfort of our house, with a burger by our side!
The campaign speaks about the urban side of the fast-food chain, while the visuals suggest how good it is to stay inside on such a damp day, waiting for McDonald's to deliver you their tasty dishes. And this is actually the concept which lies at the campaign's foundation: customers who don't want to go out can trust McDonald's special service and rely on it not just during bad weather.
From where we are, it's not the rainy weather that prevents us from leaving the house, but the snow. So, McDonald's, please send us some burgers so we can fill up our bellies!