There are probably things that would not come into your mind when thinking about breast cancer. Like wigs. But, bear in mind that even such a simple thing can help women improve their self-esteem while they have to undergo invasive chemotherapy. Unfortunately, drugs used during this kind of treatment are powerful medications that attack rapidly growing cancer cells. They also attack other rapidly growing cells in our body, sadly, including those in the hair roots.
While there are other ways of confronting the highly dangerous disease, treatment with 'chemo' usually means patients will lose their hair. That's when wigs come to play their vital part. These head covers have become a great solution in supporting the way women suffering from breast cancer feel about themselves. However, these wigs can prove quite costly. So, having someone contributing to the purchase of these not only helpful, but also stylish, accessories can prove to be a great form of help!
A Brazil-based organisation that fights against breast cancer, Foundation Laço Rosa, decided that it was time to show the power of such contributions by installing an ingenious interactive panel that receives donations and at the same time projects names of those female patients who receive wigs from the foundation. How is this possible you ask?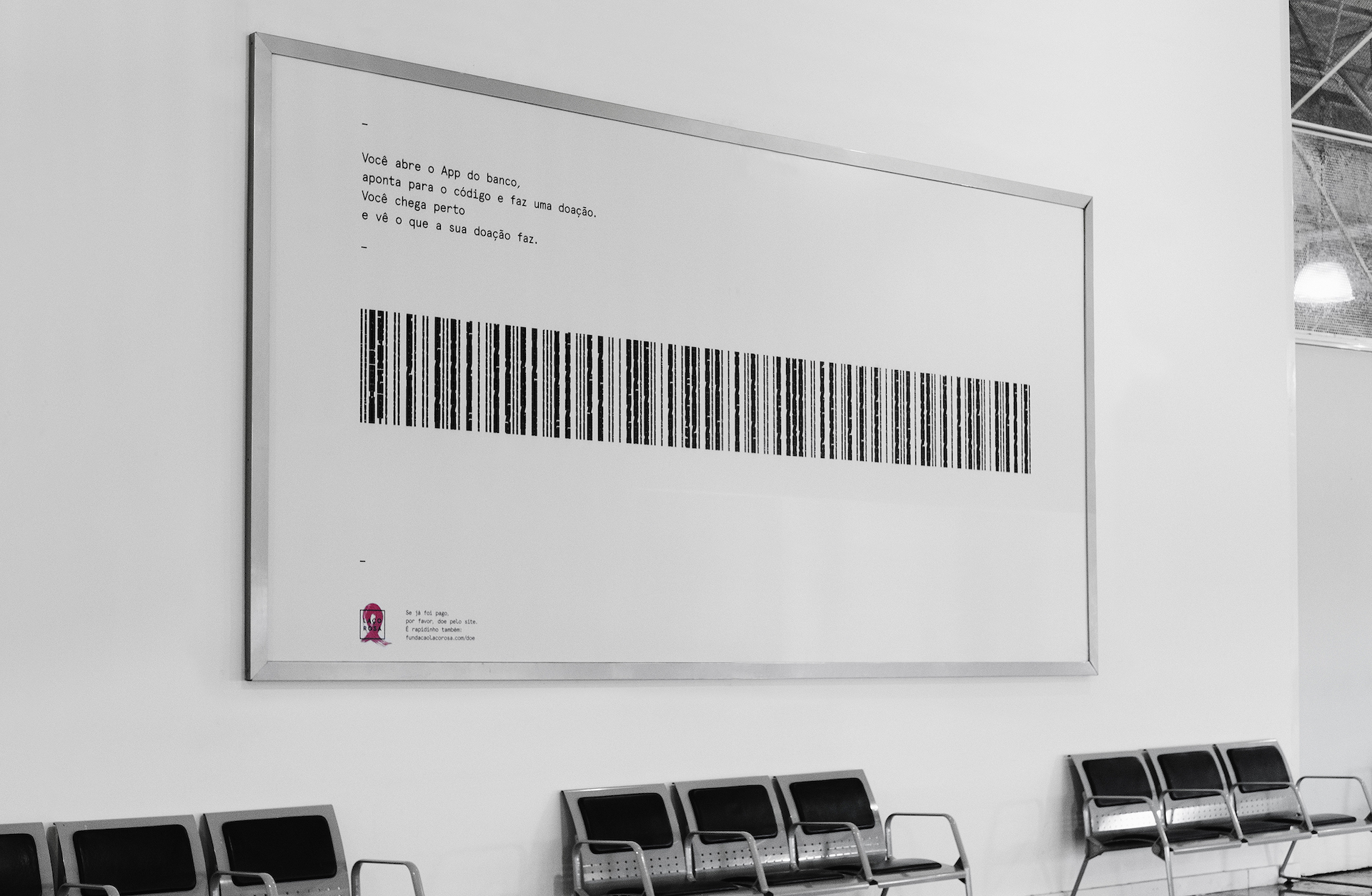 Although the panel seems like a regular, yet enormous, barcode, when you inspect it more closely you will see the names of women whose self-esteem is about to get lifted. So, even though the installation is composed of actual words, the barcode does work as a clever mean of sending money. It is also recognised by all banking apps in Brazil. Therefore, what represents a queue of women in the layout becomes a donation at that same instant.
The campaign titled #SELFESTEEMCODE was created by Sao-Paolo-based agency F/Nazca Saatchi & Saatchi. The interactive panel is currently installed at the airports of Curitiba and Ribeirão Preto. So, every time passengers decide to contribute to the wonderful cause the panel transforms to reveal a new barcode with updated names of the patients. The whole procedure also easily shows that the queue has moved, and the donations are helping new people in need.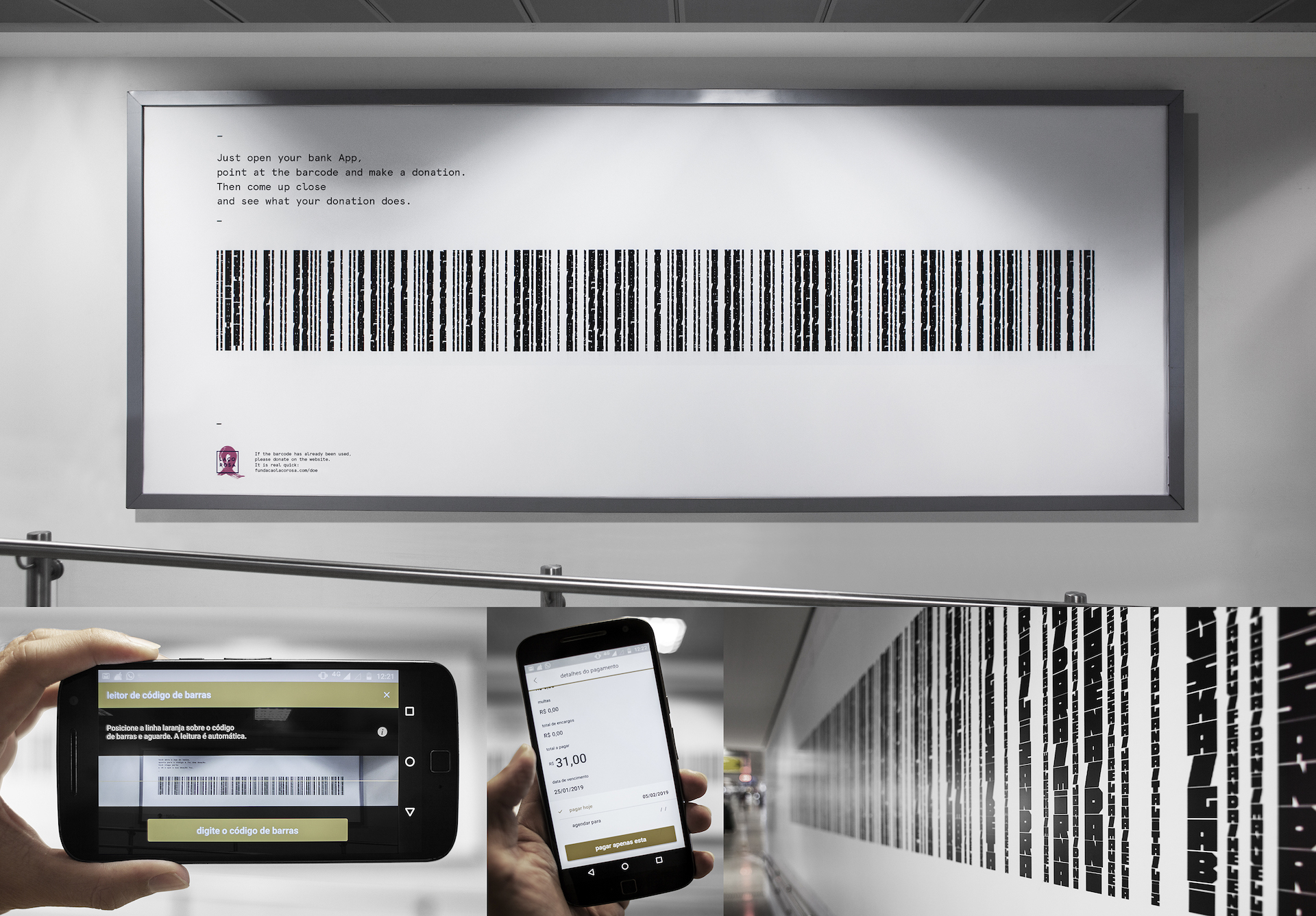 When talking to branding.news Creative Director at F/Nazca Saatchi & Saatchi, Pedro Prado, explained why they chose to work on the campaign: "Laço Rosa's fight is a fantastic one, and we are always proud and happy to be able to help. We truly hope Self-Esteem Barcode helps raise awareness for the cause and, what's even more important, raise money for the cause."
Still, if you are not going to visit any of the two airports and check the installation up close, maybe you could do your part and move the queue a little more online. People can donate right on the Foundation Laço Rosa's website here: www.fundacaolacorosa.com/doe. It's quick and easy and you will help actual women gain a lot more than just a wig – invaluable self-esteem.
Credits:
Agency: F/Nazca Saatchi & Saatchi
Client: Foundation Laço Rosa
Title: Self-Esteem Code
General Creative Director: Fabio Fernandes
Creative Directors: Pedro Prado | Rodrigo Castellari
Creatives: Andre Fukumoto | Charles Faria
Account Services: Ricardo Forli | Thiago Iusim | Julia Marquezi
Media: Mauricio Almeida | Fernando Nogueira | Amaury Magalhães
Integrated Production Director: Juliana Hasegawa
Projects Manager: Fernanda Kochi
Graphic Production: Jomar Farias | Leandro Ferreira | Guilherme Gaggl
Art Buyer: Juliana Gardim | Kamila Bertolino
Client Approval: Marcelle Medeiros