"Can Robot Food studio raise Hawkes cider and strengthen the brand's position as the Saviours of Cider?" asked the Hawkes brand, which was recently bought by popular Scottish brewery BrewDog. Hold my beer—or rather, my cider—said the Leeds-based studio. Whilst sipping Hawkes' tasty cider, the studio's creatives discovered the beverage's strong attitude, so they decided to follow this idea and crafted new bold looks of the refreshing cider that is "standing up for those who want to break free and make a difference."
Most cider bottles carry the same look: farms, trees, and apples most of the time. But not Hawkes, which was born and raised in the city of London. To reflect the cider's strong and bold personality, the Robot Food draw inspiration from Shakespeare's Hamlet. And they looked at a particular character: Yorick. Now, you've probably read the masterpiece, but did you know that the late buffoon had a brother? Meet Eddie, the skull which flourished on the brand's bottles and that has become the new ambassador of Hawkes.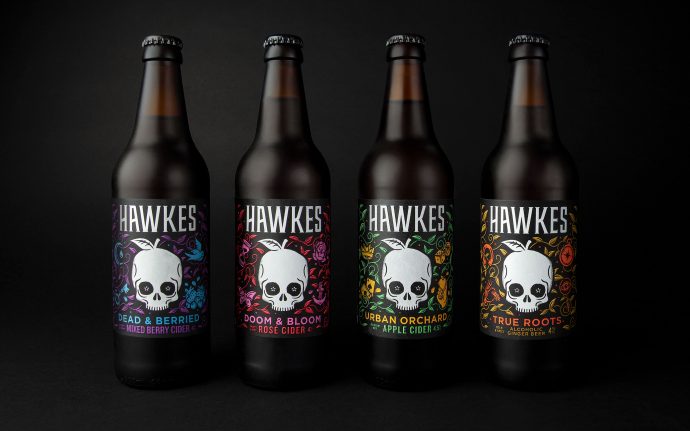 Speaking about the famous character's brother, Eddie, Chris Shuttleworth, Senior Designer at Robot Food, explained how "by bringing 'Eddie' the skull to the forefront of the design, Robot Food created a recognizable beacon to find on the shelf and at the bar. The naming strategy for 'Dead & Berried' and 'Doom & Bloom,' amplifies brand attitude with an urban edge, incorporating flavor notes, while the name 'Urban Orchard' was retained as a nod to the brand's history. We wanted to shape a brand that reflected the mission of the guys behind it. The result is iconic, recognizable and brand proud, a design that carves a new path for craft."
Borrowing the looks of an apple, Eddie can be admired on all bottles and on stoppers, from 'Dead & Berried' to 'Doom & Bloom,' two types of cider which deliver an aroma that's full of brand attitude. While another new flavor, Urban Orchard, is a type of cider which is closer to the brand's strong heritage and remains 'True to its Roots.'
To complement the scary skull, the artists developed a series of illustrations, which blend nicely with the whole ensemble. The style of the illustrations comes from the tattoo culture. Each product has its own personality, which is defined through the prints, and carries its own colors and shapes. However, the shades look more vivid thanks to the creatives' idea to stack the illustrations on a black background.
We're not much of party animals, but equipped with this killer cider, we bet we can release the beast within ourselves. Let the party begin!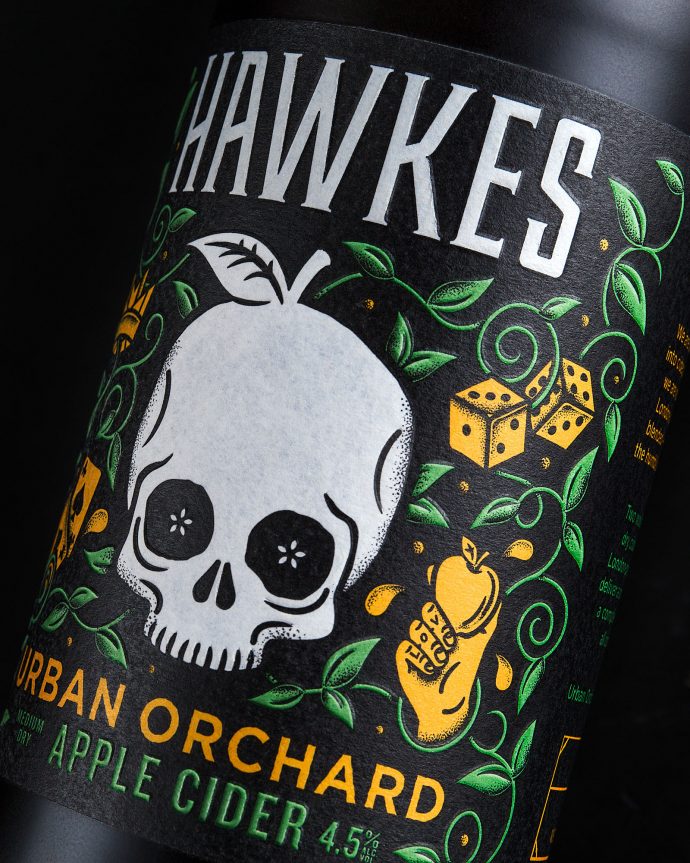 Credits:
Client: Robot Food
Agency: Hawkes