In a new challenge, BrandOpus creative agency worked closely with gin enthusiasts Upperhand to develop a stunning visual identity and unexpected brand world. It all started back in 2018, when the gin producer's founder, Alberto Borin, reached for the creatives' help, asking them to build a brand that would best represent his life. As a courageous man and a passionate sportsman, Alberto always looked at himself as being an underdog who sought to exceed the expected. "We wanted our work to encapsulate this strength and desire to take on life from an alternative perspective," boldly claims the agency.
Seeking to keep Alberto's story alive, the agency discovered that the number 11 best describes the founder's life. Then, the artists looked for a way to best describe this number and they turned their attention to Tarot cards. Especially to the art of reading these esoteric cards from the mid-15th century. And that's when they discovered the meaning of the 11th Tarot card – it represents fortitude. Printed on the card is an adventure of a maiden who overcame adversity to tame the strength of a Lion. For the agency, this creatively meant the ultimate story of an underdog who never gave up and never accepted the odds – while beaming with strength and power. Just like Tarot card no. 11.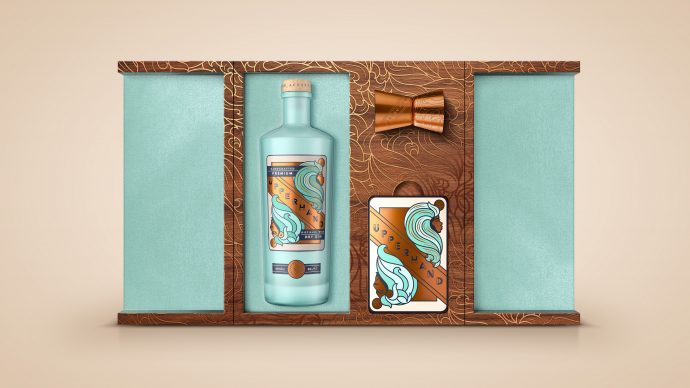 This is how the new Upperhand Gin's identity was born. It cleverly illustrates the principles of fearlessness, courage, and defying of conventions. The gin itself is made in such a manner to express a drinking experience that celebrates simplicity, and also to draw to the fact that it is a perfect fit for cocktails and mixing.
"Continuing to exceed the expected we created a brand world for Upperhand which enables [it] to live across multiple touchpoints from website to brand activation across both travel retail and on-premise," continues the London-based agency.
Alexandra Hamilton, Strategy Director at BrandOpus says that Upperhand's real meaning is to exist to challenge conventions and overcome everything that's in its path. She also adds that "with the courage to do things differently, the brand has a platform and narrative which stays true to its inner fortitude whilst resonating with our millennial target who to some degree consider themselves the ultimate underdogs. We believe a gin brand which defies category norms and never accepts the odds is the perfect way to cut through the noise of an incredibly crowded category."
Come and join us for a tonic gin. We'll add some Schweppes to make our meeting more effervescent. What do you say? Let's have a mesmerizing Upperhand drink, shall we?