Kazakhstan is a country where women are still not taken seriously. Surprisingly, Kazakh females are traditionally expected to play the role of stay-at-home mothers. Talking about women's rights is unacceptable in the Central Asian country but, still, there are women who desire to study or work. Despite these 'prehistoric' preconceptions, the statistics say otherwise: Nearly 9 million local women account for 40% of the country's GDP. 43% of all Kazakhstan's small and medium-sized businesses are operated by women, and 52% of the country's sole proprietors are female. And that's impressive!
Addressing the issue in such a country can be a difficult task. But not for ForteBank and Voskhod Agency that discovered a way to trick the system. Together, they developed a fragrance that smells like a powerful female. Meet FORTE FEMME, this week's #ThrowBrandThursday subject matte, and a perfume which was delivered to prominent female entrepreneurs throughout the whole country. To help accentuate their most burning issue, ForteBank asked the females to smear their money with the fragrance. The scented banknotes were then re-distributed across ATMs throughout the nation.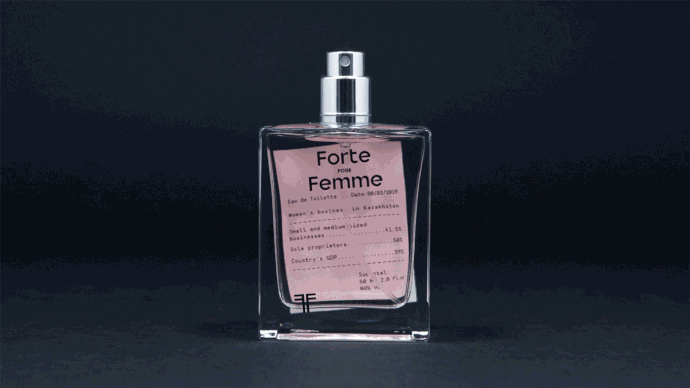 People across the country weren't aware of the unusual campaign when suddenly money across the country started to smell differently. Nicer. It didn't take long before the bank revealed its fragrant plan. The ladies first received a gift from the bank which included perfume sets with the essence, scented cash register tape and «Woman entrepreneur» stickers. Then, using different media channels, such as TV and Radio, the bank revealed what the scent stood for: respect, overcoming, success, confidence, achievements, and victories of businesswomen.
It didn't take long for FORTE FEMME to become a social media phenomenon: The whole country started to 'feel' the women's contribution to its future and development. Many entrepreneurs have joined the cause and started promoting it, therefore further raising the topic of women's role in Kazakhstan towards an open public discussion. The last five bottles of the perfume were sold at an auction and the money was donated towards female entrepreneurship support funds.
The campaign was supported by print and a video, which seems like a classic perfume promotion. It later reveals that it's no other than the Kazakh bank who is behind the unusual 'Eau de parfum', which invited the audience to discuss how important women actually are to Kazakhstan's economy.