A regular visit to the doctor is not a pleasant trip for many of us. Just imagine what it's like for kids: Just a normal check-up might end up being a traumatic experience for them. Yes, such state of anxiety seems to grow once the children see the doctors all dressed-up in white coats, wandering around blank white halls, and, of course, then there's the needle. Even though kids fear doctors, sharp objects are even worse. Still, there are things that can be done to diminish their panic.
First, you can paint the hospital walls and analysis labs. You make them look nicer using a series of illustrations, just like the ones Romanian artist Saddo used for Regina Maria Clinique. To help young patients relax, the illustrator embellished the institution's walls with a series of decorative images that depict simple medicinal procedures. That's one way to ease the pain.
Second option? You turn to technology. A project in Brazil, which turned shape as a courtesy of Hermes Pardini Laboratories — one of the biggest vaccines centers in the country — Ogilvy Brazil, and Lobo, achieved tremendous results. The campaign makes the headline of our weekly #ThrowBrandThursday column because it's filled with stories of fun and bravery.
The Sao-Paolo-based agency came up with an ingenious idea of using virtual reality to help children overcome the fear of vaccines. Suggestively titled "VR Vaccine," the campaign invited kids to put on a VR headset and partake in a 3D-animated adventure experience that involves heroes in coats of armor who defend their sacred land against powerful villains. The doctors simultaneously follow the story on a separate screen and carefully synchronize their actions with important events from the VR experience.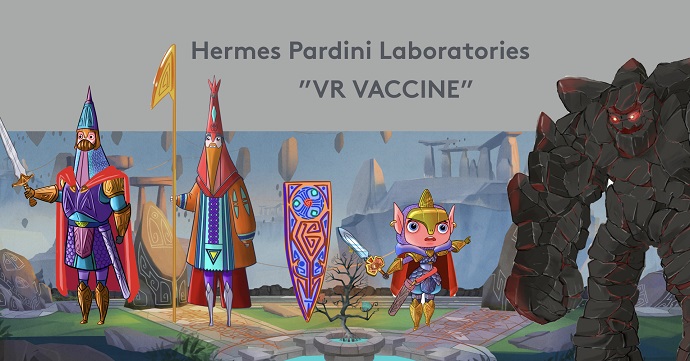 "What we learned from doing this project is that children mostly fear the needle, more than the pain itself," explains Luiz Evandro, director at VZLAB and Lobo. "So, in theory, if one could take 'the approaching needle away', the fear itself would also disappear. That ended up happening perfectly," he reveals the agency's road to happy youthful patients.
The project helped children alleviate their fears and relax their muscles, therefore making it much easier for the doctors and nurses to apply the shot. The campaign was so successful that Hermes Pardini ended up installing the headsets in all 80 of its pharmacies.
Ogilvy Brazil was highly applauded for this campaign. It scooped four Lions at Cannes Festival 2017 (one gold, one silver, and two bronzes) and received a Wood Pencil at D&AD Awards 2018 in Creativity for Good.
Would you trick your kid with such an experience just to forget about the needle? Let us know by sharing your opinion in the comment section below!
!