Thanks to the technological development of the last years, people have become comfortable. Maybe too comfortable. This explains why print newspapers have become slightly outdated, and online has become the main source of information for most of us. And the most popular platforms for getting our news are social media networks. But how accurate the news we get from here is?
According to a report from Pew Research, 62% of adults in the United States get their news from social media. Only three-fourths take their information from e-mail. The same script unfolds in the Philippines too, where the majority of people get their news from social media. But have you ever thought that such a source can make you a sure victim of fake news? You didn't? Just so that you know what you are getting into, BBDO Guerrero creative agency has designed a campaign that highlights the concept of misinformation and its impact on readers' general knowledge.
Titled #StopTheSpread, the campaign was made for the National Union of Journalists of the Philippines (NUJP) and the Center for Media Freedom and Responsibility (CMFR) and it was launched in the context of the current global situation, which is COVID-19. With so much news on this topic, it's almost impossible not to be fooled by fake news. However, you can always check the credibility of the news you are reading by using the Makati-City-based agency's new chatbot.
Given the ever-changing nature of fake news online, the creative team developed a solution that can work on mobile devices and by using free-data messenger. Basically, the partners' campaign puts the spotlight on a Facebook chatbot that readers can use to check their news and see if what they are reading is coming from a suspicious source.
Communicating with the bot is simple: All users have to do is submit the links they are using to inform themselves and paste them in the chatbot's box. Then, the bot will analyze the news based on various factors such as bylines, photo credits, and publishing date among others.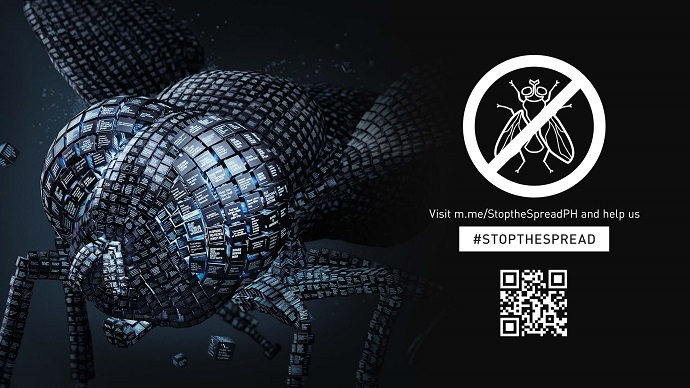 "Disinformation is a timeless problem that's been pestering our news feeds," says NUJP National Capital Region Chairperson Jonathan de Santos. "It's high time that we strengthen the fight against it by targeting where it mostly is – social media."
BBDO Guerrero Creative Chairman David Guerrero adds: "We hope this tool will prove to be useful in preventing the spread of misinformation. We look forward to developing it further with NUJP to allow people to connect with each other more safely. This is just the beginning of a bigger battle and we cannot wait for everyone to join in."
The campaign doesn't address Filipinos only. Because it is a bot that uses English as the main language, anyone is invited to use it. So, next time you see a fly appearing everywhere, be extra careful with it so it doesn't infect your news feed.
Credits:
Client: National Union of Journalists of the Philippines (NUJP), Center for Media Freedom and Responsibility (CMFR)
Agency: BBDO Guerrero