You are probably familiar with the super colourful and cheeky rainbow adverts by the sweets-selling company Skittles. In these, you can admire, boom, build, taste, and even contract the rainbow.
But in this case, Skittles, in cooperation with adam&eveDDB, decided to literally drain the trademark rainbow-colours and use plain black and white packaging to keep the focus on one rainbow that mattered more last week during the London Pride festival and more prides to come. They updated the slogan as well, to: "Give the Rainbow. Taste the Rainbow." Fans on the social media can get involved with hashtags #onerainbow and #prideinlondon to encourage others in showing support for the LGBT community.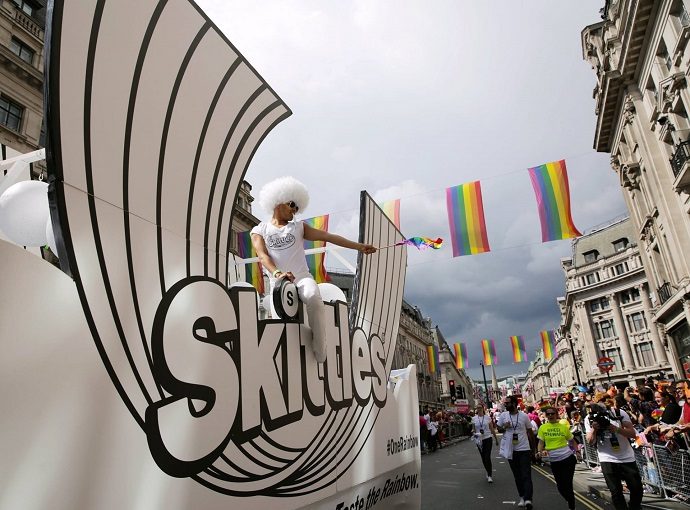 And Skittles decided that "only one rainbow deserves to be the centre of attention" in an open letter addressed to Pride London: "So this is kinda awkward, but we're just gonna go ahead and address the rainbow-coloured elephant in the room. You have the rainbow … we have the rainbow … and usually that's just hunky-dory. But this Pride, only one rainbow deserves to be the centre of attention – yours. And we're not going to be the ones to steal your rainbow thunder, no siree."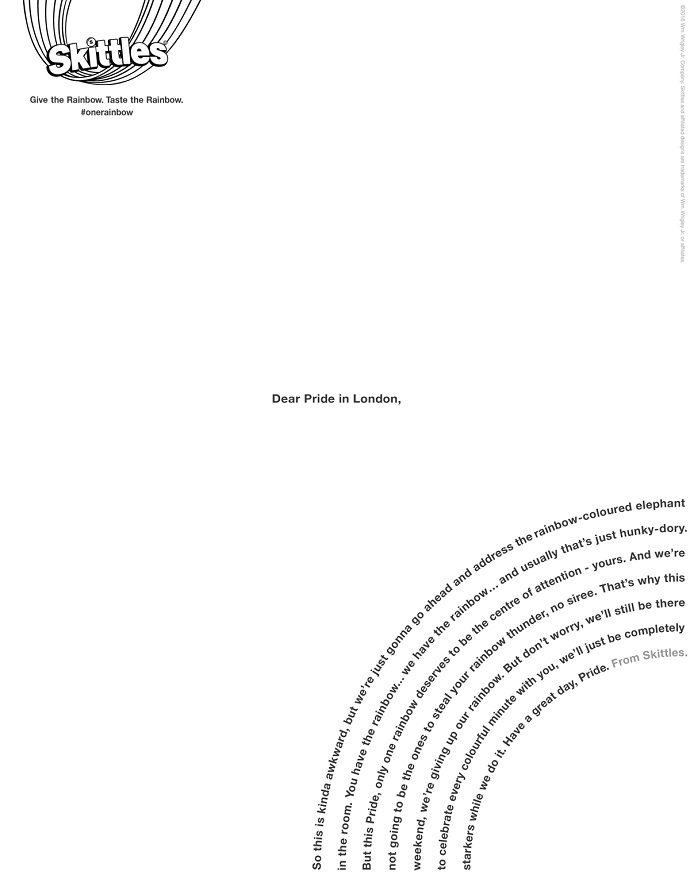 Pride in London had released their own campaign prior to the parade with a colourful hashtag: #nofilter. It celebrates the spirit of Pride and suggests everyone to live by a simple rule: "Live your life as you. Live life with #nofilter." You can watch the star-studded video below.
Credits:
Agency: adam&eveDDB
Chief Creative Officer: Ben Priest
Executive Creative Directors: Ben Tollett, Richard Brim
Creatives: Matt Fitch, Mark Lewis
Design: Stanley's King Henry
Head of Design: Alex Fairman