For a toy to bring happiness into a child's life, it first has to pass some strict safety tests. In the US only, before reaching kid's arms, toys need to meet stern requirements imposed by ASTM International (American Society for Testing and Materials International). Obviously, these measures are taken seriously in order to protect our children when they are having fun with a new toy. Although, not the same thing can be said when it comes to adult safety. With over 30,000 gun-related deaths registered annually in the US, we can all agree that not toys are posing a real threat, but it's rather the guns. Unfortunately, not just to adults.
Although it is a fairly exaggerated comparison, guns and toys should have one same thing in common: strict regulations. To point out this issue, FCB Chicago joined forces with organization Illinois Council Against Handgun Violence and managed to note the subtle, but dark transition of a cute and fluffy teddy bear to a dangerous and powerful pistol.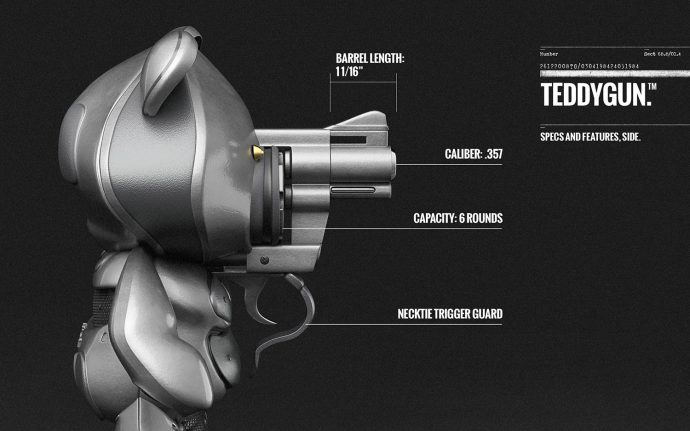 Unfortunately, gun violence also affects children, and to protect them, we need to take care of us first. Not as sober as the current campaign, but using a small dose of black humor, McCann New York chose children to raise awareness about the consequences of gun violence, through a campaign called Toddlers Kill. The agency's amazing work focuses on the tragic, and ironic end that adults may suffer because of their infinite love for weapons.
As you can see, gun regulations should have at least as many rules as toys, if not more. The one toy which can prove this is the Teddy Gun itself — a very strange toy developed by the NGO, which covers a painful truth. Using the lovely image of a teddy bear, the Chicago-based agency was able to highlight the US's imperfect law system regarding the deadly firearms – which legally require only a 50$ license to be used.
The peculiar product is delivered to the viewers through a short video, in which we can see a teddy bear in a place where chaos and lack of logic seem to blend perfectly: the guns' world. The 47-second-long-spot, directed by award-winning film director Ben Flaherty, presents the teddy bear's shadow in a dark scenario, while a narrator describes the demanding restrictions that need to be followed by the toy industry: "Teddy bears need to follow strict safety manufacturing guidelines. Scores of safety regulations. Ninety pages of requirements. Numerous rules. Across federal and state regulatory bodies. Unless that teddy bear is a gun."
The background music, which seems to be the sound of a peaceful lullaby, changes into a more dramatic note the moment when the bear turns towards the viewers. To successfully complete the creepy presentation of the very dangerous toy, the teddy bear's disturbing metallic gray features describe a deadly revolver weapon with a six bullet capacity.
This initiative seeks to save as many human lives as possible, being a perfect method to make people "have a discussion and hopefully get involved in [the NGO's] movement," explained the Council's Executive Director, Colleen Daley.
The documentary-style video can also be found on the campaign's website, where users have the opportunity to support this stunning initiative which aims to keep weapons out of the wrong people's s hands for as long as possible.
Credits:
Campaign: Teddy Gun
Client: Illinois Council Against Handgun Violence
Advertising agency: FCB Chicago