Smartphones have never been more popular than today. We use them to get closer to our families, to do our jobs remotely, to let people know you're safe using specific apps, and lately, to draw inspiration for baking recipes. These nifty gadgets managed to conquer the kitchen world, where chefs adopted them as perfect tools to store their shopping lists, or to track recipes of delicious meals.
Six out of ten bakers use a mobile device over recipe magazines. The problem is that cooking and electronics do not get on very well. Although smartphones with internet connection may be considered very helpful kitchen assistants, allowing thousands of cooking recipes to pop up for free on their displays, their sensitive touch screens are not compatible with a chef's hands covered in, at least, flour.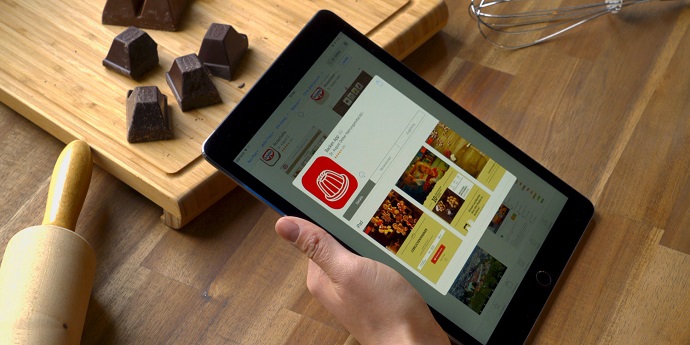 This week's #ThrowBrandThursday presents the innovative solution offered by the German food brand, Dr. Oetker, for those who cannot give up technology even when they are cooking savory dishes. Working closely with BBDO Düsseldorf, the company launched the Backen App, the first baking app with touchless gesture control. Perfect for hobby bakers, the app keeps smartphones' screen clean of food.
Launched just in time for the most popular cooking time in Germany, Christmas, the app is easy to use, and helps cooks focus only on the dish preparation. The phone-friendly kitchen tool that combines technology with the brand's success brings the art of baking to a new level, making it simpler, more creative, and also a lot entertaining.
Available for both iOS and Android, The Backen App includes recipes provided by the food brand itself, while helping to add flavor to every dish baked. Dr. Oetker's cooking instructions include short animated videos that instruct chefs step by step in their baking endeavors.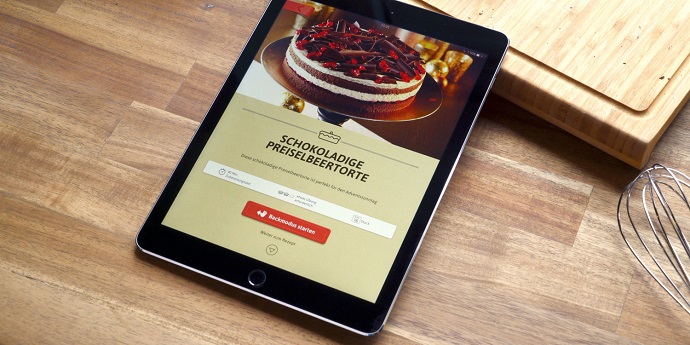 Once the BACKENMODE button is activated, the real baking magic begins. Using smartphone's front camera, the device detects user's hand movements. This allows the cook to create tasty dishes, without having to touch the phone's display and making a big mess.
The interactive product developed by the number one baking brand in Germany had a real impact on users, proving once again that the company fully respects its tagline: "quality is the best recipe." More than 90% of users' ratings marked the app as being 5 stars.
The success of the original app was confirmed not only by users' positive reviews, but also by big advertising shows. The innovative mobile feature has honored its creator, as the Düsseldorf-based agency won a Webby Award in the Best Use of a Mobile Camera category. Moreover, the product made it to the finals at other events, such as the New York Festivals and The One Show.
Credits:
Product: Backen App
Client: Dr. Oetker
Agency: BBDO Düsseldorf
Chief Creative Officer: Wolfgang Schneider (BBDO Group Germany GmbH), Darren Richardson (BBDO Düsseldorf GmbH)
Creative Managing Director: Kristoffer Heilemann
Creative Director/Director: Andy Wyeth
Creative Director: Veikko Hille
Digital Art Director (Concept & User Experience Design): Luis Branco
Senior Digital Art Director (Art Direction & User Interface): Jan Peisert
Copywriter: Katharina Röhl
Screen Design: Ann-Catrin Bloemer, Rosario Brancato, Julia Kinast
Planning: Diana Augustin, Deborah Schaper
Account: Daniel Biallowons, Meike BraunProduction Company (Video Loops): CraftWork – a brand of ad agencyservices GmbH, Düsseldorf
Post Production Company (Video Loops): CraftWork – a brand of ad Agencyservices GmbH, Düsseldorf, nhb studios Düsseldorf GmbH, Düsseldorf
Chief Production Officer: Steffen Gentis (BBDO Group Germany GmbH)
Agency Producer: Michael Koch (CraftWork), Niklas Lemburg
Director/Director of Photography: Steffen Gentis
Editor (Video Loops): Juhn Kim, Niklas Lemburg
Producer Post Production/Editor: Franz Schuier
Producer Post Production: Lukas Schmuecker
Software Development Company: Proximity Technology, Düsseldorf
Technical Director: Christian Stenger (BBDO), Tim Sträter (Proximity Technology)
Business Partner: Michael Helmke (Proximity Technology)
Software Development Team: Christoph Hirtz, Andreas Otten, Tobias Baltrusch