Imagine that you want to park your car into a very tight spot. Feeling nervous already? Now imagine that you have a trailer attached to your car and you don't have a parking assistant? You're also trying to park in front of a group of horses, but they're not just a regular group of horses — they laugh maniacally at your every move. Is that too much to imagine? Watch Volkswagen's hilarious recent ad released earlier this year.
It's Thursday, and that means #ThrowBrandThursday delivers yet another dose of amusement that you might need to get through a day so close to the weekend. Titled "Laughing Horses" (or "Lachenden Pferde" in German), the automaker's spot, made by Grabarz & Partner, promotes VW Tiguan's optional Trailer Assist system in a very funny way. Although the ad was created to present a useful feature, the Hamburg-based agency decided it would use a band of weird horses as parking judges, only for them to burst out laughing in the center of the campaign.

A man failing to reverse into a parking space with a trailer attached proves to be the trigger for silly and contagious animal laughter. While the driver's frustration intensifies, the animals become more and more amused. But what happens to their epic fun party once a Tiguan driver arrives up the driveway and tries his maneuvers? See for yourselves!
Even though the ad presents plenty of reasons for the viewers to have a good laugh, VW was worried that this hilarious video might not be such a good idea, especially because of the emissions scandal the company was involved in. Taking these concerns into account, the brand decided to first test the video before publishing it.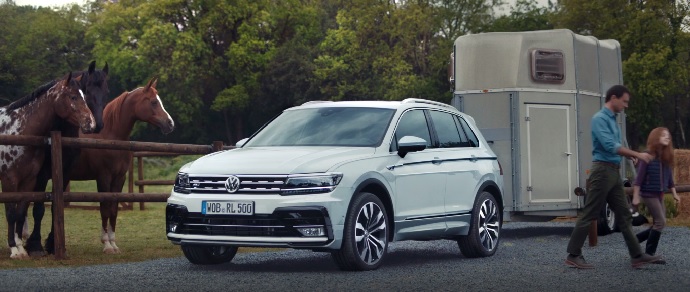 Since the results came back positive, the ad was officially released, and became unexpectedly viral on Youtube.de. As the most successful German VW viral advert of all time, it gathered more than nine million clicks in the first three days of its launch, and over 40 million views in total. Its viral success made Volkswagen re-distribute the commercial to TV.
The amusing ad brought the creative agency a Gold Award at the Fachjury Awards 2017, and two Bronze Pencils at The One Show.
This isn't the only stunt in which VW featured peculiar animals with human features. Besides the horse video, the agency's portfolio includes yet another witty ad, only this time it depicts sheep, which are quieter than those crazy loud horses.
Credits:
Client: Volkswagen
Agency: Grabarz & Partner, Hamburg
Chief Creative Officer: Ralf Heuel, Reinhard Patzschke
Creative Director: Tobias Ahrens, Matthias Preuss, Jakob Eckstein, Jan Isterling
Creative Team: Matthias Preuss, Paul Von Mühlendahl, Jakob Eckstein, Jasmin Schaub, Axel Doepner, Katja Czok, Michael Güntner, Jan Fincke
Art Director: Tobias Lehment
Production Companies:
Czar Film Gmbh, Hamburg
Bacon X, Frederiksberg
Studio Funk, Hamburg
Director: Bart Timmer
Producer: Niko Maronn
Media Company: Mediacom, Düsseldorf