Game of Thrones is one of the most popular TV series. Big parts of the memorable and intriguing moments of HBO's epic show are set within the forests, mountains, and coastlines of Northern Ireland. Sadly, in January 2016, one of these filming locations was destroyed by storm Gertrude. Heavy winds of up to 80 mph (or 130 km/h) simply ruined the 400-year-old famous avenue of beech trees called The Dark Hedges  – known to millions of GoT fans as the emblematic 'Kingsroad.'
The powerful storm left a desolate landscape behind, with some of the biggest damage dealt to the beautiful old trees, which ultimately broke and fell down. 
The marketing organization Tourism Ireland teamed up with HBO and Publicis London and created the "Doors of Thrones" campaign. Together they found an amazing way to transform the devastated trees into a reason to celebrate the country's natural and cultural heritage, and moreover strengthen the special connection that Ireland now has with the fantasy show.
This week's #ThrowBrandThursday shows that even a terrible tragedy can inspire people to produce something amazing out of it. The three partners used the wood that fell that day and converted it into massive doors that also tell a beautiful story. The campaign has, among others, scooped a Gold and a Silver award at the Cannes Lions International Festival of Creativity 2017 and a Wood Pencil at the D&AD awards.
The campaign uncovers the story of GoT's season 6, engraved on the majestic wood. All this happened over the course of 10 weeks, whilst the London-based agency worked closely with the tourist organization and crafted 10 unique doors, each with an individual storyline dedicated to the episodes that were shot in 2016.
The ten-door set can be admired by both fans, and by art lovers alike, across a variety of locations in Northern Ireland.
Together, the dazzling doors form a pub-crawl around the country, turning the famous tourist attraction into an epic journey (in an infamous Irish way) throughout season 6 of the well-received show.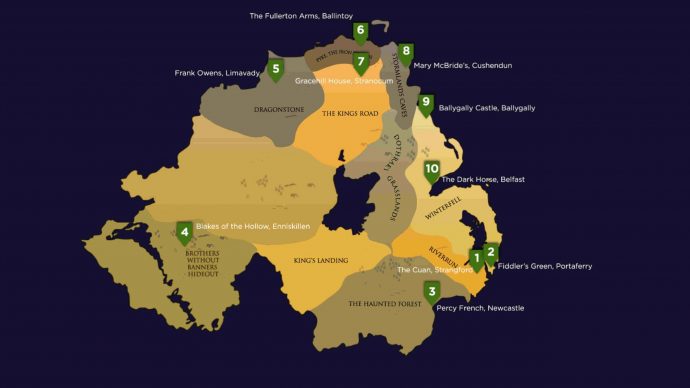 The first door honors the action of the first episode of the season and is hosted by The Cuan restaurant in Strangford. With one down, there still were 9 more to go.
The doors were revealed to the public as the episodes of the famous series were brought to the light every week. Each crafted piece is an ode to the show and depicts representative scenes, events, and iconic symbols of GoT.
Feel like having a short break in this mysterious landscape? Explore the mystic lands of Northern Ireland and immerse yourself into one of these GoT themed pubs and bars, as shown below.
Season 7 of Game of Thrones starts in less than a month on HBO, and you can watch the new, action-packed trailer here.