Fear is a natural emotion that took a major part in human evolution. Scientists say one can defeat a phobia by dealing with it directly. Sure, exposure therapy can have good results, but one's fears can be vanished away by 'simply' tricking their mind and attending virtual reality training sessions.
To prove that VR technology is more than just a fun tool for entertainment and that it can be really useful in overcoming some phobias, Samsung launched the #BeFearless program, as a part of the "Launching People" campaign. The tech company teamed up with their South-Korean multi-disciplinary agency, Cheil Worldwide, and developed VR training sessions to help people overcome their real-life fears.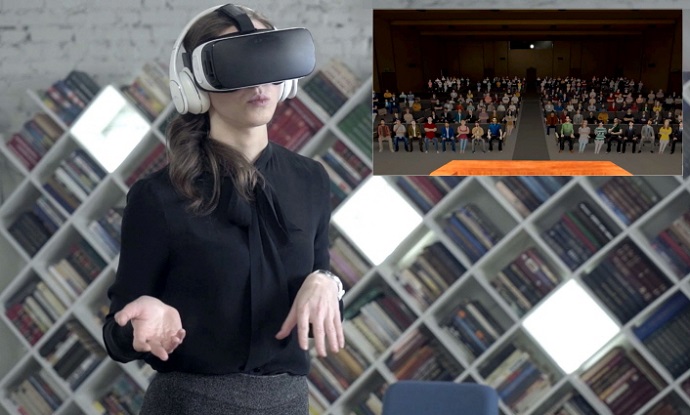 Samsung's life-enhancing program, which forms the topic of this week's #ThrowBrandThursday, challenged participants from the United Arab Emirates, Germany, and Russia to join and come to terms with their fears. By developing two really helpful #BeFearless apps — Fear of Public Speaking and Fear of Heights — the award-winning campaign succeeded in helping people take control of the two most common phobias.
In order to be able to face their real-life fears, Samsung proposed participants to be part of a four-week training session. Some of them were guided step-by-step by specialized trainees, while others had the chance to self-train themselves at home.
The unique experience leaves you in the middle of your worst fears. Samsung apps deliver different scenarios, where users are confronted with really difficult, and challenging situations. Those scared of heights are exposed to three outdoor settings: in an elevator, on a skywalk, and in a virtually created tower, all provided with varying levels of difficulty.
As for the ones who suffer from public speaking anxiety, Samsung provided them with two scenarios, Business Life and Personal Life, each of which included 5 subcategories. Every created virtual environment proposed players to adopt a comfortable attitude towards any kind of audience.
The apps only work with a Gear VR headset, a Galaxy phone, and a microphone. However, combined with the Gear S series, the VR experience can provide instant feedback to the user, by analyzing their general progress and their heartbeat frequencies.
To get your VR journey on the way you first have to attach your Samsung phone to a Samsung Gear VR. Then, you'll need to download the apps from the Oculus Gear VR store. But before that, we suggest you check out the tutorials for the apps.
The results of the VR sessions are based on a study by scientists at the Yonsei University Gangnam Severance Hospital in South Korea, who applied the training system to a group of 82 participants in order to find out if this kind of therapy can bring a positive impact. They found that VR technology contributed to a reduction of anxiety levels in about 90% of the participants when being faced with heights or public speaking situations.
Watch the additional videos of various participants that successfully graduated Samsung's classes and passed their final test with the best results when faced their real-life fears.
Credits:
Client: Samsung
Agency: Cheil Worldwide