The Fourth of July marks one of the most celebrated federal holidays, as well as the most iconic day in the history of the USA. Over 240 years ago, America's modern-day history began with 56 men signing the Declaration of Independence from the British Empire.
Since then The Independence Day has come a long way from 18th-century favourite entertainment like turtle soup and shooting cannons; and is nowadays rather connected to shooting fireworks, spectacular parades, picnics, carnivals, baseball games and heart-warming family reunions, as well as parties and hot dog eating competitions.
When signing the first draft of the declaration written by Thomas Jefferson, American patriot and editor of the document, John Adams wrote to his wife: "The second day of July 1776 will be the most memorable Epoch in the history of America. I am apt to believe that it will be celebrated, by succeeding generations, as the great anniversary festival." And he was not wrong!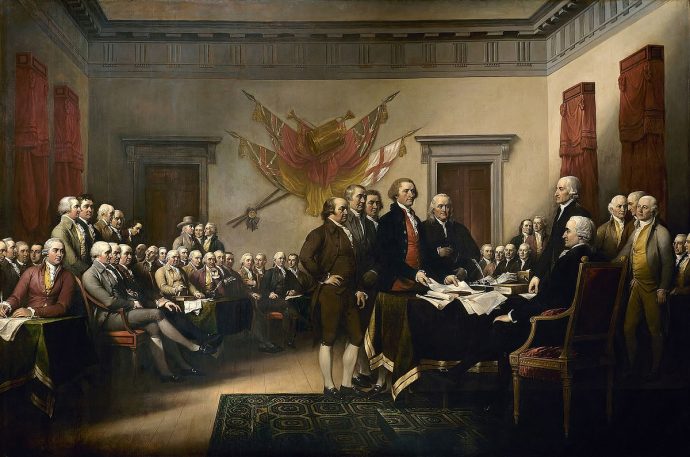 Today, instead of focusing on those majestic celebrations, the largest for-profit genealogy company in the world, Ancestry, decided to recreate John Trumbull's iconic "Declaration of Independence" painting by bringing together an unusual group of people to celebrate America's history and modern-day diversity: 29 living descendants of the original signers.
The ensemble of 29 living descendants represents a surprising and powerful look at how different America is today – they come from all corners of the vast country, life experiences, and different ethnicities, ranging from African American and Hispanic to Filipino and Native American.
The campaign highlights the fact that no matter who you are and what your heritage is, Americans are all connected, and sometimes in the most unexpected way. Together they recite some of the most poignant lines of the document, showing how much the country has evolved since the Declaration was put on paper by seven white men in 1776.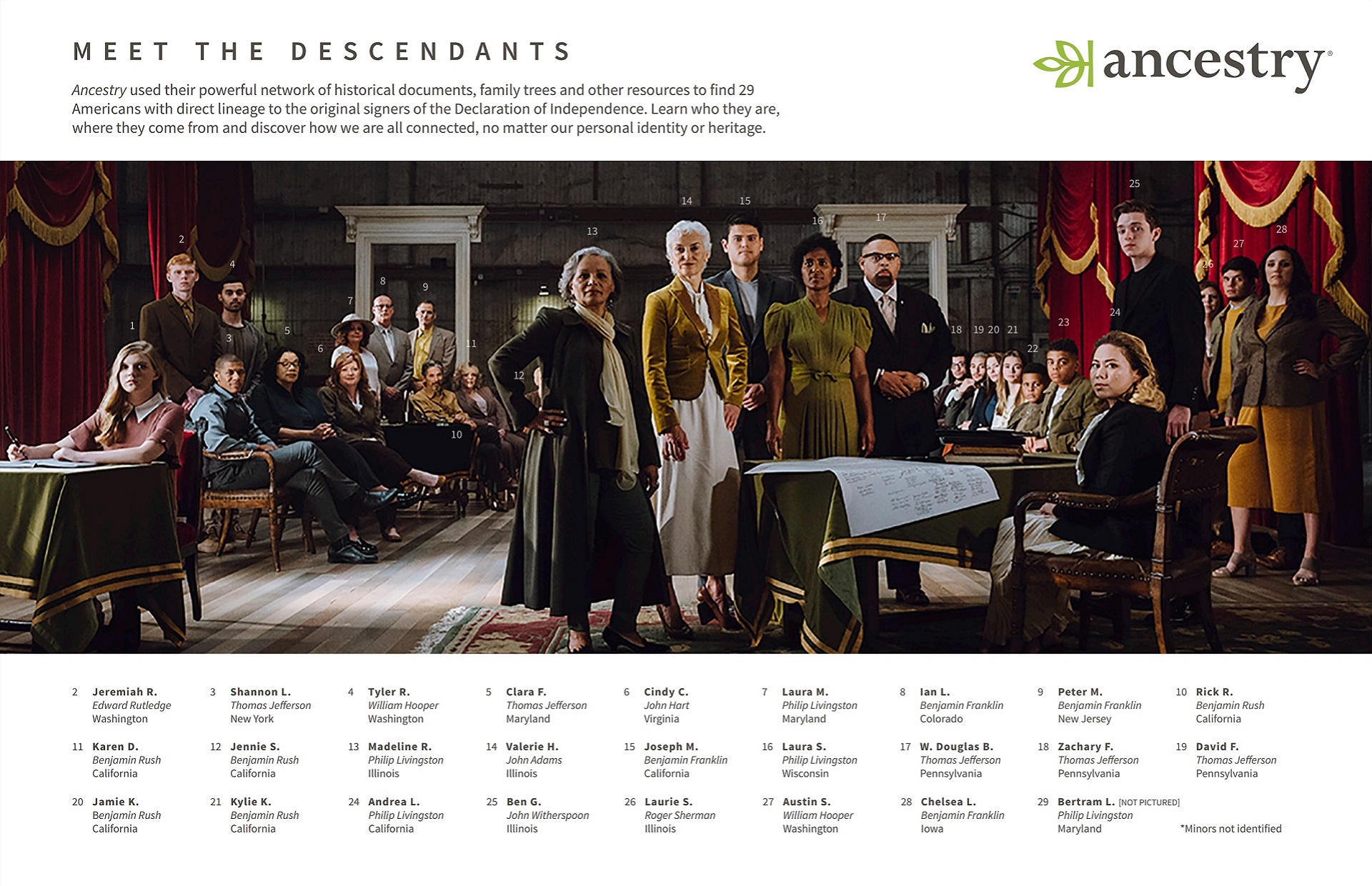 The strong moment is captured in 60- and 30-second spots created by Droga5. The New-York based agency was officially named Ancestry.com's lead creative agency earlier this month and the 'Declaration Descendants' campaign comes as their first work for the brand. The spots have aired from Thursday, June 29 through July 13 in original summer programming including 60 Minutes, American Ninja Warrior, Macy's 4th of July Fireworks Spectacular, and America's Got Talent, among others.
"The Fourth of July is a time of great national pride, and our new campaign is a portrait of how America has evolved. Diversity isn't just something we value as Americans; it's quite literally part of who we are," contemplated Vineet Mehra, the Chief Marketing Officer at Ancestry. She also explained that: "We are living in a time when many people feel disconnected from one another, and one of the most powerful things we can do is to show how connected we really are. Fundamentally, we all share an inherent need to know who we are and how we're related – it can change how we view the world and how we view our future."
The research team of the global leader in family history and consumer genomics spent hundreds of hours validating the lineage lines of the Founding Fathers and signers to discover living descendants. They investigated deep family trees, volumes of recognised published research, and gravestone memorial research.
While some of the descendants discovered their surprising link to the past for the first time through this campaign and others were previously aware of their connection, everyone can tell from their life stories shown below that all of them hold a sense of pride about their role in history and the original American values.
"In addition to the DNA research they are known for, Ancestry has an incredible genealogical database," Droga5′s Executive Creative Director Tim Gordon told HuffPost. "Droga5 wanted to create something that used their huge archive to celebrate 4th July." He added.  "We're really humbled to have created a campaign that shines a spotlight on America's modern-day diversity and our past," "Not only does the campaign highlight how connected and diverse we are, it proves that diversity isn't just something we value, it is part of who we are."
If you wish to find out about your own ancestors for free, you can gain access to Ancestry's vast database until July 4, 2017, at 11:59 p.m., ET. Free access only requires registration for a free Ancestry account. And don't worry, if you couldn't make it, you will be able to view the records in the featured collections using an Ancestry paid membership, after the free access period ends.
So, if you are interested in seeing a full list of your family's records in Ancestry's collections of over 20 billion records, just visit the company's website here. It comes to no surprise that Ancestry has more than 2.5 million paying subscribers across its core Ancestry websites, and more than 4 million people in the AncestryDNA network. Together they have created over 80 million family trees. Let us know in the comments about yours!
The rest of us can just watch inspiring, real-life stories of regular people coming from the families of the 'founding fathers'. Such as Benjamin Franklin's descendants who were inspired to become volunteer firefighters after learning Franklin founded the original fire brigade. Others have followed similar professional paths and civic passions as their ancestors. See below what it means to them to come from such a line of ancestors.
Credits:
Client: Ancestry
Campaign: Declaration Descendants
Agency: Droga5 NY
Creative Chairman: David Droga
Chief Creative Officer: Ted Royer
Executive Creative Director: Tim Gordon
Associate Creative Director: Thom Glover
Associate Creative Director: Paul Meates
Associate Creative Director: Ben Grube
Associate Creative Director: Brian Eden
Copywriter: Ted Meyer
Art Director: Tommaso Fontanella
Senior Designer: Jaymes Barone
Chief Creation Officer: Sally-Ann Dale
Co-Directors of Film Production: Jesse Brihn, Bryan Litman
Production Development Director: Lucia Grillo
Executive Producer, Film: Tricia Lentini Himot
Senior Producer, Film: Jennifer Chen
Music Supervisors: Ryan Barkan, Mike Ladman
Senior Integrated Production Business Manager : Denise Klapp
Director of Interactive Production: Niklas Lindstrom
Director of Print Services: Rob Lugo
Senior Producer, Print: Christie Dwyer
Senior Retoucher: Mike Vorrasi
Retouching Studio Coordinator: Michael Mockler
Global Chief Strategy Officer: Jonny Bauer
Co-Head of Strategy: Colm Murphy
Strategy Director: Tom Gibby
Head of Communications Strategy: Colleen Leddy
Group Communications Strategy Director: Dean Challis
Senior Communications Strategist: Kathryn Ruocco
Chief Intelligence Officer: Amy Avery
Data Strategy Director: Lily Ng
Junior Data Strategist: Amanda Kwong
Executive Group Director: : Jeff Prince
Account Director: : Amanda Chandler
Account Supervisor: Taylor Berry
Associate Account Manager: Tehjal Suri
Project Manager: Rayna Lucier
Client: Ancestry
EVP, Chief Marketing Officer: Vineet Mehra
VP, Marketing: Karen Peterson
VP, Chief of Staff: Heather Lopez
Executive Creative Director: Paige Grossman
Writer, Creative Director: Elizabeth Asdorian
Head of Brand Experience and Planning: Alison Worthington
Director, Brand Experience: Bill De Groot
Research Director: Jenn Utley
Production Company: Prettybird
Director: Paul Hunter
DOP: Matthew Lloyd
Executive Producer: Suzanne Hargrove
Producer: William Green
Editorial: Cartel
Editor: Edward Line
Assistant Editor: Grant Hall
Executive Producer: Lauren Bleiweiss
Producer: Ali Reed
Post Production: The Mill
Executive Producer: Heath Raymond
Producer: Abi Klimaszewska
Color Artist: Fergus McCall
Flame Artist: Nathan Kane
Music Company: Found Objects
Composer: Jay Wadley
Executive Producer: Jennie Armon
Creative Directors: Jay Wadley, Trevor Gureckis
Sound: Heard
Mixer: Mike Vitacco