Few things can stand between a biker and his motorcycle. And it's no wonder why: plenty of these enthusiasts share their passion for this type of vehicle because it offers them adrenaline, freedom, speed, and much, much more. To show that motorcycling literally flows through bikers' veins, America's first motorcycle company Indian Motorcycle joined forces with Team One Los Angeles and Nocturnal Ink's artist Franco Vescovi, and with a lot of hard work they developed a concept worthy of all admiration.
Their brainchild is defined by an original ink of a not-so-common origin, which highlights the company's purpose of showing it can be a leader in other domains too. The love carried by a biker for his motorcycle cannot be measured in words. Well… now it can be expressed through burnouts.
Indian Motorcycle Ink is the world's first tattoo ink made up of burnout residue from a modified Indian Scout bike that belongs to the former professional freestyle motocross rider Carey Hart.

Although it may sound risky and insane, the companies and the tattoo artist made sure that the manufacturing process of the ink is sterile and does not pose a threat to one's health. With a long experience in producing top-quality ink, Vescovi said the carbon was carefully extracted from a sample of tire rubber and acts "as a pigment carried by the alcohol suspension."
The team around the co-founder of Nocturnal Ink removed all toxins and sterilized the carbon. Now you know it is perfectly safe to embellish your skin with ink that carries your motorcycle's DNA.
Carey was the first man to be inked with the one-of-a-kind pigment. First of all, the motocross rider is a father, so he dedicated the special tattoo to his child. He chose to permanently carry his newborn's name on his neck. The project brings an even stronger emotional message, as it marks the strong and infinite connection between the world-famous rider and his bike.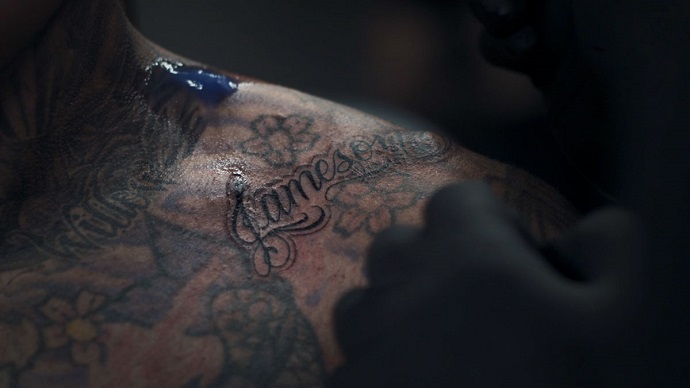 The Los Angeles-based agency created an inspirational video that captures Carey's feelings for his family, tattoos, and motorcycling. It is also a creative invitation addressed to all bikers who want to be part of the legend that is Indian Motorcycles.
Unfortunately, Indian made just a single lot of the ink which can be found exclusively at Hart & Huntington tattoo shop in Lake Forest California and at four locations of Vatican Studios for a limited time.
Indian's Marketing Director, Reid Wilson expressed his opinion regarding the amazing concept and said that the ink "embodies [their] value of leading, rather than following, to blaze entirely new trails where others have never ventured." Just see for yourselves:
Credits:
Client: Indian Motorcycle
Director/DP: Leo Zuckerman
Producer: Andrea Sheffield
Assistant Camera: Kenneth Merrill
Gaffer/Grip: Levi Williams
Production Assistant: Lisa French
Sound Recordist: Kevin Santiago
Agency: Team One
Group Creative Director: Craig Crawford
Creative Director: Johnnie Ingram
Associate Creative Director: Geoff Vreeken
Photographer: Matt Hartz
Producer: Leah Bohl
Associate Producer: Claire Allman
Account Director: Landon Nguyen
Account Supervisor: Justin West
Editor: Leo Zuckerman
Colourist: Clinton Homuth // Alter Ego
Sound Design/Mix: Matt Kielkopf
INKED:
Editor-in-Chief: Rocky Rakovic
Creative Director: Sami Hajar
Photography: Peter Roessler