Many people fear that the more advanced robots get, the more employees will lose their jobs, millennials included. And it's no wonder why; artificial intelligence already possesses the ability to think like a human being. In advertising industry, it seems, though, such robots will need a human touch to get to work and be creative for a while longer.
Through its "Label of Tomorrow" campaign, the Italian beer producer Nastro Azzurro decided to make its brand identity more human-friendly, so it invited young calligraphist Nick Visioli to feed its machine-learning AI "Armarius" with some creative information. The droid gathered all data it needed and delivered a new futuristic label design for the tasty beer.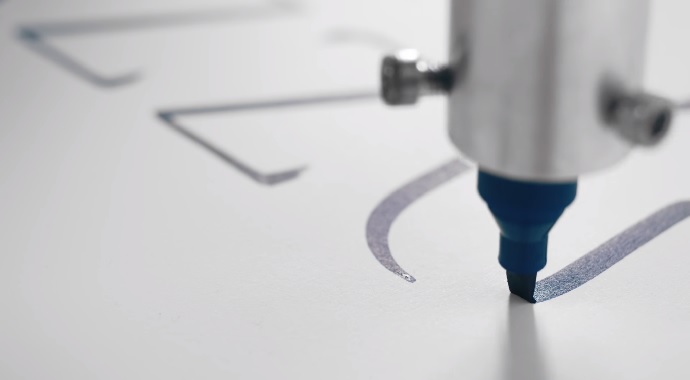 The engineering team of Officine Innesto, an innovative company that deals with design and technology, joined the project as part of the machine's creators. Its studying process was captured and beautifully wrapped up in a one-and-a-half-minute-long video crafted by creative designers of digital agency Xister. Moreover, the magical soundtrack of Italian electronic band Awhyl soothes viewers' sensorial experience.
The algorithm was instructed not only to learn the artists' talent and mastery, but also the past and present elements of Nastro Azzurro's brand identity and label font. After it explored the art of calligraphy, Armarius made its final proposal and revealed a label design that essentially combines the history of the brand. This original concept has also the power to inspire and enable other artists to get involved in the brand's crowdfunding project.

Directed by Simone Moglié, the film features the robot taking decisions by itself, yet based on the engineers' clear instructions. The campaign reveals an amazing experiment, through which the company highlights that technology and creativity can blend perfectly.
"It was a very stimulating experience especially because two diametrically opposite worlds such as calligraphy and robotics were able to blend. In a relatively short time we managed to achieve a really surprising result," said the Milan-based calligraphist on his Instagram page.
The company addresses an open invitation to young Italian talents to express their innovative ideas in various areas of interest such as art, design, photography, and much more. The brand will provide €5,000 to new businesses that will raise 50% of their target amount through crowdfunding. Young artists are invited to share their concepts at the Nastro Azzurro Crowd
The Rome-based agency's current campaign follows the success of another project made for the beer brand. "The Sound Brewery" is represented by a conceptual machine able to generate music from natural ingredients used to produce one of the most popular Italian beers in the world – water, hops, malt and Nostrano maize. They definitely got us moving. How about you?
Credits:
Client: Nastro Azzurro
Agency: Xister
Film director: Simone Moglié
Calligraphist: Nick Visioli
Music: Awhyl
Creative Director: Sarah Grimaldi
Art directors: Sarah Grimaldi
Copywriter: Enrico Costantino
Digital strategist: Matteo Trabattoni
Account managers: Silvia Marinucci, Valentina Fazi
Production Company: CUT& editing & more
DOP: Edoardo Carlo Bolli