If an excellent culinary photo makes your mouth water, it means that you have experienced one of food porn's tricky side effects. Whether we like it or not, food porn has become a global phenomenon while its eponymous hashtag can be seen as a tool we use to virtually evaluate any tasty dish. And social media is just the right place with over 130 million posts on Instagram accompanied by the #foodporn hashtag that let us to 'eat' using only our eyes.
The relationship between photography and gastronomy prompted JWT Amsterdam's photographer and chef to share their passion for food through a series of provocative images. As a part of the MENU creative portfolio, they placed some exotic dishes on the chef's face and created stunning photos that can certainly awake one's food-porn spirit.
Whilst some consider taking pictures of food to be a form of art, others may regard these kinds of visually pleasing pictures out of social media's limited context and transform them into real dishes. This is exactly what agency Africa did through a delicious campaign titled "Irresistible Posts," made for Heinz Brasil.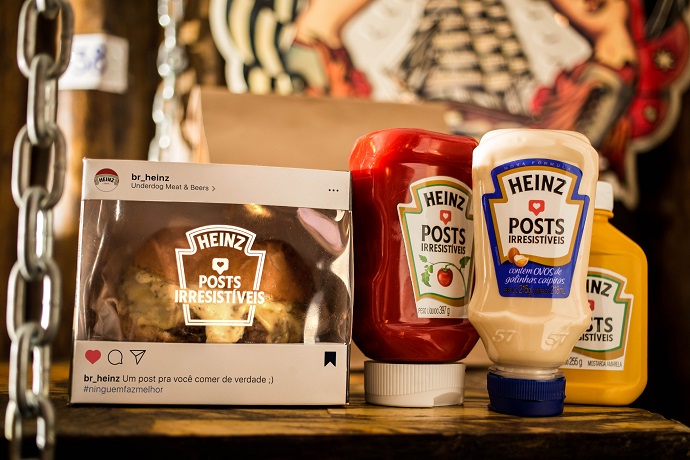 Within the initiative, the company decided to offer a tasty treat to social media users who followed its posts that showcased hamburgers made exclusively by chef Santi Roig. With the help of Facebook Creative Shop, some lucky internet enthusiasts across São Paulo were able to face the impossible and literally eat a post instead of just liking it.
The initiative kicked off on the brand's Instagram page and, using the geolocation feature provided by Facebook, it targeted local users who browsed Stories in Instagram and tracked burger videos around lunch time. The chef of Underdog Meat & Beers restaurant appeared on the making-of clips only to lure users to do more than just stand there, drooling in face of their screens. So, he prompted them to place their sandwich order, which was then delivered in an Instagram-customized box.
Along with the yummy snack that contained Heinz products, the brand decided to surprise the users with another pleasant gift. While the customers were waiting for the company's special delivery, they were able to enjoy the hamburger's cooking process through a digital content sent via direct message.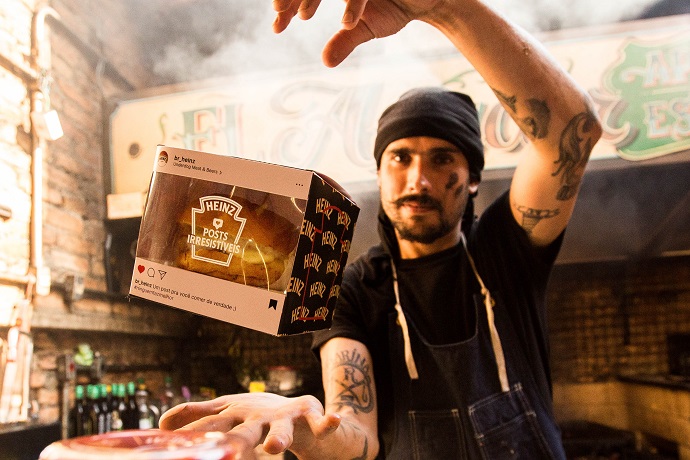 Isabella Rizzo, Marketing Director of Heinz, says that the campaign was developed to allow users take a bite from the delicious content shared on social media: "We decided to turn people's craving into reality. Irresistible Posts innovate in the way people consume content: by eating it with Heinz."
The São Paulo-based agency crafted a video-ad for the campaign. Below you can watch the one-and-a-half-minute-long film that made us really hungry. Will it stimulate your appetite too? Have a look and let us know:
Credits:
Agency: Africa
Client: Heinz Brasil
Product: Institutional
CCO: Sergio Gordilho
ECD: Ricardo Figueira
Creative Director: Alexandre Prado
ACD: Alvin Shiguefuzi
Copywriter: Rafael Carvalho
Art Directors: Bruno Damiao / Marco Giuseppe
Design: Marina Cota
Special Projects team: Monique Lopes Lima / Eliot Tosta / Aline Saraiva
Digital Producer: Mario Mendes
Agency Producers: Rodrigo Ferrari / Patricia Melito / Valdir dos Santos
Client Services: Paula Coelho / Luisa Vissotto / Barbara Sarquis
Media team: Luiz Fernando Vieira / Francisco Custodio / Willian Aveiro / Douglas Oliveira / Bianca Navega
Planning team: Rodrigo Maroni / Aldo Pini / Caio Queiroz / Fernanda Valeria Oliveira / Larissa Perroni
Community Managers: Milena Vieira / Veronica Bortoloto
Photographers: Vitor Manon / Raphael Savelkoul
Chef: Santi Roig
Production Company: Santa Transmedia
Director: 1967
Executive Producer: Pedro Ramos
Production Coordinator: Renata Munaretto
Production: Georgia Reines
DOP: Joao Lucas Carvalho
Editing: Jorge Teivelis
Final Art: Vinicius Meyer / Sivo Greven
Post Producers: Fernando Bardanha / Rafael Casagrande
Sound Production Company: Saxsofunny
Producer: Otavio de Moraes
Facebook Creative Shop: Daniel Bottas
Client Approval: Isabella Rizzo / Thiago Rapp