Many journalists from oppressive countries find it difficult to express themselves. And when they do, their voices still can't be heard. As reporters living in such places are still actively censored, the Swedish unit of Reporters Without Borders joined forces with Akestam Holst agency and found a clever way to trick the system in order to fight censorship. To do so, the two partners turned their attention to the environment where almost everything is possible: the Internet.
The initiative brings "Billboards Beyond Borders" and displays messages that led to a fine, arrest, or death of journalists who had the courage to criticize world leaders or to speak out about ideas and concepts in places where they should not have. However, because it is obviously difficult to speak freely in countries that forbid it the most, the comments and quotes by the journalists were displayed on digital panels visible via Google Street View.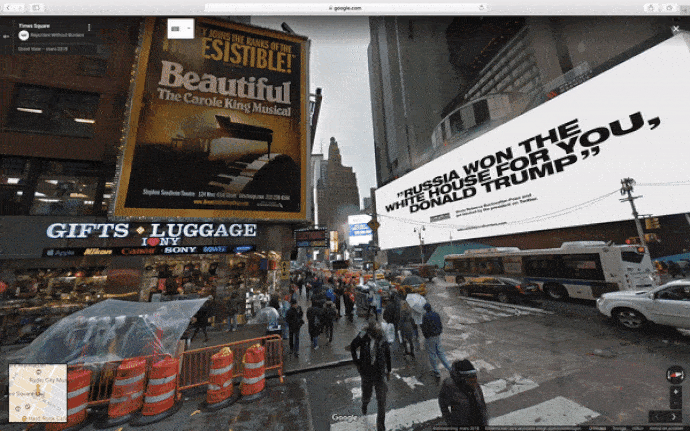 A virtual trip through Moscow's Red Square allowed you to admire not only St. Basil's Cathedral but also a strange billboard which stated that: "Being gay is normal." The quote belongs to geography teacher Alexander Yermoshkin and was published by editor Alexander Suturin.
That statement wasn't in line with Russia's laws, so the editor had to pay a fine of 50,000 rubles (£870 or $1,400).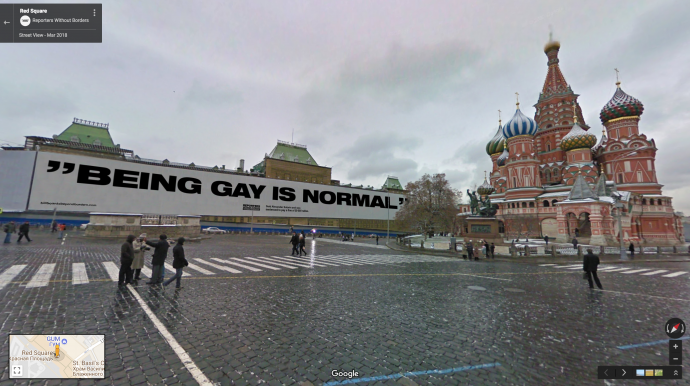 In Malta, journalist, writer, and anti-corruption activist Daphne Caruana Galizia frequently reported on political events in the country with a special focus on corruption, nepotism, patronage, money laundering, and organized crime.
Arrested twice by the Maltese police, Galizia refused to give up, so she continued to expose various abuses of power. On October 16, 2016, she wrote yet another blog post describing the corruption in Malta. She was killed by a car bomb later that day, and the last words she wrote were: "There are crooks everywhere you look now. The situation is desperate."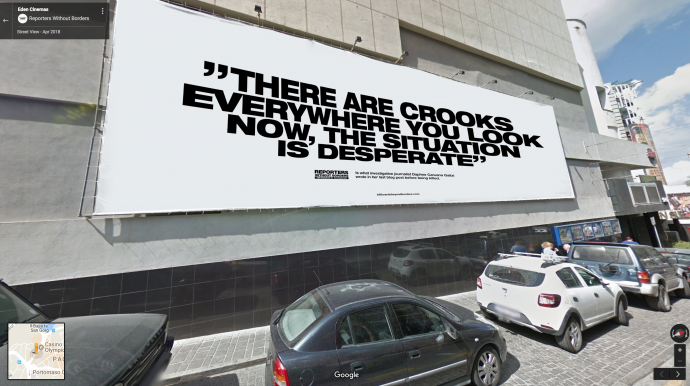 Insulting president Erdoğan is a no-no in Turkey, a topic that Dutch-Turkish journalist Ebru Umar can describe the best. Two years ago, the Dutch columnist was arrested in Kuşadası because she criticized Erdoğan on Twitter.
Among the words she used to describe the politician were "sultan" and "the most megalomaniac dictator since the foundation of the republic in 1923."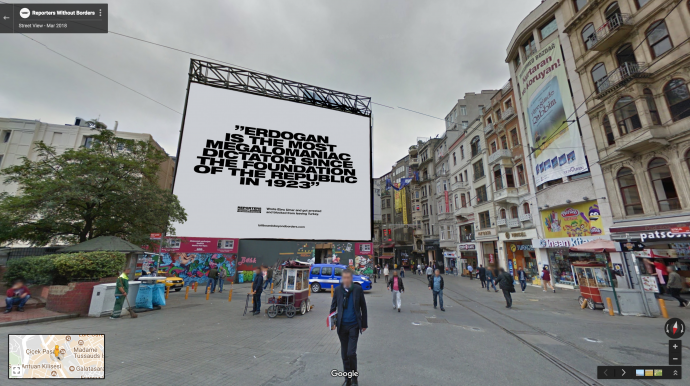 These virtual billboards could have been seen in India, Thailand, Zimbabwe, but also in the United States. The panel exhibited in Times Square stated that "Russia won the White House for You, Donald Trump." The author of the quote is journalist Rebecca Buckwalter-Poza, who was blocked by the president after she tweeted him the message.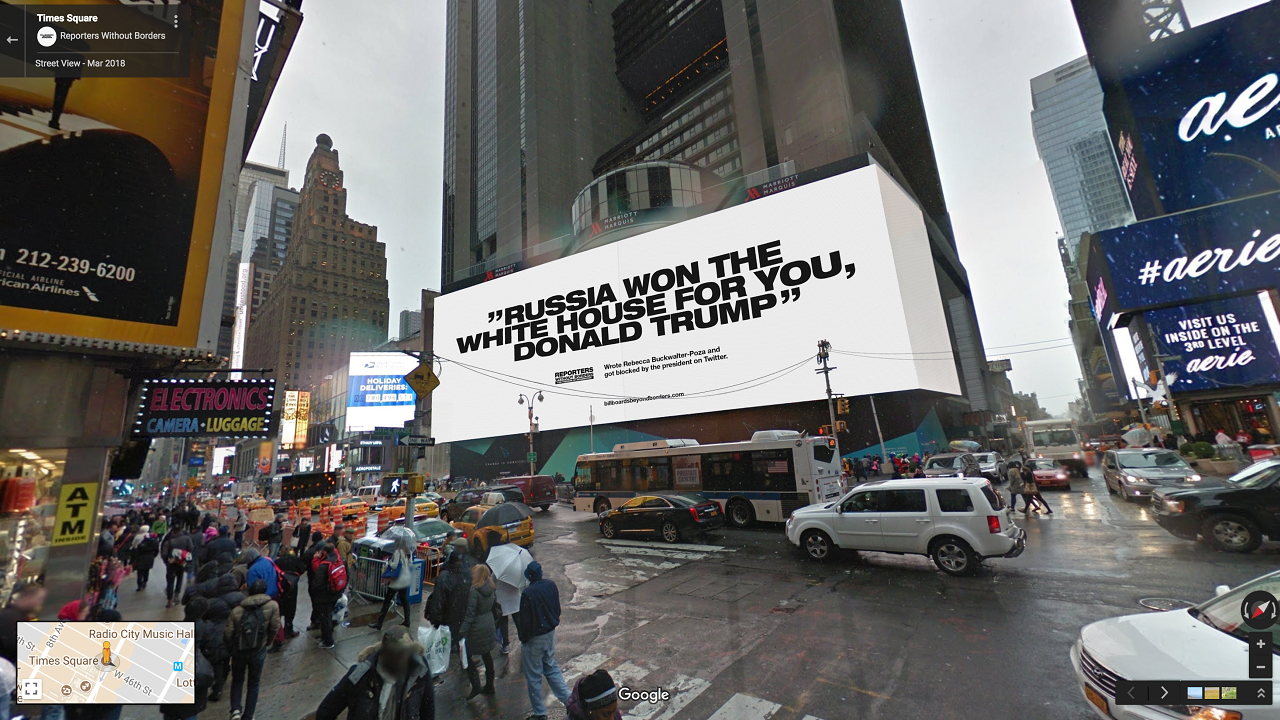 Sadly, just days after the launch of the Billboards Beyond Borders campaign, the voices of journalists who faced injustice were silenced again. Why you ask? "We find it ironic that an initiative on freedom of information has been removed so quickly. We have officially received information that the campaign has been shut down because it violates Google Map's policies. Important voices have been silenced in the places where they are needed the most," says Jonathan Lundqvist, President of Reporters Without Borders Sweden.
To create the digital panels, the Stockholm-based agency downloaded 360-degree spheres from Google Street View, altered them in Photoshop, and then reuploaded them on the online platform. "It was our hope that Google would appreciate the spirit of this campaign and give Reporters Without Borders the opportunity to reclaim these virtual locations in the name of press freedom," added Lundqvist. Unfortunately, Google didn't. At least these brilliant billboards were saved digitally to remind us of these brave journalists.
Credits:
Project: Billboards Beyond Borders
Client: Reporters Without Borders Sweden
Agency: Akestam Holst