Even though there has been a positive trend in the number of organ donations in recent years, Brazil still lacks donors, with only one in eight potential donors actually becoming a person who saves another life. Still, Brazilians believe they have the power to change the situation into a more positive one. What's more amazing is that they had already done so!
In 2013, many football fans were inspired by Sport Club Recife and Ogilvy Brazil's amazing campaign "Immortal Fans" to become organ donors. The initiative reached impressive results: the waiting lists for organs in North-East Brazil dropped almost to zero and the number of life-changing transplants increased massively.
Now, another outstanding campaign seeks to achieve the same thing. Developed by McCann Health Brazil for Hospital Moinhos de Vento, the project "Herança Valiosa" (or "Greatest Wealth" in English) wants to drive organ-donation rates much higher. Only this time, the creatives tapped into a more luxurious item, Fabergé eggs.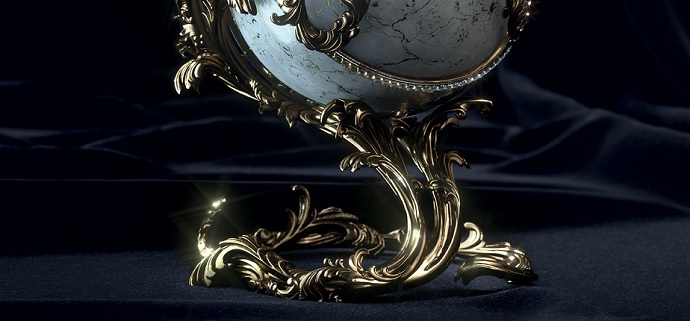 So, what could possibly link an organ and an extremely valuable jewelry? Apparently, nothing. But at a closer look, you'll discover that both are very much alike: they are delicate, precious, and very rare. Surprisingly, there is a special bond between the two intricate objects. The thing is that this link is so thin that is hardly noticeable.
To make it more visible, the agency, which aims to help its clients' brands and businesses play a meaningful role in people's lives, thought of re-imagining human organs as the Fabergé eggs, emphasizing, in a clever way, the importance of organ donations.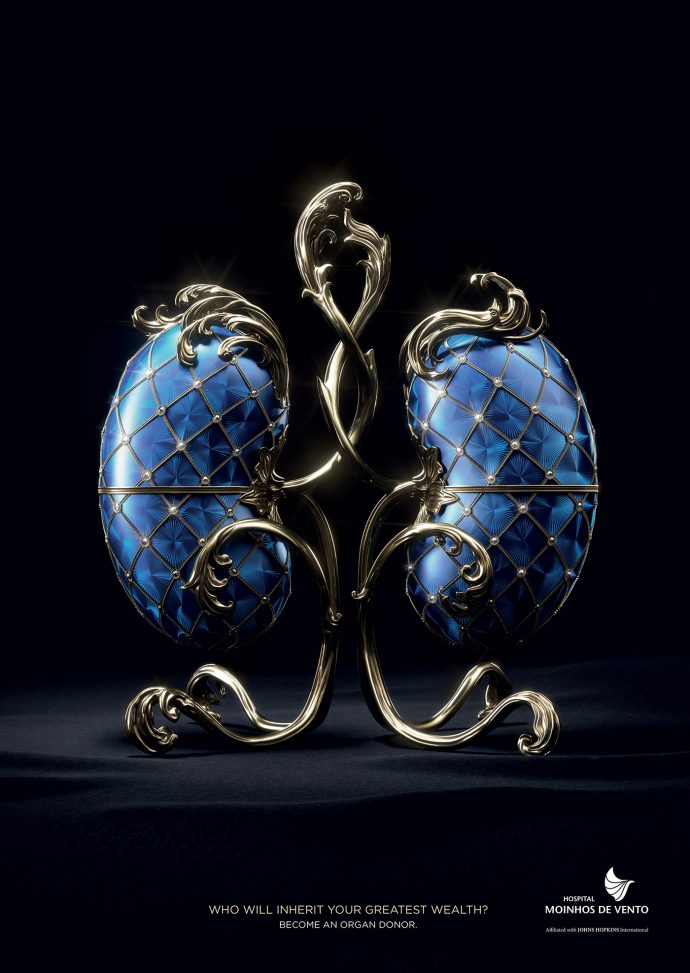 The artists borrowed the imperial ornaments' aesthetic design lines and started to work on the jeweled organs. Using marble as canvas, the creators began to shape the eyes, the heart, and the kidneys. To complete the overall look, they designed a series of branches, dressed them in gold, and let them stretch long enough to be covered by diamonds and gemstones.
More important than the details that outline the impressive look of the two objects is what lies within their very own hearts. The popular art objects are known for their 'ability' to hide a surprise that is usually as opulent as the egg itself. Yet, they are not the only jewels to host something impressive. Today's unique art pieces also hide something outstanding – they nurture life itself.
The campaign comes in the form of posters and 15-second-long videos. The images and films present an extraordinary visual experience that eventually leads to one strong question: "Who will inherit your greatest wealth?"
To bring the concept to life, the Sao Paolo-based agency worked with creative production company Lightfarm. The studio took care the development and modeling of the Fabergé eggs-style organs, with each element being 100% made in 3D.
"When we thought of this campaign we knew how challenging it would be to turn human organs into valuable jewels. The choice of Studio Lightfarm Brasil allowed us to transform this great idea into something memorable. An impeccable work, refined, and agile. I have only one word to describe it: brilliant," said Thiago Silva, Art Director McCann Health Brazil.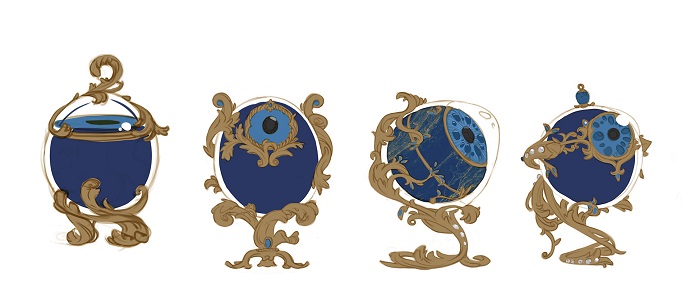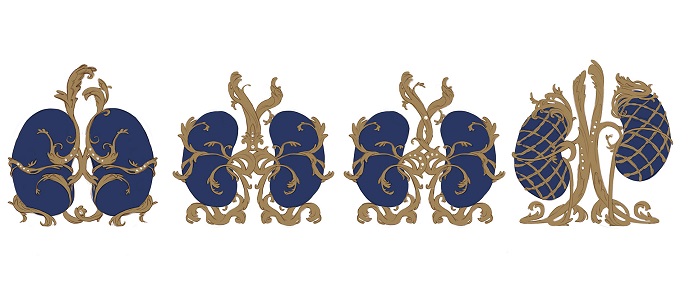 Even though the Herança Valiosa campaign is not as interactive as the one created by Ogilvy five years ago, one can admire its huge potential with the naked eye. With a message that lies at the intersection of health, monetary wealth, and well-being of the soul, the initiative clearly touches emotions of plenty. But will it have the same success as the previous one? Let us know what you think!
Credits:
Client: Hospital Moinhos de Vento
Agency: McCann Health Brazil
Creative Director: Bruno Abner Rebelo
Art Director: Thiago Silva
Art Director: Daniel Machado
Designer: Marcelo Segovia
Copy: Monica Tritone
Copy: Fernando Franchim
Illustration: Lightfarm Brasil
Producer: Lightfarm Brasil
Modeling, lighting, texturing and rendering: Rafael Vallaperde
Post production: Milton Menezes and Marcéu Lobo