Small businesses are the backbone of every economy. Or at least that's what they say, and by them we also mean the UK's Minister of Implementation Oliver Dowden. And it's not just government officials that think that small business owners shall be praised and helped out. It's also the main theme of Serviceplan and METRO's new global brand campaign and brand identity.
According to the newspaper, the young generation of entrepreneurs can say that: We. Don't. Work. For. Metro. But rather for the success of millions of businesses all over the world! The campaign highlights METRO's role in supporting the success of all independent business owners. To prove their point, Serviceplan Campaign Hamburg has worked around METRO Wholesale's new claim: "Your Success is our Business," and aims to spread the word in over 20 countries.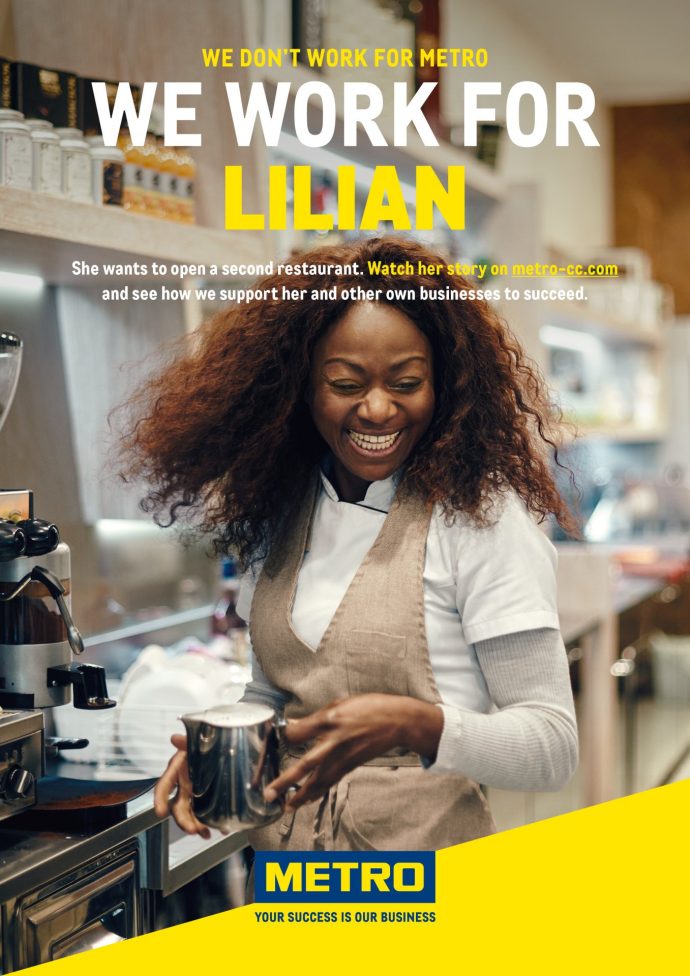 We can now follow METRO's praiseworthy endeavours to support independent business owners such as restaurant owner Christa from Germany, kiosk owner Vijay from India, street food enthusiast Nailya from Kazakhstan, and the other likeable faces of the movement in short films and on the different METRO countries' websites and social media channels.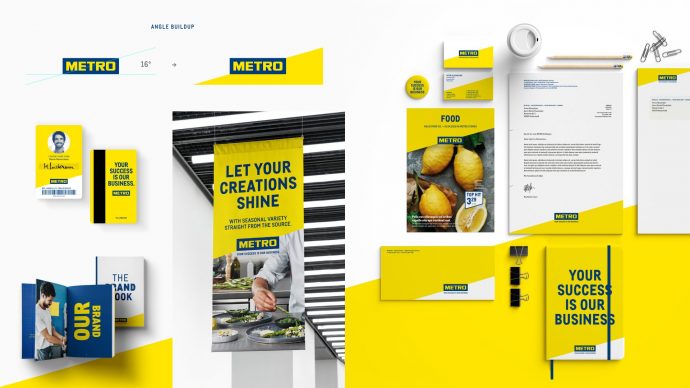 METRO turns their personal business goals into the heart of the campaign and confidently aims to support them in bringing their businesses into the digital era, start their next shop, or help them to rediscover forgotten flavours.
The teaser-message "We don't work for METRO" launched the new brand campaign in all METRO countries as well as the company headquarters in Düsseldorf and emphasizes the newspaper's strong position as a dedicated supporter of the success of independent entrepreneurs. The campaign then goes along with this claim and brings it to life with real customers, making them the real stars of the show.
Gisele Musa, Global Director Branding & Activation at METRO, explained that: "The new campaign […] is a logical progression in our endeavours to do everything we can for the success of independent businesses. Our clear promise and commitment to our customers is now being brought to life through our brand communication."
Are you curious to find out more about the upcoming star businessmen and businesswomen's plans? Just watch each video and learn what they all wish for their next business goal.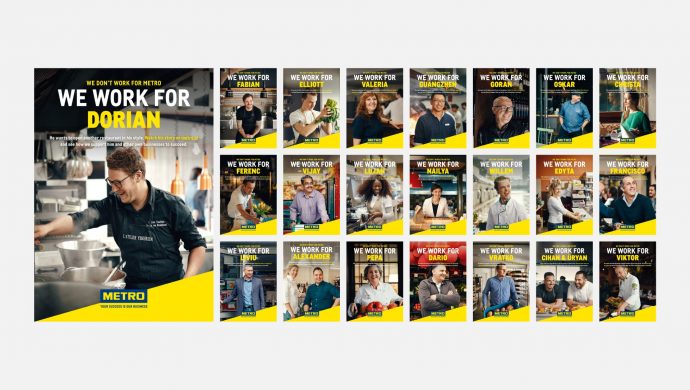 Dorian is a French restaurateur, who managed to get one of the highest honours a restaurant can receive, a Michelin star. Yet, this does not stop him from reaching his new goal…
Next star of the show, Christa, is also a restaurant owner. After succeeding in bringing more guests to her family business, she's all about making it a more efficient machine, with digitisation.
A local bistro where everything is hand-made is every customers' dream and Lilian, the Italian owner, follows her motto to "respect the ones who enter your house" very closely. She wants to pursue her next goal to create another restaurant that makes a difference.
Guangzhen comes as a very successful Chinese entrepreneur who runs a restaurant chain with 7 restaurants that serve mainly vegetarian food. His goal is to bring together a vegetarian diet and Chinese cuisine and let everyone know that vegetarian meals are great. Certainly not an easy task!
We can only keep our fingers crossed that METRO's new approach, as described by Gisele Musa, that "[we] don't work for METRO, but for each of our individual customers – because their success is our business," will start making a difference soon, as it is going to be gradually seen at all levels of brand communication and at METRO's locations around the world. You can watch more videos here and maybe even help spread the word and support your local entrepreneurs, "who took their dreams and turned them into their own businesses"!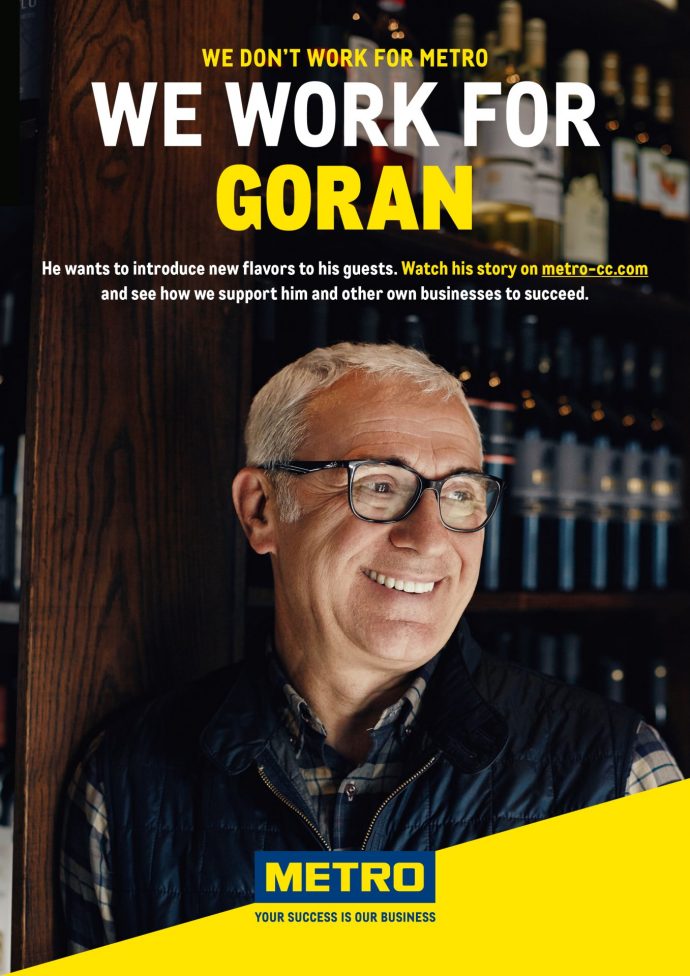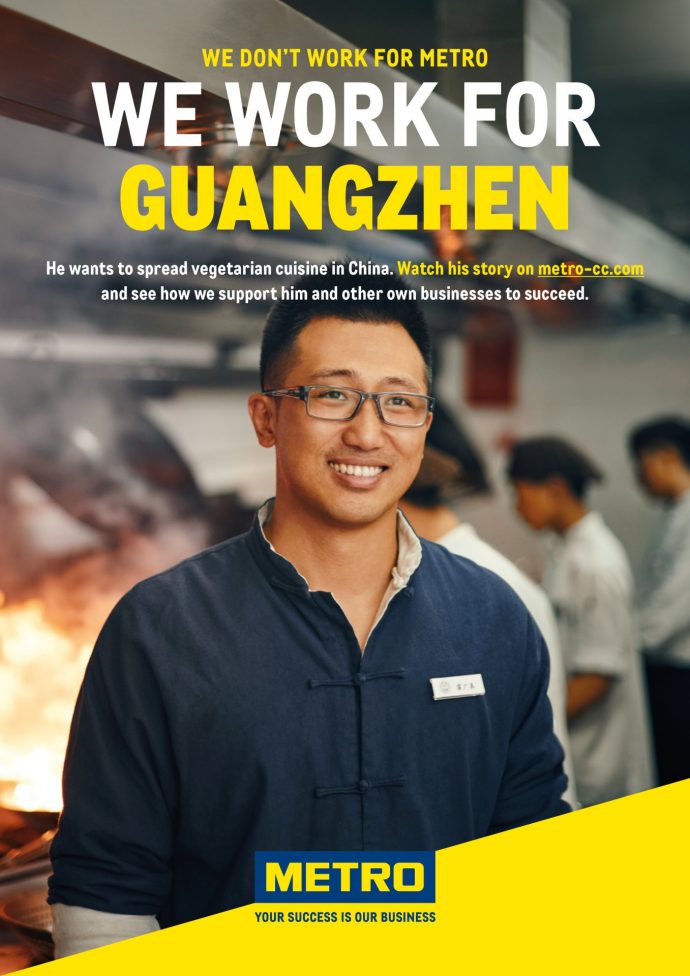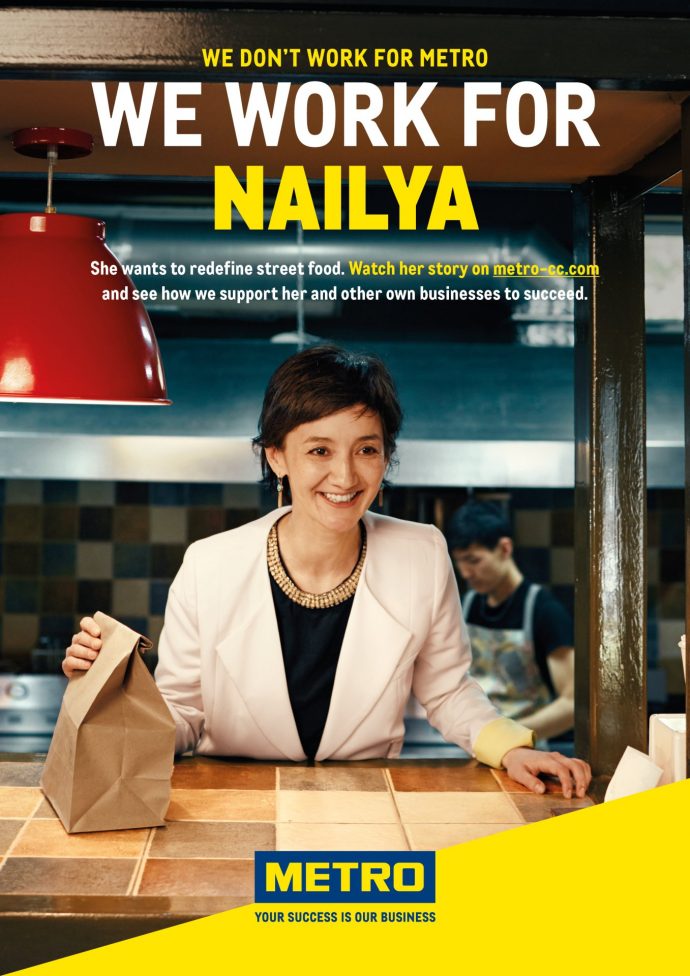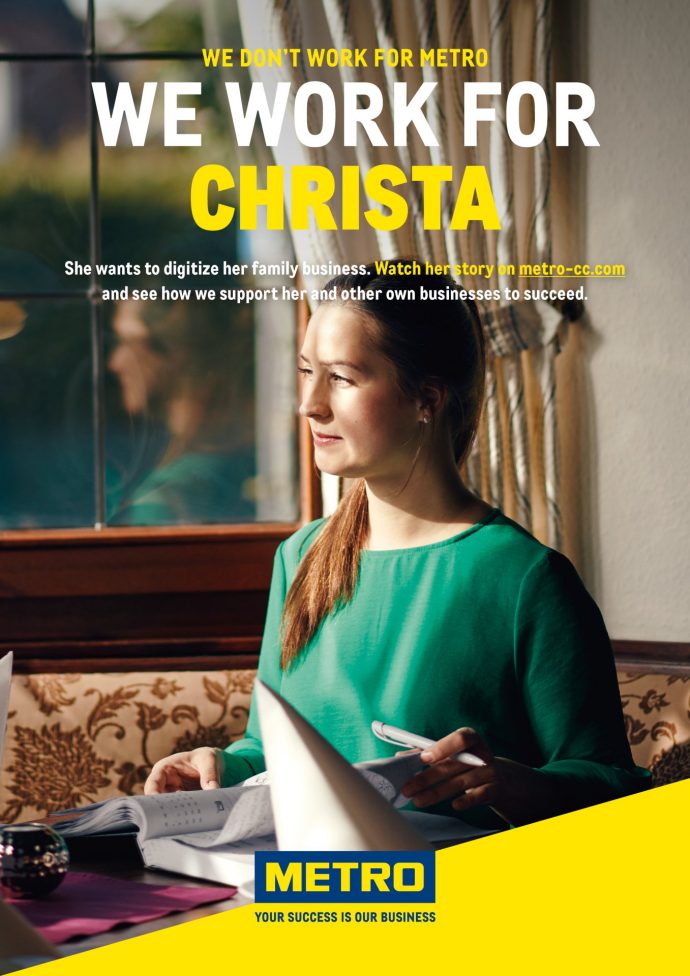 Credits:
Client: METRO
Creative agency: Serviceplan Campaign Hamburg
Global Chief Creative Officer: Alex Schill
Managing Director: Michael Schneider
General Managers Creative Art: Leif Johannsen
General Managers Creative Copy: Patrick Matthiensen