If you've ever taken an analogue picture, you will be familiar with the American technology company that produces imaging products with a historical basis on photography, Kodak. The iconic brand was founded by George Eastman and Henry A. Strong over 130 years ago, in 1888. After entering the 20th century, Kodak managed to establish a dominant position in photographic film. It even became so well-known that their "Kodak moment" tagline entered the dictionaries to 'describe a personal event that was demanded to be recorded for posterity'.
Yet, upon introduction of digital photography, the company underwent financial struggles and even filed for bankruptcy in 2012. Still, the legendary brand is back and kicking and provides, both directly and through partnerships with other innovative companies, hardware, software, consumables and services to customers in graphic arts, commercial print, publishing, packaging, entertainment, and commercial films. Now, after teaming up with Los Angeles-based fashion retailer known for offering the hottest, most current fashion trends at a great value, Forever 21, the brand comes with a bright and vibrant apparel that uses some of Kodak's many logos and designs from their storied history.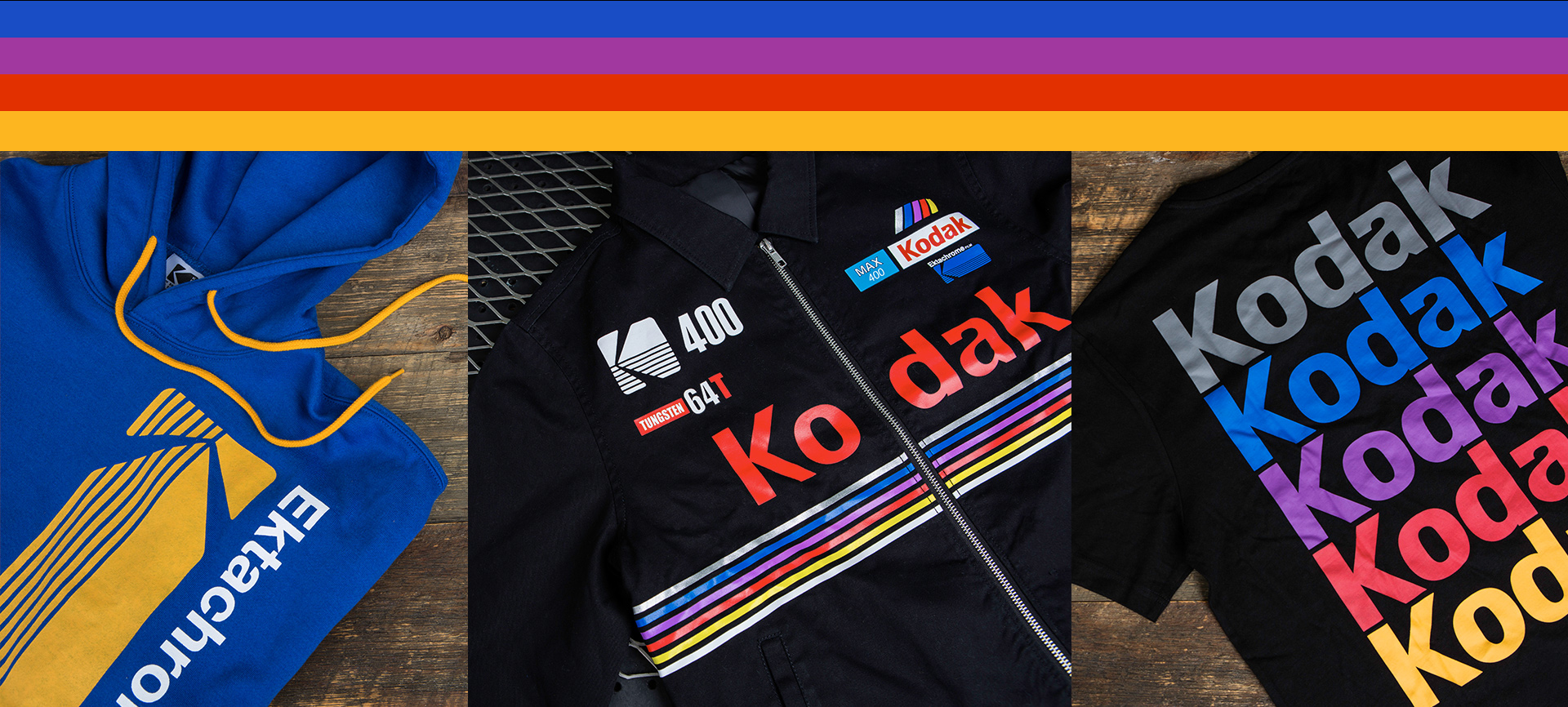 The Fall 2018 line features many of the original colours from Kodak's 1990s branding and packaging and draws inspiration from the company's days as a standout NASCAR team sponsor. The collection offers women's t-shirts, crop tops, jackets, and loungewear; the men's line includes tees, polos, pullovers, and jerseys. All in all, over 26 different, limited-edition garments are now available in 600+ stores globally in various sizes.
The new colourful collection was produced together with Hybrid Apparel, which is a full-service design, development, sourcing, production, and apparel distribution company based in Cypress, California. Hybrid Apparel is also a Kodak Licensee who works closely with Kodak on brand licensing efforts in the apparel space. "Kodak has always been synonymous with our life's best memories, including past, present and even future aspirations," said Bonnie Segall, EVP of New Business Development at Hybrid. "We were able to capture this by leveraging the current streetwear trend and creating a new 'KODAK MOMENT' for a new generation of enthusiasts."
Additionally, by teaming up with Forever 21 and Hybrid, Kodak is expanding its reach and aligning itself towards future possibilities and to drive brand awareness and advocacy with new younger audiences who are not familiar with the brand's rich history. "Rather than be a fad or trend, we want to retain an aspirational product aimed at our core audience and those that they influence," said Dany Atkins, Kodak's Chief Brand Officer, in a press release; and quickly adds "What could be better for a brand transformation than everyone wearing your logo on a t-shirt?"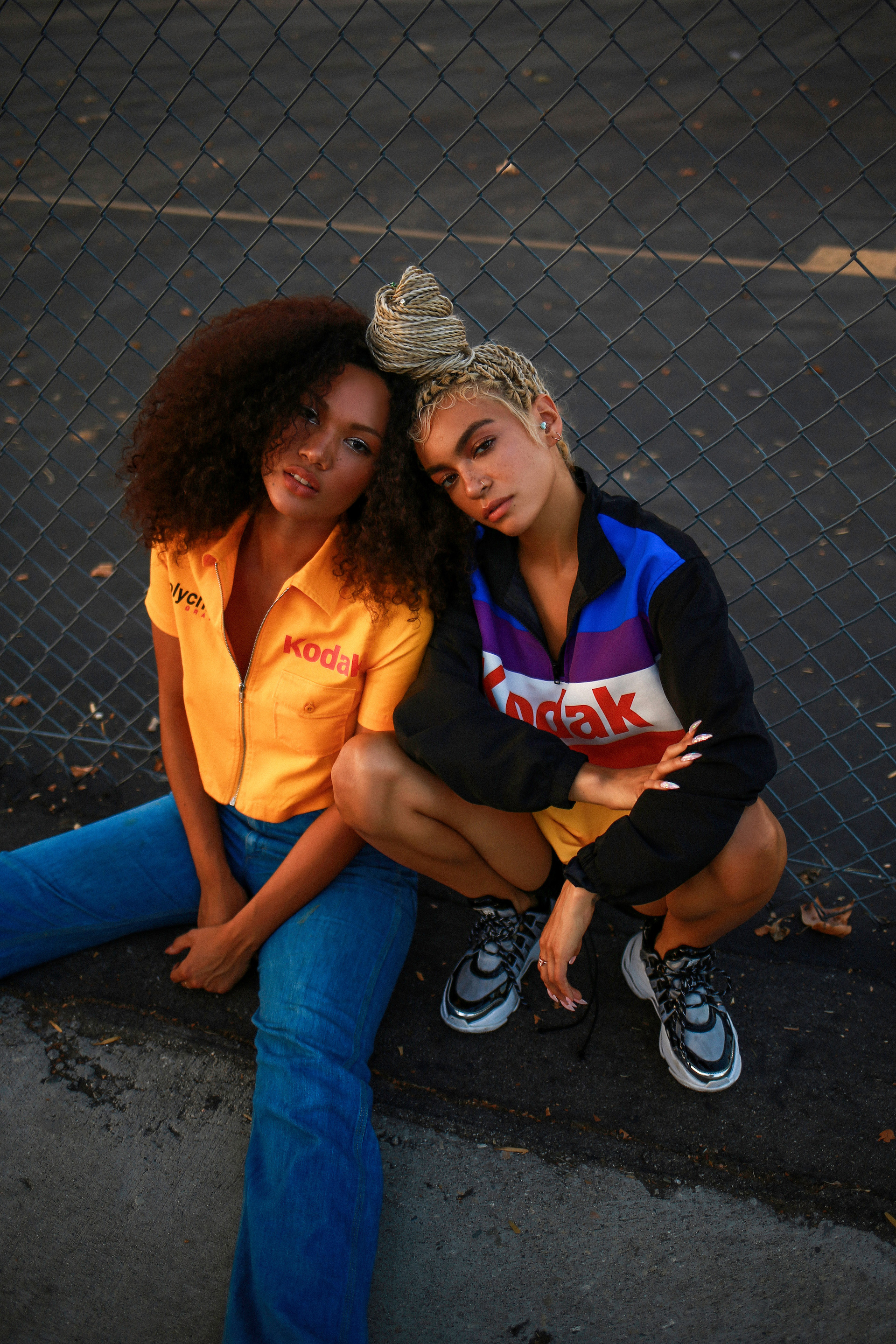 And we can't disagree. We should also point out that it's not just the photography brand that was happy with the collaboration, as Forever 21 points out its call-back to the days when the Kodak logo was seen virtually everywhere.
"We are so excited to announce our collection with Kodak," says Linda Chang, VP of Marketing for Forever 21. "Kodak is such an iconic brand that so many people love and respect, and we were excited to bring our customers a fun and unique way to celebrate photography."
---
And if you take a moment to admire the actual pictures of the whole collection, you will notice that there are four distinctive features. Yes, Kodak–being primarily interested in photography–hired four great photographers and you can check their work below.
Jared Kocka – Kodak x Forever 21
Photographer Jared Thomas Kocka teams up with Forever21 and Kodak for the launch of the F21 x Kodak collection.
Jorden Keith – Kodak x Forever 21
Photographer Jorden Keith also delivered his take on the F21 x Kodak collection, which was produced in collaboration with Hybrid Apparel.
Krissy Saleh – Kodak x Forever 21
22-year-old celebrity photographer and content creator based in Los Angeles, Krissy Saleh, presents her pictures of the F21 x Kodak collection.
Warren Elgort – Kodak x Forever 21
Photographer Warren Elgort delivers his shots for the F21 x Kodak collection. You can scrol below to listen to a podcast Warren did for Kodak.
Now, if you have had enough of visual treats, you can also listen to Kodak's podcast below. The 107th episode introduces a filmmaker and photographer, Warren Elgort, who also took part in the photoshoot of Kodak and Forever 21's new apparel line. Moreover, Warren talks about his work as a director and photographer and shares how this experience has shaped him as he continues to create his own work.
Credits: