Although prostate exams are definitely no fun, Mike Rowe and ad agency Erich & Kallman somehow managed to tackle the issue in a funny and relaxed way. When Rowe asked his doctor if the new blood test for prostate cancer would eliminate the need for a more invasive treatment, or as Rowe describes it "to shove a finger up his butt", Dr Jordan Shlain slipped on a rubber glove and said, "Mike, in the course of a routine exam, there are only two possible reasons that a responsible doctor would fail to insert his finger into the rectum of a male patient." And as Rowe naturally wanted to know those two reasons, Dr Shlain calmly replied: "If the doctor has no finger, or the patient has no rectum."
What best describes the latest PSA for ZERO – The End of Prostate Cancer—a non-profit organization dedicated to prostate cancer education, testing, patient support, research and advocacy, on the spot—is the idea that Rowe had after E&K brought to the advert's director, Andrew Laurich, who is a friend of Rowe's.
The actor and narrator was willing and eager to participate because his good friend had recently undergone treatment for prostate cancer: "Jeff Wilson is the reason I agreed to get my prostate examined on camera. I wanted men to see—for real—just how fast and simple the process is, and just how critically important early detection can be. But men don't need a lecture, and the world doesn't need another PSA filled with sad faces and cello music because lectures, sad faces, and cello music don't work. What works is authenticity, and this is quite possibly the most authentic thing I've ever filmed. With a little help from my actual doctor, his actual finger, and my actual rectum, I'm hopeful we can save some actual lives," Rowe beautifully explains in a press release.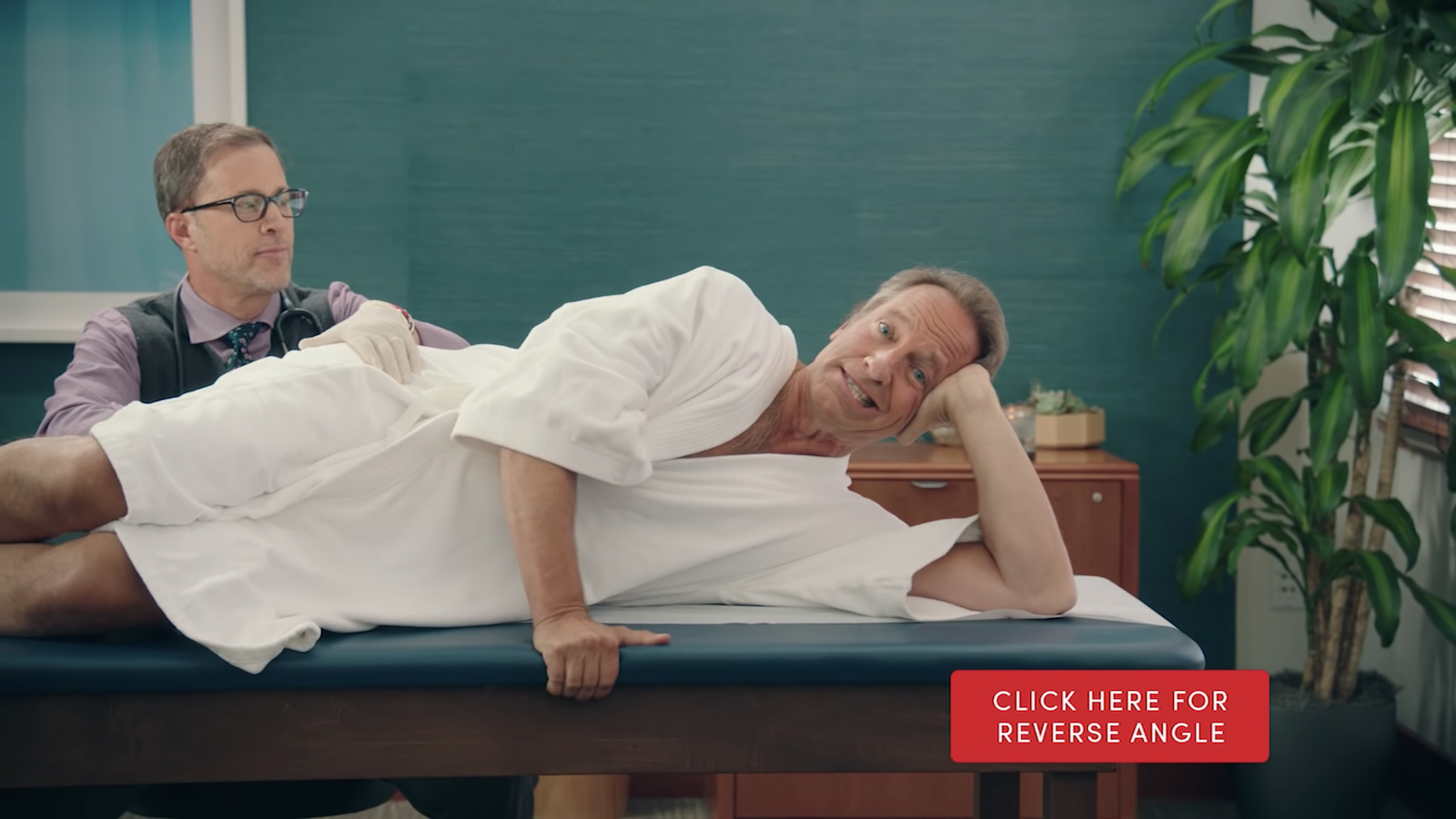 And that's almost everything you need to know about this unique PSA that is now live on YouTube and will be shared by ZERO Cancer as well as by Rowe, who has millions of social media followers; while no media buy is scheduled. So, maybe you could give the article a share as well?
The witty spot opens with Rowe lying on his side on an examining table in his actual doctor's office while wearing a white robe and facing the camera. With a smile on his face, the American television host and narrator explains that statistics show that one in nine men suffer from prostate cancer, but that early detection results in a five-year, 100 percent cure rate. Yet, suddenly his face turns to a frown, as his doctor proceeds to put on a pair of rubber gloves. That's when Rowe describes the actual exam as the doctor performs it, surprisingly fast, before concluding that Rowe's prostate is healthy. The 2-minute video was shot in the offices of Rowe's physician, Dr Jordan Shlain, in Menlo Park, California. And if you're wondering if there's a 'rear camera angle', you have to watch the video below.
The team kindly asks you to share the campaign, because just like all types of cancer, prostate cancer 'sucks'. But when taken seriously, and with early detection, it can be effectively treated. And as for the exam? You can definitely trust the public service announcement, it's not as bad it as sounds. It's almost miraculous how five seconds can really save your life. So, don't wait up and get it done! "Just don't skimp on the lube…"
PS: You can book you can learn more about prostate cancer or when you should get, just click on this link or visit one of Zero Cancer's research centres.
Credits:
Client: ZERO Cancer
Agency: Erich & Kallman
Production Company: ContagiousLA
Director: Andrew Laurich
DP: Scott Uhlfelder
EP:  Natalie Sakai
Producer:  Hannah Rome
Colorist:  Stephen Derluguian
Audio Mix: Barking Owl
Mixer: Matt Keith
Music: Haystack Music
Track: "Your Smile is the Sun" by Andrew Sherman
Music Supervisor: Ryan Alons
Executive Producer: Ian Jeffreys