"We are not famous," says a boy in the opening frame of Kia Motors' 2019 Super Bowl spot. He then continues: "There are no stars in a sidewalk for us. No statues in our honor. We're just a small Georgia town of complete unknowns."
For Kia's 10th consecutive appearance during the Big Game, the automaker decided to deliver something more unusual when compared to what other brands usually do during the most sought-after advertising spectacle. Instead of promoting stars and celebrities in their own ad, the car manufacturer introduces The Great Unknowns. Normal people from West Point, Georgia, hard-working, and deeply in love with their town are the ones who star in Kia's latest ad.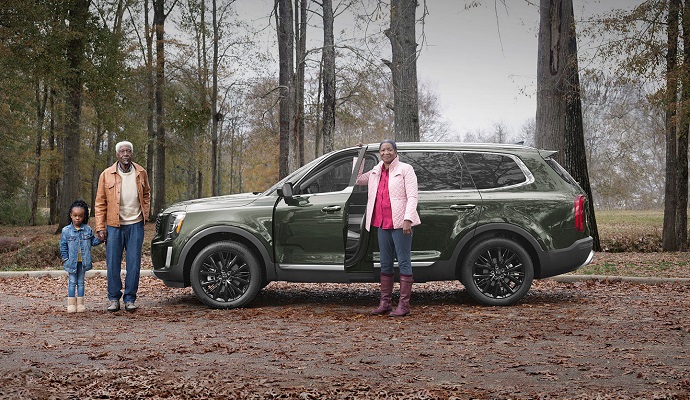 The city wasn't chosen at random. Kia decided to feature its inhabitants because they are the ones who helped the brand build the new 2020 Telluride SUV. This is the new home of the Telluride, a place that didn't have much hope left up until Kia arrived there. Because of the collapsed textile industry, the town was almost dead. But thanks to Kia's move, it managed to rise from the ashes and give new hope to locals and the new generations to come.
Kia honors the proud workers living in West Point and, alongside Los-Angeles-based agency David&Goliath and acclaimed director John Hillcoat, it released a 90-second-long video in which it not only celebrates the locals but also introduces its new positioning, "Give It Everything." The short-film's scenario unfolds in the old city and depicts a series of rural shots, with the boy narrating in the background.
"Because we are not known for who we are," the youngster continues, "we hope to be known for what we do. What we build." Viewers can then catch a glimpse of what the locals have built: Kia's new flagship model, the Telluride SUV. And we get to hear the locals' proud standpoint: "No, we are not famous. But we are incredible. And we make incredible things."
Besides promoting Kia's new SUV, the campaign also introduces the company's tagline, "Give It Everything." Their latest positioning expresses Kia's core values and its spirit to work harder and smarter while building better products and paying close attention every detail.
"Rather than just launch a Super Bowl spot, we wanted to create a movement. One that recognizes the challenger spirit in all of us," said David Angelo, Founder & Chairman of D&G. "'Give It Everything' is Kia's authentic truth that comes from its history of being a challenger. The hard-working people of West Point fully embody this spirit. So, we thought, what better way to honor these great unknowns than to give them the spotlight on America's biggest television event of the year. Starting now, "Give It Everything" is Kia's new company ethos and will fuel everything it does. From inside its four walls, to the dealership experience, to supporting education for America's youth. Because when you give it everything, there are no limits to what you can achieve."
To support the "Give It Everything" tagline, the brand also launched a short documentary, "Just a Small Georgia Town," where viewers are invited to discover how the locals succeeded to boost the town's essence from (almost) scratch.
Kia is a challenger by default, so it doesn't stop there. The money the brand saved from not paying celebrities for the Super Bowl ad will be used to create The Great Unknowns Scholarship. This translates as a plan to help young students to continue their studies in college or vocational school programs. With this program, Kia aims to help youngsters discover their big dreams, whilst helping them pursue their academic hopes.
Angelo added: "The Great Unknowns Scholarship is just one piece of the overall movement that comes to life on multiple platforms. It's not about one thing, but rather a drum roll for the brand ready to solidify its truth on the world stage."
Kia, how nice of you to give back to the people that really matter and have built the brand you are! Cheers for creating such a campaign and let's hope that other brands will follow your magical formula!