Dear Ikea, here's a little something European DIY-chain HORNBACH has 'put together' that might make you jealous: As a part of its WERKSTÜCK Edition, the German company launched a fancy table that clients don't just have to assemble. They have to actually build it! The Edition 002, also known as the 'Utsuri Table,' follows the footsteps of the 'Lounge Chair,' which was created by Danish architect and furniture designer Sigurd Larsen, as part of the WERKSTÜCK campaign.
To design the new furniture piece, HORNBACH traveled to the other side of the world—all the way to Japan—where it met globally-renowned designer Yo Shimada. The artist happily joined the team and lent some of his ideas to create a table that fits best into small places.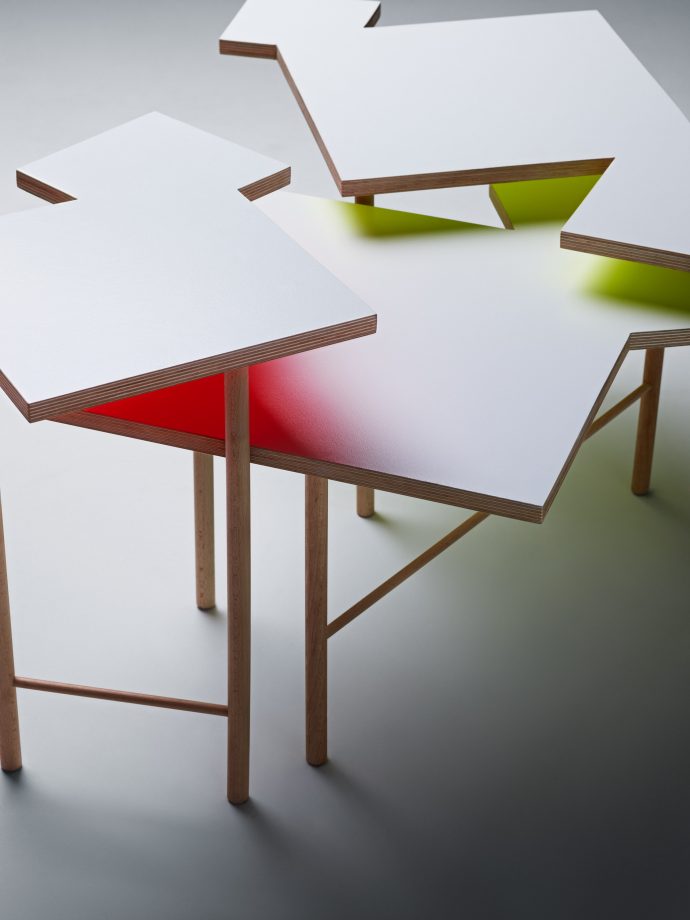 Introducing a highly minimalistic design, the table reflects the current social challenge of living with less and less space, especially in cities. This is an issue that large agglomerations in Asia are already experiencing. But now, the problem started to take over European cities too. People living on the 'Old Continent' are starting to feel more and more cramped due to scarcer living space. So, the Utsuri Table provides a perfect answer to this issue: It is designed in a modular way so that it can be adapted to the features of any room or a specific layout. It allows the user to extend and slide itself back, thus giving the client more space to use it as they please.
"For me as a Japanese designer, the challenge was to offer something new to Europeans – something that they might not expect," says Yo Shimada. "I asked myself, how can I use materials readily available at a DIY store, to contribute something Japanese to European DIY culture?"
The table is not only unique in its function, but also in design. Whereas most of the tables available on the market attract clients with their colors, texture, or their top-surface design, 'Utsuri Table' catches the viewer's eye thanks to its neon colors that are surprisingly embedded on the underside of the table. This way, the shades subtly reflect on the various levels of the table's top surfaces, which are painted white. This unique feature is exactly what the designer used to name its creation: 'Utsuri' comes from this key design element, which roughly translates as 'reflective'.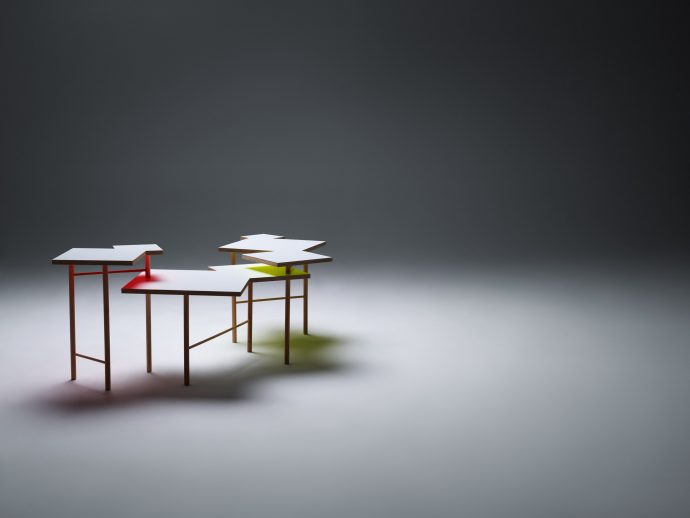 The WERKSTÜCK Edition was designed in partnership with HORNBACH's lead agency HEIMAT Berlin. The agency stands behind other iconic campaigns for the DIY company, which the audience could admire during the last two decades. "The WERKSTÜCK Edition project is more of a vision than a conventional marketing campaign," says Marlon Fischer, HEIMAT Creative Director, who is responsible for the project together with his team partner Felix Pfannmüller.
Fischer adds: "At the end, you have a finished piece of furniture, but before you get there you have all this interdisciplinary collaboration between the architect, carpenters, customer and agency – but above all, the DIY enthusiasts out there."
The Table comes with its own assembly book, which contains carefully illustrated, step-by-step instructions on how to build the table, as well as lists of materials and tools. Besides that, the initiative is also supported by a story about how the table was created and a dedicated website.
"We want to give our customers the opportunity to use their craftsmanship and bring high-quality design to life," says Thomas Schnaitmann, Head of Marketing and Marketing Communication at HORNBACH Germany. "And the WERKSTÜCK 002 is not without its DIY challenges: if you're expecting a construction kit you can knock together quickly, this is not for you. It takes time to build the Utsuri Table and it requires precision work. But we totally trust our customers to do it."
Now, let's get to work and start assembling this table at once. We have a lot of campaigns we can't wait to place on this amazing table.
Credits:
Client: HORNBACH
Agency: HEIMAT Berlin
Production: BenteleBecker Bewegtbild GmbH
Sound design: Loft sound studio Berlin
Directors: Jan Hendrik Becker, Ulrich Bentele