There are many countries that absolutely love beer. The Czech Republic is the one that leads the top of Beer Consumption per Capita and is followed by Namibia and Austria. But wait! Within this 'hoppy' top ten, there—on the 7th place—also lies Romania, being a country where beer tradition is faithfully respected, with a whopping of 94.1 liters per capita of the golden beverage drunk every year.
Yet, when it comes to drinking and driving, the authorities have formed a strict fortress around the consumers' consumption, as Romanian laws have zero tolerance regarding drivers' blood alcohol levels. However, there are still reckless citizens who don't pay much attention to what the laws say. And because they don't care, 20% of other people suffer from car crashes.
Being responsible while driving is something zero-alcohol beer brand Golden Brau keeps fighting for. Together with creative agency Geometry Romania, the beer maker decided to emphasize the risks of drinking and getting behind the wheel by launching an in-store activation – a campaign that invites all party lovers to think twice before sipping on a 'brewski' and driving.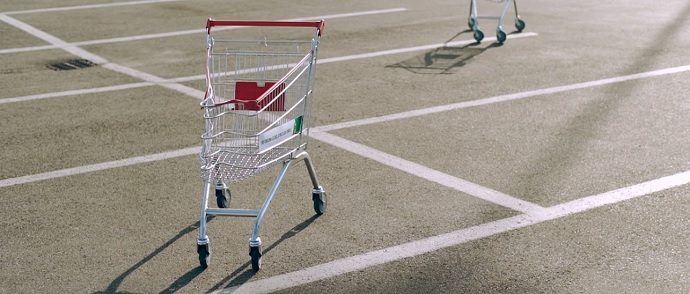 During this week's #ThrowBrandThursday, you'll find yourself in a supermarket, where your cart happens to be "poorly" damaged. You've got this a trolley in your hands because Golden Brau wants to prove a theory right: You should never drink and drive! So, beer lovers from—not only—Romania meet "The Cart Crash," an in-store activation that nicely brought some deformed shopping carts molded by the Bucharest-based agency to consumers in such manner as to show how they would end up if they had been involved in an accident.
Still, why target supermarket shoppers rather than clubbers? The answer is simple, says Geometry: Because house parties are as popular as clubs, yet they're not getting so much attention as opposed to the packed party places. Usually, brand activations address the same subject; you go to a bar, drink, and then leave by car. But home gatherings are as important and dangerous as the meetings at a regular pub are. So, with this thought in mind, the artists at the creative agency have exposed a key moment: the one when you, as a host, go to the supermarket to do some shopping for your killer party.
The creative team dramatized this very moment with an in-store installation that actually aims to convey a vital message to the shoppers. As a host, one bears the responsibility to make their guests have a great time and offer them the best treats. That's why you fill in your cart with all the goodies you see, but still forget to add some zero-alcohol beers to the cart.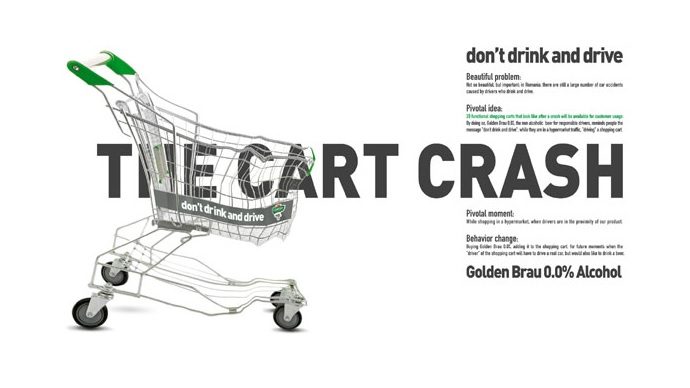 "We crafted this simple but strong execution: we placed in a hypermarket in Bucharest some deformed shopping carts (looking as they had been hit by a car). I've always thought that a smart and non-intrusive solution will make people react more positively than scaring them with what we usually see in these kinds of campaigns. That was the main theme of the brainstorming. And we ended up with this strong metaphor. It just happened," said Mihai Fetcu, Creative Director at Geometry Romania.
"Every year we throw away a large number of damaged shopping carts. We might easily give them a second life, and use them to fight against this bad habit since they work as a strong reminder in what we call a pivotal moment," he continues.
So, next time you are throwing a party, don't forget to equip yourself with some alcohol-free beer so that anyone at your party can enjoy their time! Safely…