April 20, 1999. Columbine High School in Columbine, Colorado, the United States. 2 students murder 12 of their peers and one teacher. All with gunfire. They also injured 21 additional people and came into a shootout with the police.
Now, over 20 years later, even though the shooting resulted in calls for more gun control measures nothing much has changed in the United States. The two decades after Columbine have brought over 230 school shootings with at least 143 people being killed in school shootings, according to Washington Post's horrific data. Despite a strong lobby from the rifle and gun producers, there are still people that try to remind us of the dangerous situations students in America have to face.
Since March 2018, students from all across the United States have united under the March of Our Lives banner and started calling for common-sense reforms. When approached right, these restrictions will save the lives of more than 3,000 young people each year. The reforms include a series of simple and understandable reforms that are already in place in many countries across Europe: implementing universal, comprehensive background checks; creating a searchable database for gun owners; investing in violence intervention programs, specifically in disenfranchised communities; funding the Centers for Disease Control to research gun violence so that reform policies are backed up by data; and banning high-capacity magazines and semi-automatic assault rifles. Until then, there's a very low price on their precious young lives…
Following the 20-year anniversary of the terrible events that took place at the Columbine High School, there's a new video public service announcement titled Generation Lockdown by March For our Lives and McCann New York. The short instructional video offers a stark reminder of the dangerous and scary environment which should be everything but dangerous and scary – the schools across the country.
The PSA takes place at a team-building event in National City, California, where the employees are expecting an expert on gun violence at schools. What they were not expecting is someone much younger and shorter than them – a teenage girl. You can clearly see their astonished looks once Kayleigh starts instructing the adults on how they would survive an active shooter event. The short-video offers a moving look at what students deal with on almost-common basis and how schools, students, and their employees have had to respond to the very real threat of gun violence.
What comes as a shock to most of us, it is estimated that staggering 95% of school kids—who some are as young as five—are now being trained on what to do during an active shooter situation. Why, do you ask? Simply because they have to be prepared for it at any minute, in any community, as more than 228,000 students have experienced gun violence at school since Columbine. The PSA ends with an understandable call for the viewers to support federal legislation to put universal background checks in place for the purchase of firearms. To stop more and more children from becoming part of the horrifying Generation Lockdown.
The PSA follows the recent April 15th launch of a two-week Times Square ad campaign that points at gun violence prevention. These Times-Square-billboard ads by March For Our Lives are estimated to reach 5.5 million people as the organization seeks to gain support for legislation to pass previously-mentioned common-sense reforms: background checks, extreme-risk protection orders (ERPO's), safe-storage laws, and other life-saving measures. If you didn't know, in 2017, nearly 40,000 people were killed due to gun violence in the US.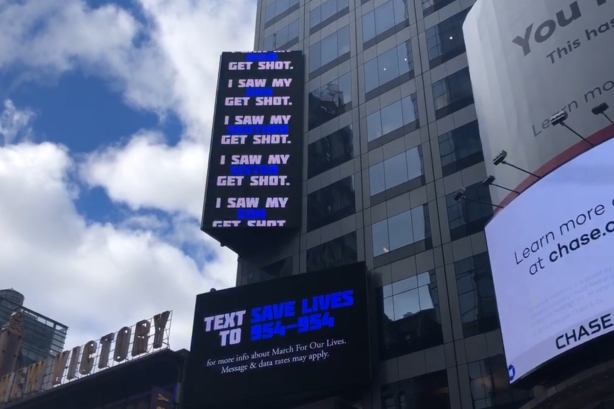 Unfortunately, this is not the first time we wrote about McCann teaming up with March for Our Lives activists. In October last year, as a reaction to the horrendous—and expanding—list of these mass shootings in Santa Fe High School, Marjory Stoneman Douglas High School, Rancho Tehama Reserve, Marshall County High School, Northern Illinois University, and Virginia Tech, the two players have hired pop icon Kesha and her younger brother Sage to create a music video that dramatizes the cycle of gun violence and reminds young people that voting is the only way to end it.
Just like gun violence in America, the video repeats over and over again. Sadly, without much change. The film features a song, written the day after the Parkland shooting, by Sage, who was a senior in high school at the time. The film includes a memorial scene, honouring actual victims of gun violence from the Marjory Stoneman Douglas High School shooting, the Pulse Nightclub shooting, as well as everyday gun violence in different parts of Chicago. Footage supplied by witness and activist, David Hogg, from inside his classroom the day-of, is also included to remind viewers of the personal nature of the gun-violence epidemic.
Let's just hope this terrible nightmare that affects the everyday lives of our youngest students can end sooner rather than later…
Credits:
Director of Operations: Amanda Conlee
Co-Founder & Content Creator: Ryan Deitsch
Co-Founder: Lauren Hogg
Deputy General Counsel: Robyn Mohr
Chief Creative Officer, McCann North America: Eric Silver
President: Devika Bulchandani
Co-Chief Creative Officer: Sean Bryan
Co-Chief Creative Officer: Tom Murphy
Global Executive Creative Director: Pierre Lipton
Executive Creative Director: Marco Pupo
Creative Director: Karsten Jurkschat
Creative Director: Alex Little
Chief Production Officer: Nathy Aviram
Executive Producer: John McAdorey
Producer: Gabrielle Levy
Chief Communications Officer, McCann Worldgroup: Jeremy Miller
Director of Business Affairs: Danielle Korn
Director of Talent Partnerships: Kimberly Kress
Director of Business Affairs: Wilmien Blake
Director of Talent Payment: Terry Marcello
Senior Project Manager: Bristol Parrish
Film production: Hungry Man
Director: Bryan Buckley
EPs: Mino Jarjoura, Kevin Byrne, Caleb Dewart
Producer: Matt Lefebvre
Production Manager: Sherra Fermino
DP: Scott Henriksen
Editorial: NO6
Editor: Jason Macdonald
Editor: Justin Quagliata
Executive Producer: Corina Dennison
Post Producer: Malia Rose, Laura Molinaro
Assistant Editor: Tripp McCarty, Scott Zeitlen
Finishing: NO6
Flame: Ed Skupeen
Flame Asst: Mark Reyes
Color: Steve Picano
Finishing:  The Mill/LA
Flame:  Tom Graham
Creative Director:   Phil Crowe
Producer:  Marie O'Brien
Executive Producer:  Anastasia Von Rahl
Audio Post: Sonic Union
Audio Engineer: Brian Goodheart
Audio Mix Assistant: Kelly Oostman
Audio Producer: Pat Sullivan
Audio Producer: Justine Cortale
Music: Duotone Audio Group 
Executive Producer: Ross Hopman
Composer: Brad Fischer
Clearances provided by: STALKR
Executive Producer: Colleen Cavanaugh Anthony
Producer: George Alvarez
Project Manager: Natalie Stowell
Researcher: Niko Savich
Researcher: Craig Phillips