You've probably used your phone today, right? You've also probably used it in the last hour. There's a big chance that you're even using it now. In todays society, we all check our phones way too often, so that it may cause us some health issues. In total, cell-phone users view their screens as many as 150 times a day on average. Now, what if there was a way of turning this "bad" habit into something useful. Something which would not only help you learn, but it will also help you score some free data.
Yes, with A1 Lappsus you can turn your phone into a spell checker and unlock your phone by choosing the correct spelling of some tricky words. Something from which most non-native speakers would definitely benefit. And even some native speakers. So, on one hand, we have a way of improving our grammar and reducing spelling mistakes in our everyday lives—which by itself would be quite a demanding task requiring some studying—and on the other, we have a way of getting extra MBs for our data usage just by tapping the correct word. Also, it's true that some 75% of high-school pupils have a problem with spelling. Don't you worry, we used that typo in the header just to lure you in.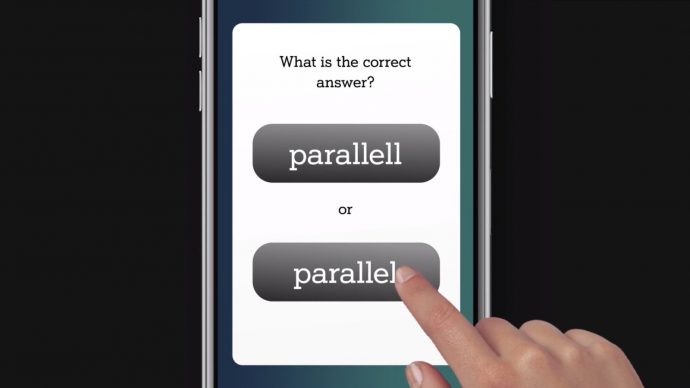 But with good intentions! We wanted to let you know that now, thanks to A1 Hrvatska, a Croatian mobile network operator—that partnered with Zagreb-based agency Bruketa&Žinić&Grey—we now have a way of turning the annoying habit of constantly checking our phones into a learning opportunity for correct spelling (and not just) in the Croatian language. The new mobile app titled A1 Lappsus lets users unlock their phones by flashing up a tricky spelling question. You get two options. Two 'possimpable' options. Sorry, we're just messing aruond. But, after getting prompted, if you get your answers correct, you get rewarded. With free extra data usage. And that's something to like if we take into consideration the prices of data across Europe…
"A1, a telco and digital provider, promises to make life easier, more effective and more exciting by means of digital technology. This service, therefore, brings the brand promise to life and adds value to the phone unlocking function as a new digital tool used for brand communication," Marija Jakeljic, Brand and Marketing Communications Director at A1 Croatia, explains the perks not just for the app's users, but for the Croatian network provider.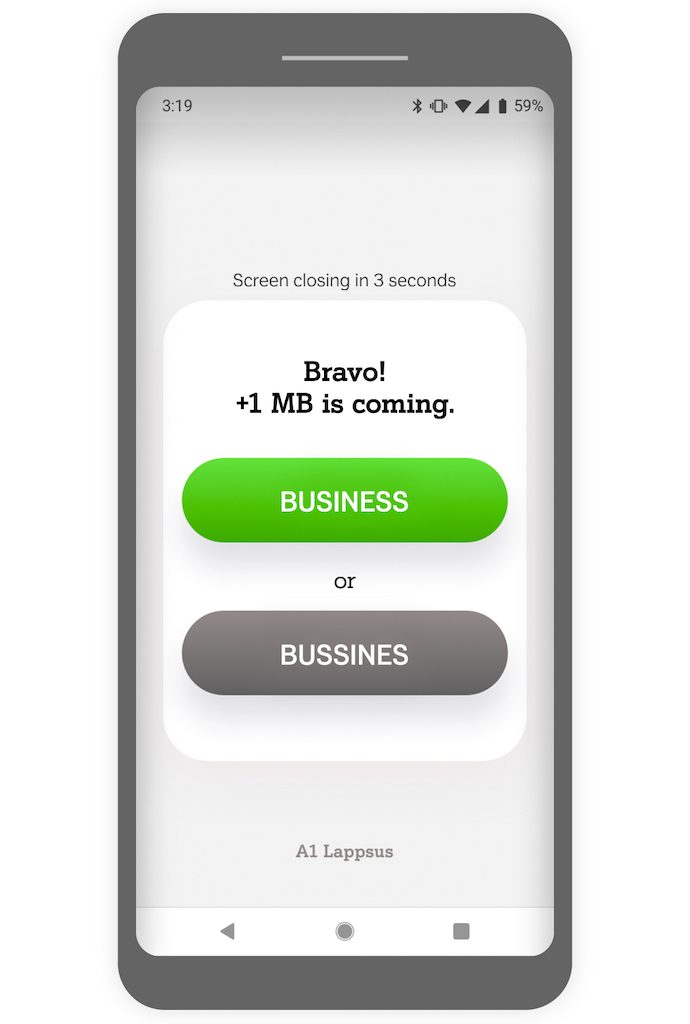 The app's database—that contains grammar and spelling questions—gets constantly updated and refreshed, and although it was primarily designed for younger users, we're sure that it can be more than useful for users of all ages. The app is now available for all Android users who speak Croatian. It can be downloaded for free from the Google Play Store. In the first three weeks after its launch, the A1 Lappsus app has become the most popular app in Croatia. And why has it become so successful in the sunny South-European country?
"Constant practice is the best way to learn grammar and spelling. The cell phone is with us at all times, we often use it, so why not turn it into a learning tool? The app is uploaded with the most common grammar and spelling mistakes prompting users to practice on a daily basis," adds Marko Aleric, Associate Professor from the Department of Croatian Language and Literature at the Faculty of Humanities and Social Sciences in Zagreb, who also participated in the app design.
And we can only finish with the words from State Secretary at the Croatian Ministry of Science and Education Tome Anticic, Ph.D.: "It's a new way of learning and your kids will love it." And not just kids, also certain folks at branding.news!
Credits:
Client: A1 Hrvatska
Agency: Bruketa&Zinic&Grey
Programming: Web burza
Media agency: MediaCom
Marketing Director: Lordan Kondic
Brand and Marketing Communications Director: Marija Jakeljic
Campaign Coordinator: Vedran Hrgovic
Senior Specialist for Digital Media Planning and Communications: Mila Perovic
Campaign Specialist: Gorana Blagus
Digital User Experience Consultant: Ena Lukic
Design and Development Specialist: Jozo Petrovic
Senior Design and Development Specialist: Izabela Seric
Senior Digital User Experience Consultant: Iva Babic
Digital Marketing and Social Media Specialist: Dubravka Srkulj
Media Strategy Principal: Liliana Bozic
Corporate Communications Director: Dubravka Stefanac Vinovrski
Senior Public Relations Specialist: Darija Petric
Public Relations Specialist: Igor Duic
Language Collaborator: Marko Aleric (Associate Professor, Department of Croatian Language and Literature at the Faculty of Philosophy in Zagreb)
Creative Director: Djordje Jankovic
Creative Director: Davor Bruketa
Account Director: Milica Katic
Senior Copywriter: Vanja Luetic
Designer: Borjan Pavlek
Account Executive: Lorena Hrvoj
UX/UI Director: Ivan Zebic
UX/UI Designer: Vjekoslav Azenic
E-Commerce and Digital Transformation Specialist: Dario Drmac
Digital Director: Ivan Kovacevic
Insight: Ivo Payer
PR Manager: Jelena Mihelcic
Copywriter: Mario Radosevic
Account Director: Luka Maricic
Developer: Ante Baric
Technology Manager: Vanja Bertalan
Account Director, Euroart 93: Helena Perekovic
Account Executive, Euroart 93: Petra Miklos
Account Director: Ivancica Bulat-Poje
Planner: Metod Bertosa
Programmatic Planner: Domagoj Repic
Digital Manager: Sanja Dekic
Head of Research: Marko Matejcic
Case Film: Zarko Veljkovic, Eduardo Maruri, Leonard Savage, Domagoj Kunic, Kristijan Kavuric