Yes, you've read that right. That's not another deliberate typo in one of our titles. The Cantroller™. You must be thinking: "Is this what I think it is?" Again, yes! It's a gaming controller that neatly fits in a can. And not just any can. A can of refreshing Miller Lite. So, how do you turn a can into a controller? Ok, ok. Maybe the first question should be: Why do you turn a can into a controller?
Well, American beer producer, Miller Lite, decided to create a fun solution for gamers who like to drink a beer while playing their favourite game. According to the company's data, about 40% of gamers are already drinking beer when they play, so Miller Lite wants to bring their refreshments to the next level by giving them a fun solution that also allows them to enjoy the original light beer, which prides itself on its authenticity and which now wants to connect with the gaming community.
Behold, the first-ever Cantroller™, an innovative gaming controller that also happens to be a can of great-tasting Miller Lite!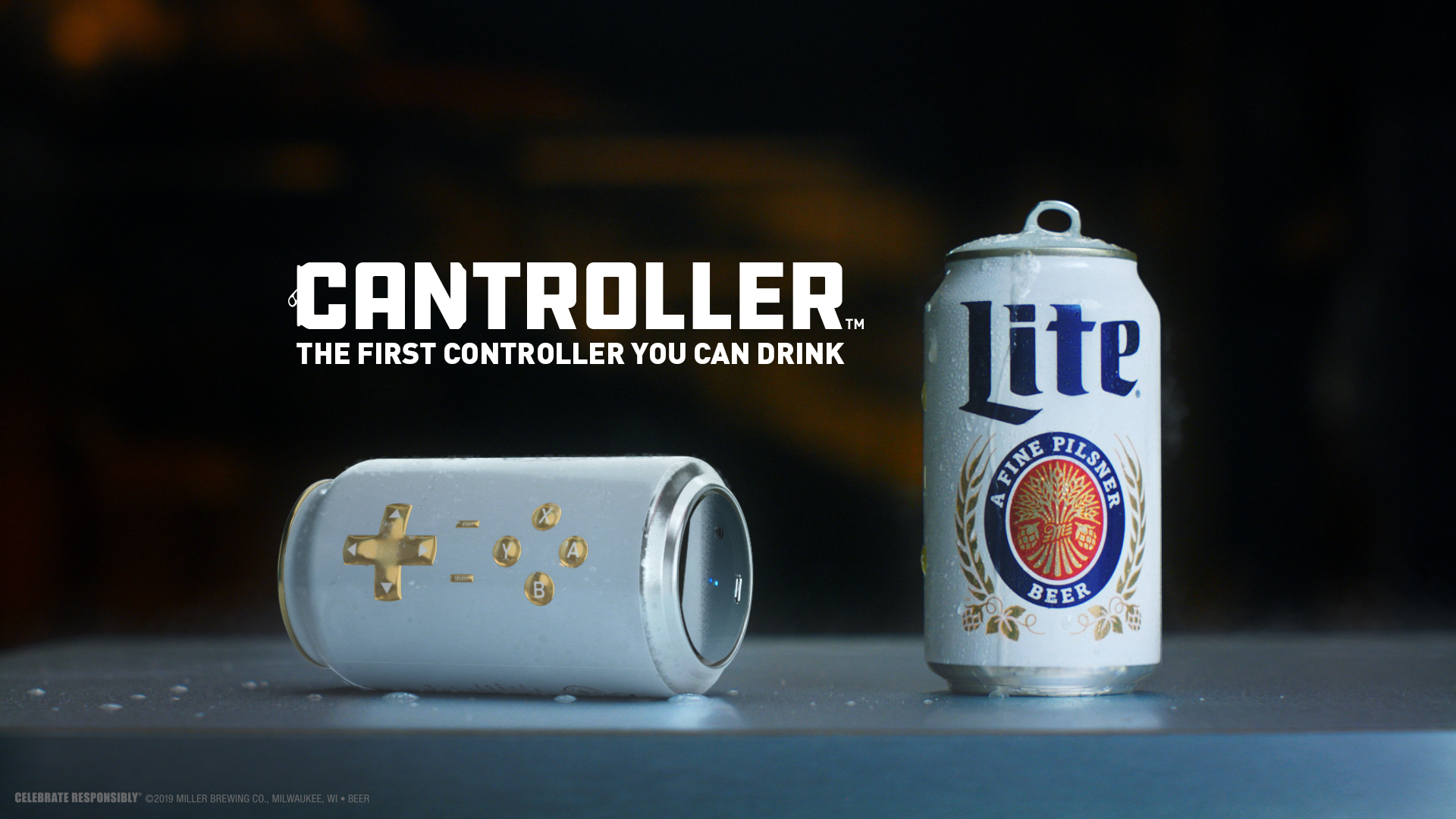 Yes, while elegantly designed—and re-chargeable—The Cantroller™ is the first of many gaming controllers that gamers can actually drink. It should also save them a trip to the fridge for a cool refreshing 'brewski', so they don't even need to put the controller down for a second.
This, probably, ultimate beer accessory is a fully-functioning video game controller, is also a 12oz. can of Miller Lite and comes complete with wireless Bluetooth, haptic feedback, a 3-hour lithium-ion battery, and, most importantly, a tasty beer you can actually drink. Moreover, it can connect to PC and multiple consoles, while The Cantroller™ will work with any games that pair with a 10-button controller.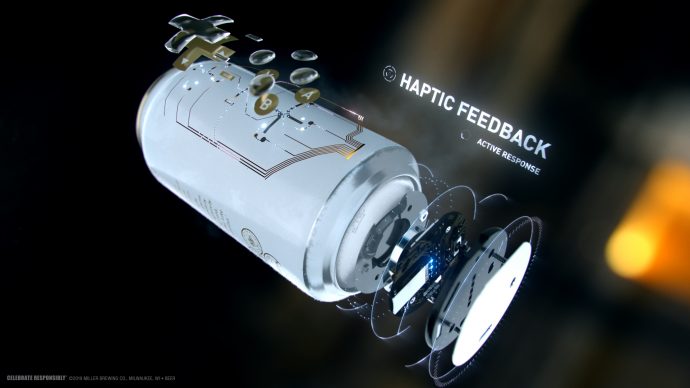 The campaign supporting the unique Cantroller™ kicks off with a film that features popular American actor, comedian and a crazy television host, Eric André, who is also an avid gaming fan. In his own way, the actor invites gamers to challenge him during a stream of a special live event on a popular gaming platform Twitch.
The "drop event" takes place today on June 12th in Los Angeles and, not-accidentally, coincides with the country's largest gaming conference, The Electronic Entertainment Expo (E3) that ends on Friday 14th. So, if you're in LA for E3, don't hesitate and go toe-to-toe with André in a game of Street Fighter V at a special location designed specifically to give gamers a chance to get one of the 200 innovative cans.  You don't need any special invites, you can just RSVP at a dedicated website: www.TheCantroller.com.
The Cantroller™ short video-spot, which was created by DDB Chicago, is inspired by classic game ads that ground the gaming world in reality. You can check out the Cantroller™ campaign launch film below and, if you're up for it (and in LA for the event), you can play against Eric for the chance to win your own out of 200 Miller Lite Cantrollers™. The competition will be live-streamed on Miller Lite's own Twitch channel, starting tomorrow, June 12 at 7pm PST.
We still have so many questions. But there's one very important question that stands out. Is the Cantroller™ water, or rather 'beer-proof'? There is one thing of which we are sure, once we know more, you can expect a detailed description of the Cantroller™ from us geeks at branding.news… Or, just watch this demo from a better-equipped people at PCMAG.com! So, while there are only 200 of these unique cans to be won during E3, the beer producer says that "there may be more to come."
And yes, we were also able to find a tweet from Miller Lite that does answer our pressing question – Yes, it's beer-proof and you can refrigerate it! Although, you need to finish your cold beer first… Duh!
To avoid spilling we suggest drinking before or after playing but not while playing. Once you enjoy the beer inside, the Cantroller technology will still work as a controller.

— Miller Lite (@MillerLite) June 10, 2019
Credits:
CLIENT: MillerCoors
Chief Marketing Officer: Michelle St. Jacques
VP, Miller Family of Brands: Anup Shah
Director of Marketing: Lisa Rudman
Senior Brand Manager: Justine Stauffer
Associate Marketing Manager: Caroline Flood
Public Relations Manager: Colleen Weber
CREATIVE AGENCY: DDB Chicago
Chief Creative Officer, DDB North America: Ari Weiss
Chief Creative Officer, DDB Chicago: John Maxham
SVP, Group Creative Director: Myra Nussbaum
Associate Creative Director, Art Director: Nick Howard
Associate Creative Director, Copywriter: Nick Stoner
Associate Creative Director, Art Director: Guiga Cunha
Copywriter: Joey Johnson
Chief Production Officer, DDB Chicago: Diane Jackson
Executive Producer: Keith Jamerson
Senior Producer: Jason Georgen
Production Business Manager: Scott Terry
Talent Manager: Shirley McMahon
Strategy Director: Patrick O'Rourke
SVP, Group Account Director: Kiska Howell
Account Supervisor: Katelyn Ledford
Account Executive: Lauren Remar
Project Manager: Leah Ziegler
PRODUCTION COMPANY: Bullitt
Director: Anthony Leonardi
Executive Producer: Todd Makurath
Executive Producer: Luke Ricci
Head of Production: Jenni Sprunger
Line Producer: Nathaniel Greene
EDITORIAL: Whitehouse
Editor: Matthew Wood
Assistant Editor: Luke Sloma
Producer: Lauren Connolly
AUDIO POST: Studio 225
Sound Design/Mixer: Nick Papaleo
Producer: Cameron Aper
Studio Director: Kendall Fash
CGI PRODUCTION: Framestore
Creative Director: Anthony Gibbs
Creative Director: Alex Thomas
CG Supervisor: Jessica Groom
Senior Producer: Rachel Mariscal Creasey
PRODUCTION: Unit9
Creative Director: Yifei Chai
Tech Lead: Andy Sheen
Product Designer: Yu-Chang Chou
Tech: Mike Schrofel
Executive Producer: Luca De Laurentiis
Producer: Martina Sogni
Producer: Winona Bedford
Head of Production: Mindy Lubert
MUSIC AND SOUND DESIGN: The Elements Music
Co-Founder/Creative Director: J Bonilla
Co-Founder/Executive Producer: Ian Dalsemer
Partner/Creative Director: Andy Carroll
Partner/Composer: Dan Bewick